Camping season is officially here, as the first Memorial Day weekend of the pandemic is upon us. While options are more limited than usual, camping is available in the valley and within the ethical limits of safer at home orders.
According to public land managers, dispersed camping is probably the best bet for those who'd like to sleep under the stars this holiday weekend.
"Developed facilities such as campgrounds and restrooms will remain closed on the White River National Forest until sometime in June," said spokesman David Boyd on Wednesday, adding that the timing of the reopenings will vary by location.
That closure affects close campgrounds including Weller and Difficult on Independence Pass, Silver Queen and Silver Bell in the Maroon Bells scenic area and the campgrounds near Ruedi Reservoir.
"Outside of developed areas, the forest is open, including to dispersed camping," Boyd said. "Of course it's still early, so some roads are not open due to conditions as would normally be the case."
The WRNF website is updated frequently for its openings and closures. https://www.fs.usda.gov/whiteriver.
More information from Gov. Polis on the state's next public health order is expected on Memorial Day. Pitkin County Manager Jon Peacock could not be reached Wednesday for comment about how county residents should approach camping on the cusp of the summer season.
According to Maribeth Pecotte, spokesperson for the BLM Northwest District, opportunities to pitch a tent are also available on local public lands located within the Bureau of Land Management. "Dispersed is not really restricted" by the BLM, she said.
Thompson Creek has been open since its seasonal closure ended April 15, Pecotte said, and is indicated on this map:
https://www.blm.gov/sites/blm.gov/files/documents/files/Thompson_Crkl_20170809.pdf
Pecotte added that Prince Creek is not available for camping due to Pitkin County's public health order. In addition, the popular Red Hill Road is closed by the town of Carbondale.
However, "The Crown Special Recreation Management Area has some good opportunities for camping (except for the closed Prince Creek campgrounds)," Pecotte said in a follow-up email.
Those may be found on this map:
https://www.blm.gov/sites/blm.gov/files/documents/files/TheCrown_20170726.pdf
Ruedi Reservoir access and its Forest Service campsites are closed until at least June 1. An announcement is expected next week about the reopening of Ruedi's boat ramp, said April Long, director of Ruedi Water and Power Authority.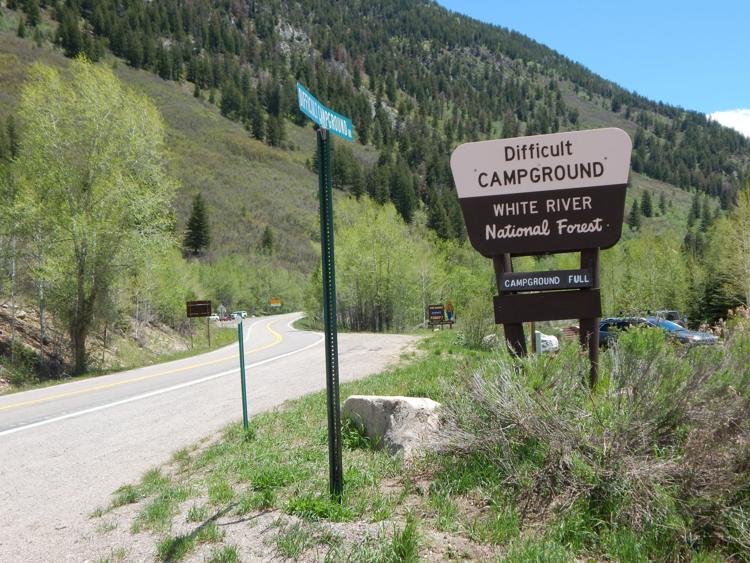 Colorado State Parks
All of the parks in the Colorado State Parks systems are open for day use and, as of this weekend, available for camping as well, according to Randy Hampton, public information officer.
"Keep in mind that camping is by reservation only, and most parks are fully booked for the holiday weekend," Hampton said.
Swim beaches, visitor centers, shower facilities, laundry facilities, and group picnic areas at all state parks are closed until further notice, Hampton said. State parks passes are required and those who are fishing will need a fishing license.
While it may seem unfair, he allowed, people should be mindful of recreating near home, which could preclude some Roaring Fork Valley residents from using parks like Harvey Gap, Rifle Gap, Paonia Reservoir and Rifle Falls, for example.
"Unfortunately, some people are in a situation where there's not anything available," Hampton said. "We do continue to remind people that they should recreate close to home and follow social distancing rules."
The honor system will be in place.
"We're not the holiday police," he said. "We're trying to be aware that people want to get out. We all do."
This fall, a new park will join the Colorado state system, according to Hampton. Located near Trinidad in southern Colorado, Fishers Peak, spanning more than 19,000 acres in size, will become Colorado's second largest state park. It's believed this new jewel to the state parks system will help spread out some of the public demand.
Colorado State Parks is cautious of overcrowding at water spots when the temperature starts to climb. Photos of packed scenes from Cherry Creek and Highline Lake posted on social media last weekend showed a general lack of regard for social distancing. Should additional cases of COVID-19 spike resulting from those gatherings, parks could get shut down as a result, Hampton said.
The Forest Service's Boyd agreed that recreationists need to use common sense.
"We also stress the need for forest visitors to follow basic social distancing practices and to visit responsibly — packing out trash, ensuring campfires are enjoyed safely and are thoroughly extinguished before leaving camp, following gate closures and staying off of muddy roads," he said.
In a statement released Wednesday, WRNF Supervisor Scott Fitzwilliams was quoted as saying, "People will need to self-regulate. If you see an area that is getting crowded, find an alternate location. If you see a busy trailhead, keep driving and find a trail with fewer people."
Campfires are allowed in areas of the White River National Forest, though Stage 1 fire restrictions remain in place in the Dillon Ranger District.