When talking to the major stakeholders with much to gain or lose — tens of millions of dollars already invested or the fabric of an entire region's character, depending on who you ask — in the battle over the fate of the Mid-Continent limestone quarry north of Glenwood Springs, emotions tend to run high.
In the one corner, there's Greg Dangler, newly named chief executive at Rocky Mountain Resources. The 37-year-old co-founder transitioned into his new role from being the company's president after Chad Brownstein, the other half of the founding partnership, left the position to act as non-executive chairman. The two still own the majority shares of RMR.
But it isn't actually Dangler's name that has inspired so much unease from Glenwood Springs officials and grassroots organizers opposed to his company's proposal to expand the roughly 23-acre quarry to 321 acres — it's his predecessor's.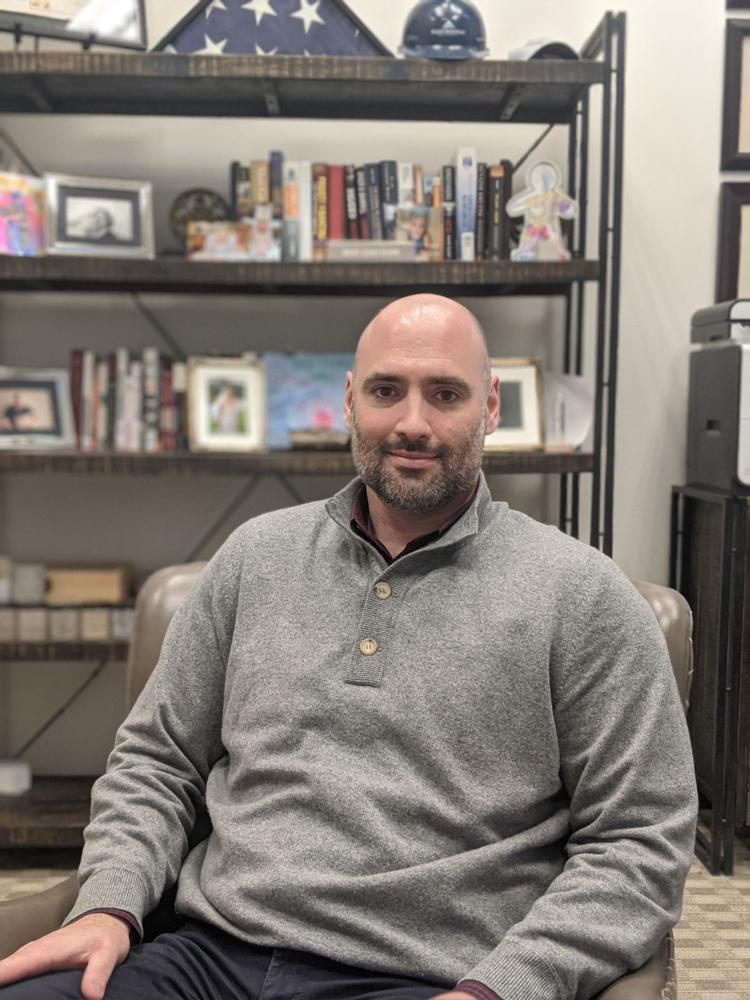 The Brownstein name has more of a presence in the company than just the chairman; Chad Brownstein is the son of Norm Brownstein, who chairs Brownstein Hyatt Farber Schreck, arguably one of the most well connected lobbying firms in the country and certainly the state.
Whenever he's come to Glenwood Springs to discuss the quarry's future, Dangler has always been accompanied by the firm's senior policy director, Michael Stratton. In addition to currently representing RMR, Stratton lists Bill and Hillary Clinton, Michael Dukakis, Christopher Dodd, Bill Richardson and Mark Udall as former clients in an extensive resume.
Speaking of resumes, Brownstein Hyatt Farber Schreck accounts for about a decade on Interior Secretary David Barnhardt's. RMR's quarry expansion proposal is currently being considered by the Bureau of Land Management, which falls under the Department of the Interior's umbrella, because the quarry sits on federal land; RMR merely owns the quarry lease, which it bought in 2016.
Dangler brushed off concerns over Berhardt's ties to Brownstein Hyatt Farber Schreck.
"That's like saying the president's getting ­involved," he said.
In fact, the ultimate decision to approve or reject RMR's expansion proposal rests with the local BLM field manager, explained David Boyd, BLM public affairs specialist for the Northwest Colorado District.
But that doesn't mean Bernhardt isn't aware of his former employer's client. In fact, he formally recused himself from getting involved in an acknowledgment of the perceived conflict of interest. That recusal expired in August of 2018.
"When things are more high profile — controversial — the state office in Denver [will be briefed] and we'll bring in the Washington office, and that's what happened here," Boyd said. "In very high profile things, the Department of the Interior is briefed too and that's not unusual, and that's what's been done here."
So, yes, a quarry expansion near Glenwood Springs really has been a topic of conversation in Washington, D.C., though the Department of the Interior's ethics office did not return several requests for comment for this story.
RMR isn't the only party involved in the disputed expansion plans that has connections to the country's capital. Dangler, of course, is fighting to see his vision for his company come to fruition via the quarry. In the other corner of the proverbial ring, then, is seemingly everyone else, at least locally.
After meeting with then-RMR president Dangler — accompanied by Stratton — in April last year, Glenwood Springs city manager Debra Figueroa and counsel Karl Hanlon both felt their next destination should be Washington, D.C.
"They left the room, and Debra and I looked at each other and said, 'We need to go back and talk to the congressional delegation,'" Hanlon recalled.
"We're really feeling like we're David and Goliath, but we have neither a sling nor a rock," he said he told the delegation during their trip last year. "I mean, somebody once described Norm Brownstein as the 101st senator. They are huge players and very powerful players in politics, and we have had congressional staffers ask that their names not be used because they are afraid they will get fired if word gets back that they had a conversation. That level of power and pressure is what we're up against."
If the stakeholders on either side of the fight — Glenwood Springs Mayor Jonathan Godes literally described it as a "war" — were to look in a mirror, they may be disgruntled to see their respective opponent staring back at them in the reflection, however. Both parties lob similar accusations at the other, often even using the same words.
"They quickly formed this alliance and all the sudden came up with this strategy and a hired very, very influential, big-money lobbyist, Harris Sherman, who interestingly enough in his role in the federal government was a big sponsor of expanding existing extraction sites versus starting new ones, which is ironic," Dangler said, describing Sherman as a "very credible guy."
The alliance he spoke of is the Glenwood Springs Citizens' Alliance, a registered nonprofit founded in 2018 as a grassroots campaign to actively fight RMR's proposed expansion. Its efforts have proven effective: 274 businesses and organizations have endorsed the entity's opposition, and the city gave the alliance a $20,000 grant and $30,000 in guaranteed matching funds, executive director Jeff Peterson said.
"That was Dec. 5," he said. "We've almost maxed out that $30,000. Along with other grants and donations, we are moving toward being able to do some pretty significant advertising and outreach and things we want to get involved in."
The city, too, has committed $1.25 million to fight the expansion — but that's just a starting figure, Godes emphasized.
"I have found no one who has any issue with us spending what it takes. And what it takes is the number — it's not 1.25 [million]. That is just what we put in our budget. When people say whatever it takes to do what we need to do to make sure this doesn't happen, that's the budget number."
It's a number Dangler thinks is downright irresponsible, and he wishes attorneys didn't have to be involved in discussions. In fact, he also wishes an actual discussion could happen at all.
"We welcome the chance to sit with the mayor and those people, but it's literally 'no,'" he said. "It's been no to my face, no in email, no, no, no. We found out even before they made their PR push against us that they had spent probably close to half a million dollars the year before investigating us. This is a small town of 10,000 people. What are you doing spending then half a million, now another million on something that you're not even willing to speak to? They have lacked resources in certain years to fix roads, so it seems a little irresponsible to not even have a dialogue. We're right there, asking to have a dialogue, offering solutions."
One of those solutions, he revisited several times in a two-hour interview in his Denver office, addresses one of the first concerns often cited: increased trucks coming down Transfer Trail to load crushed limestone onto a freight train.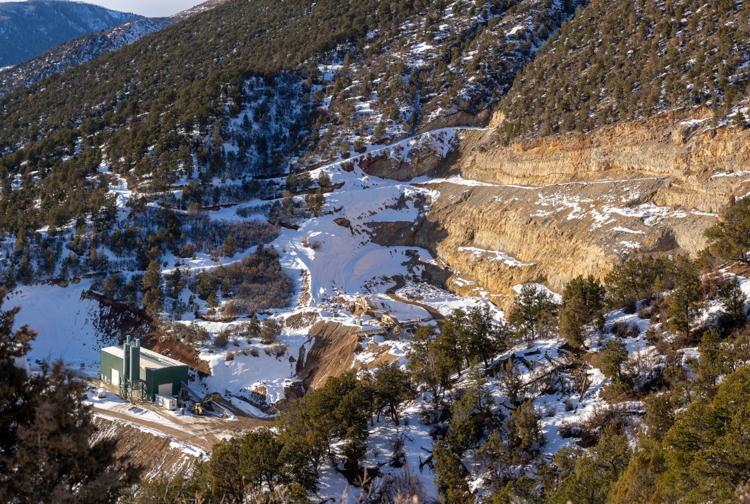 "When we first approached the city, we wanted to spend an extra $30-50 million on a fancy conveyor solution that would go from the top of the mine area all the way to our rail, which would eliminate 100 percent of the trucks," he said.
But in order to build the underground conveyor system he envisions, Dangler would need a utilities easement from the city. Because of the state of current affairs in the relationship, he was sure that any option requiring city approval would be a dead-end, so he removed it from the proposal.
"OK, we're not going to get any help there, so you leave us no choice but to do trucks," he said. "I think that is a great opportunity for everyone for the future. Maybe it takes a few years to negotiate, but we're all winners there. I'm hopeful we'll get there, and maybe it's under the next mayor or different city council."
When RMR first acquired the quarry, the Glenwood Springs mayor's office was occupied by Mike Gamba.
"I found Mike Gamba to be very clear when I first met him," Dangler said. "He was great."
But when, through Brownstein Hyatt Farber Schreck, he reached out to city council members and city staff about meeting, the approach was an unwelcome one.
"They reached out, originally, individually and inappropriately to us individually as city council people — this was the previous council, not the current one — to arrange individual meetings, off the record," Godes said. "Nobody was excited about having backroom conversations with someone who has a proposal before the county and potentially something we could weigh in on. From a legality standpoint, we were all like, 'No. Let's have a public conversation.' This is a public issue that's going to massively impact the public, the community. It needs to be a community conversation in the light of day."
And so they did, albeit not exactly under amicable circumstances. On April 22, almost 200 people packed in to the Glenwood Springs Middle School regarding RMR's current operations and allegations that those operations were not in compliance with Garfield County's special use permit.
In that meeting, everyone who spoke expressed their opposition to RMR, despite moderators' attempts to remind attendees to stay on topic and not discuss the proposed expansion.
But Dangler described the hearing as "a choreographed, three-hour mudslinging," and so he's since refrained from further engagement.
"When we have public hearings and I'm accused of being like [pharmaceutical company] Ciba Geigy in the '90s or causing lung cancer, some outrageous claims, it's totally unfounded," Dangler said. "It's more like pulverizing politics."
Indeed, he had been exchanging emails with Hanlon about a public meeting for July.
"By happenstance, we met on the 29th of April, which was about a week after the Garfield County hearing on the notice of violation, so that obviously had some implications to what kind of mood everybody was in during that meeting," Hanlon said. "We talked about ground rules for that meeting, and we tentatively set it for July 18. On July 10 of '19, Mr. Stratton called and left me a voicemail that said we don't want to move forward with that public meeting, so nothing happened from there on out."
That notice of violation hearing was the result of a formal complaint the Citizens' Alliance brought to Garfield County listing allegations against the company — but the complaint was a matter of procedure, Peterson said.
"The Citizens' Alliance in November of 2018 issued a complaint to Garfield County with evidence saying here are the alleged violations we believe are happening at the mine site, and Garfield County had amended their permit in 2009 to eliminate a six-month review and basically go into a complaint-driven enforcement, so we had to file a complaint in order to begin the investigation," he said. "Come March, they decided they had enough evidence to move into a public review. A public review happened on April 22. At that public review, they said there's plenty of evidence to show that you're in violation of this county permit that's been in place since 1982. You have until June 1 to amend your permit to your current operating conditions or come into compliance."
A month later, RMR sued the county, claiming its special use permit is overreaching, since the BLM's authority trumps the county's on federal land.
"By putting us on violation, it forced our hand," Dangler said. "We're not just going to go away and let somebody shut us down, so we had to pursue legal action to stay open. We've then reached out to basically file a new permit with the county based on their code, and they told us, 'Oh, we'll get back to you with dates,' and the next thing we heard, they passed a moratorium on mining. So very disingenuous."
Disingenuous is exactly the word Hanlon used to describe Dangler's claim that the city hasn't been willing to have a dialogue.
"For Mr. Dangler to say that he has begged for a meeting but has been unable to get one I find disingenuous, frankly, because we've been open the whole time," Hanlon said. "He has an attorney who represents the town of New Castle, certainly knows how to appear under public comments and ask for a meeting if they wanted to do it that way, if they didn't feel like we were communicating that to counsel. I don't think there's been a lack of communication nor an unwillingness to reach out and have those conversations. Like I said, I just find it disingenuous to say he's begged for a meeting but hasn't been able to get one."
Nobody has a crystal ball, but everyone involved has a story they tell about the future of Glenwood Springs should the BLM grant RMR its expansion. They're very different tales.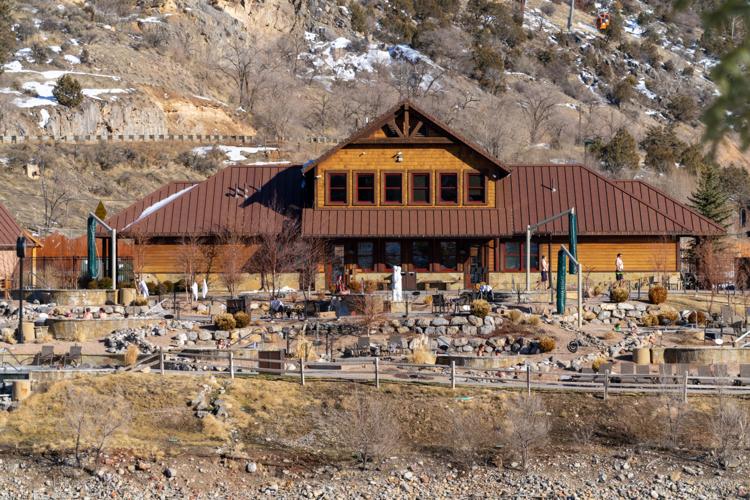 "That mountainside that you see up there goes away, the one beyond the tram. It gets completely stripped down. So visually, it would have a massive impact on our community," Godes said, gesturing out the window of the city manager's third-story office. "It's 500 trucks a day, a semi-truck full of gravel ­coming down Transfer Trail — it's an icy, windy road — every 48 seconds. It is air quality. It is water quality. It is the things we are known for in Glenwood: the rafting, the gold-medal fishing, our historic hot springs, our new hot springs. The namesake of what we are about, those are the things that are under threat."
Figueroa, too, sees economic disaster should the quarry expansion be approved.
"Our economies are interlocked. If our economy tanks, it will affect the entire region," she said.
Hanlon echoed that sentiment, especially around fears that drilling could unintentionally disrupt the hot springs' water system.
"Whether it's during their hydrologic study, if they intersect that aquifer, there's no way to mitigate that release of pressure. Two of the largest employers in town would be gone, just like that," he said. "Even if under the terms and decisions, they have to mitigate for traffic and all of these things, they don't have to mitigate for killing the economy."
But Dangler maintains his company's project has been highly and unfairly mischaracterized. The plan has to include the total blueprints, but the actual quarry expansion will only happen two to three tiers at a time over the course of at least 20 years. Its plan includes an entire section dedicated to reseeding and topsoil management. Another section detailing what it calls a natural visual barrier assures that the actual quarry operations will never be visible from town.
"RMR will be utilizing a natural wall technique to create a physical barrier along the south edge of each bench," it reads. "The natural visual barrier is achieved by leaving one to three 25-foot tall quarry benches in place during the removal of the remainder of the bench. The result is a 25-75-foot-high barrier which will contain most quarry operations. The presence of the natural visual barrier will prevent active quarrying operations on the bench from being visible from any vantage point at or below the level of the active production bench."
Furthermore, in Dangler's story, the quarry expansion means adding anywhere between 50 and 100 high-paying, year-round jobs to the area.
"What's the average wage for a tourism worker, the labor? Close to minimum wage? We're talking $25 to $45 an hour," he said. "Everyone in our company is 100 percent paid benefits, which I know I want for my family and I want them to have for their families. I don't think you get that in tourism."
As for the hot springs and other environmental impacts, Dangler said it's those concerns that prompted his company to request the BLM undergo an entire environmental impact study over the required, less extensive analysis.
"If the project was so flawed, we would not have even applied," he said. "We would not have spent millions of dollars. As an owner, you're trying to do these diligence items for your own investment. If we knew it would harm everyone's water in the valley and destroy hot springs and kill animals, we wouldn't bother. There's other places to invest your money."
That's actually Figueroa's and Godes' concerns, though — that people will invest their money elsewhere because of RMR's expansion plans.
"We're looking at potentially $100 million of investment, of affordable housing, mixed-use retail. Something that could really bridge the downtown to the Meadows, which is the retail heartbeat of the area," Godes said. "If this gets approved, that puts a stop to all of these conversations. You're going to see a huge brake effect."
Figueroa says it's already happening.
"This area is in an opportunity zone. I've gotten phone calls from investors saying, 'We would like to do this in Glenwood Springs, but we are just too worried,'" she said. "So [RMR is] already detracting from our economy."
Dangler, too, brought up the fact that the limestone quarry is in an opportunity zone — and that he is already proposing a $100 million investment.
"An opportunity zone is intended to attract capital to develop for local economic benefit," he said of the tax haven that allows entities to invest what would otherwise go toward capital gains taxes in at-risk economic areas. "Here we are offering to invest $100 or so million into an opportunity zone that was sanctioned by the governor and the federal government, but the locals are opposing it. What's good for them can't be good for us? It's not all zero-sum. Great, you're investing in your thing, why can't we invest in our thing? We're neighbors. We're in the same opportunity zone."
Mirror, mirror.
Editor's note: In the print edition of this story, published Sunday, Feb. 2, we incorrectly reported Harris Sherman's first name as Eric.