With multiple local fitness studios taking their classes outside due to limits on indoor activities guided by public health orders, the city of Aspen is preparing a framework that will temporarily relax rules on the commercial use of parks while implementing a scheduling system to minimize conflicts.
A fitness or personal training business can have no more than four clients, plus one instructor, in a studio at one time, under current public health orders enacted to limit the spread of COVID-19. The limit on students rises to nine, plus one instructor, if classes take place outside.
As such, local parks — including Rio Grande, Koch and Iselin Field — have been playing host to yoga classes, CrossFit workouts and other group fitness activities.
The use to date has been informal. Despite the normal prohibition on nonpermitted commercial activities in parks, city officials have taken a sympathetic stance toward the use of the public spaces by fitness businesses, since the opportunity to hold classes outside may be one of the only things keeping some proprietors afloat at this time.
"In principle we really want to support this use," said Austin Weiss, city parks and open space director. Parks have always been places of mental and physical renewal, he said; that takes on an even greater significance due to the upheaval wrought by the novel coronavirus.
At any time, "It is a wonderful experience to do a yoga class outdoors," Weiss said.
So far, the demand for use of the parks for fitness classes has been low enough that the city has not received any complaints, Weiss said. As the notion begins to catch on with more studios, however, that could change.
So, the city wants to have a structure in place to manage the use and create parameters that allow for a successful program. Weiss added that the city is among the interested parties, since the recreation department runs fitness classes that have been canceled since March that could take place outdoors.
A memo from parks officials that is expected to be released today will contain details of the framework, including available sites and times, as well as policy guidelines. Weiss emphasized that the framework will be temporary and will be reevaluated by midsummer based on the state of the economy and public health guidelines.
"We certainly realize it is a can of worms and we are going to close it again once the crisis need is no longer there," he said.
For fitness studios using the parks, the opportunity has been a bright spot in an otherwise dreary picture of health concerns and financial loss.
Jen Metcalf, owner of Ritual Fitness, has been offering her clients 9 a.m. classes outdoors at Rio Grande Park three days per week. She emphasized that participants must bring their own mat, towel and water bottle and show up wearing a face covering. The covering can be removed once the class starts, as all students are stationed at least 6 feet apart. She added that no equipment is being used during the classes and that all participants must book and pay in advance online.
The main challenge Metcalf said she faces going forward is "to make sure people feel comfortable and safe."
"The main challenge is that people are so unsure about whether it is safe to come back and be around people," she said. Making people feel comfortable and safe will be paramount in both the outdoor and indoor setting, as Ritual is beginning indoor classes in its Pilates studio under the four-students-or-less mandate.
Masks are required indoors, Metcalf added, and no one who is feeling ill is allowed in the studio, which is cleaned thoroughly before and after every class.
She said she is not taking clients' temperatures at this time, but that may change as tourist visitation picks up later this summer.
"We know a lot of people will come in June or July," she said.
Erik Larson, owner of Aspen CrossFit, has been taking his workouts outside at Iselin Field, at the Aspen Recreation Center, almost daily. He spoke of "a little community every day at noon" with his group and other personal trainers that have been using the field.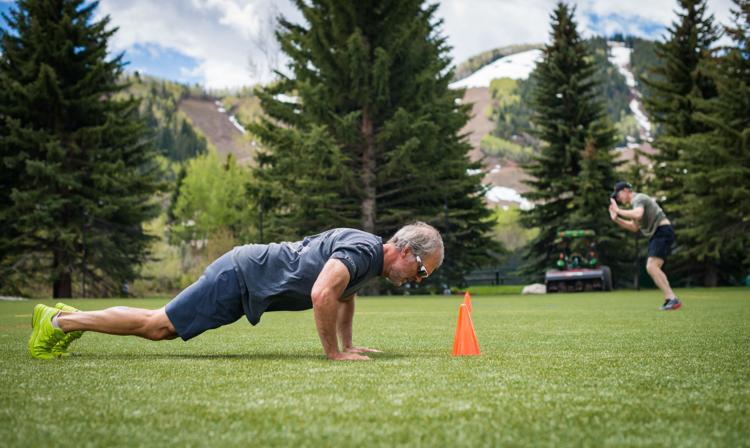 ARC personnel have been accommodating and gracious, he said, and his group in turn has done everything they can to be "impeccable stewards of the turf," all the way down to a no-spitting policy.
"Everyone has been, for a lack of a better word, sympathetic," Larson said.
He has been structuring workouts without equipment and they are as simple as they are punishing: run 400 meters, do 50 pushups, run 400 meters, followed by 50 burpees, run 400 meters, then 50 situps, then another 400 meters and 50 toe taps, as one example.
He added that daily workouts are posted online for anyone to do anytime, and he broadcasts a 5:30 p.m. live session on Instagram six days per week, as well as the outdoor group workouts that are practiced with social distancing.
This week, Larson also reopened his Aspen Business Center gym up for four-person classes. The outpouring of support he's received from the community has been overwhelming, he said.
"I was in tears," he said as he discussed plans to reopen with an ecstatic client base. "Those moments are what help me keep going."