The city of Aspen is beginning a process of taking stock of all its historic properties with consultants walking the town and updating documentation on each designated structure — information that is required to be brought up to date and shared with the state of Colorado every five to 10 years.
It's actually been almost 20 years since the city updated its inventory of historic sites and structures, though the state's overseers of the "Certified Local Government" program that establishes standards for historic preservation regimes have been OK with that to date, given Aspen's leadership role in the field and extensive work over the 2000-through-2012 timeframe to establish a new program that helps owners voluntarily designate post war-era structures. 
"The careful process of comprehensively surveying Aspen's historic structures and places, then developing policies, regulations and guidelines for their treatment is the foundation of the city's historic preservation efforts," says a memo to council from historic preservation officer Amy Simon.
Aspen is home to a total of 300 historic structures, all but 40 of which are from the Victorian era. In 2016, city council approved $25,000 to begin the process of updating the inventory, but the work was delayed due to other priorities and a period of staff turnover, according to Simon's memo. Earlier this year, the city selected Bendon Adams, a firm led by the former community development director and former city planner who specialized in historic preservation, following a process where a total of three firms bid on the work.
"Staff explained to council at the time of the 2016 budget request that we were uncertain how many resources could be covered for $25,000 and we would view this as a phased project," Simon's memo says. "Now that proposals have been received, we understand the cost per property to be approximately $300. The current contract covers 80 properties, with some extra hours budgeted for complex sites, public outreach, coordination with History Colorado and a conclusion report."
Sara Adams, the former city planner who is now a principal at Bendon Adams, last week completed her initial rounds through a section of Aspen's West End neighborhood where the 80 properties her firm has been tasked with surveying are located. All the properties in the initial phase are from the Victorian era.
For each home on her list, she knocks on the door. In the event no one is home, which Adams said is common, she leaves a door hanger explaining the purpose of the historic inventory update.
"This project does not change the landmark status of your property nor does it put any new restrictions on your property," the door hanger says.
Adams will then take photographs of the property from the sidewalk and note architectural details in a form submitted to the state. If someone is home, she will chat with them about the project and see if they have information that can be used in the inventory update.
Adams and a historic-architecture consultant from Denver will next spend about two months researching each property to gather information on who lived there and when and what they contributed to the town. Historic photographs and maps are sought as part of each file. City and county records, as well as archives at the Aspen Historical Society, will contribute to the effort.
The city already has much of the information from inventory surveys completed in 1980, 1993 and 2003. However, part of the updating effort includes documenting any new construction, additions or lot-split developments, of which there have been many affecting historic properties in the last 20 years.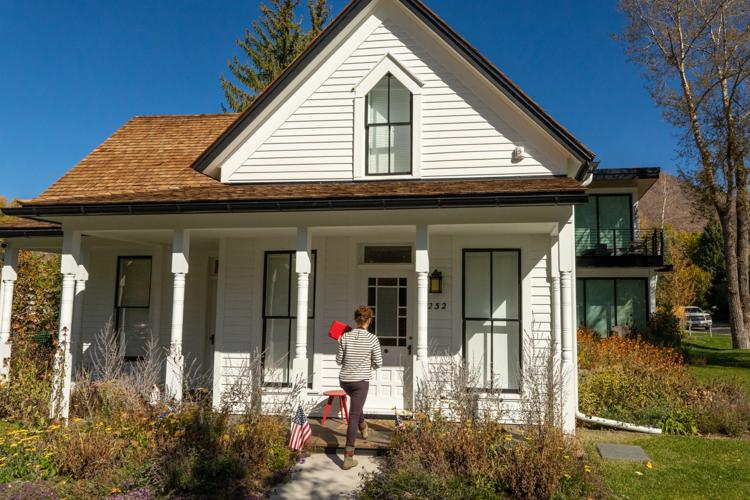 Adams will they enter all the information in a new editable electronic document which city officials believe will lend itself to future inventory updates being done in house. Existing records are on paper that has been scanned into a city database, which can be accessed by the public at AspenVictorian.com and AspenModern.com. 
Each property takes significant time, but it's a labor of love, said Adams, whose educational background is in historic preservation and who first came to work for the city in 2005. She and former planning office director Chris Bendon started their new firm in 2015. 
"Historic property owners have done an amazing job," Adams said on Thursday while documenting the handful of historic properties on the 200 block of East Bleeker Street. The 80 properties she is contracted to document are located between Bleeker and Lake Avenue. "The West End looks beautiful."
All Victorian-era homes that were still in existence during prior inventories were designated as historic. That means that they cannot be demolished and any renovations are subject to historic preservation review. Benefits include density bonuses, tax credits and the pride of knowing you are contributing to the historic fabric of the community.
"The inventory is not static; appropriate management requires periodic documentation of restoration or alterations that have occurred," says Simon's memo. "This is the focus of the current update. Stewardship of the inventory may also include consideration of additional properties that may have gained significance with the passage of time. That is not part of the current scope."
The city, after the 2000 update, identified numerous properties significant to the post-war resurgence of Aspen as a skiing and tourism destination.
"This resulted in a years-long community discussion of preservation policy and ultimately the designation of 40 properties and the creation of the AspenModern voluntary landmarking program. The AspenModern ordinance, passed in 2012, included a non-binding representation by the city council of that time that the city would not pursue additional survey of postwar era properties for 10 years."
Simon's memo estimates that it will cost roughly $66,000 to complete the inventory update for the remaining 220 properties, after Bendon Adams finishes its current work. The planning office will see grants to pay for some of this, but will return to council in the future with an additional budget request.
Updating the inventory is important to maintain the city's status as a "Certified Local Government," which is derived from the National Historic Preservation Act of 1966 and administered by the National Park Service and state historical societies. There are 64 such communities in Colorado.
"The benefits of being a CLG include exhibiting leadership in the protection of historic resources, receiving technical assistance from History Colorado, having a formal role in the National Register of Historic Places process, being eligible for no-match grants, and assuring the eligibility of local properties for state historic preservation tax credits," Simon's memo says.