When it comes to emergency preparedness and event management, there's an app for that. Several, actually.
Pitkin County Sheriff's director of operations Alex Burchetta, who also oversees the multiagency incident management team charged with ensuring public safety during one of the largest planned events in the state, has implemented technological solutions to complement the manpower necessary to communicate effectively with both the public and his myriad team members.
"Technology's a huge component to it, but technology doesn't solve every problem," he said. "So what we really rely on … is those partnerships, the training opportunities and the core foundations of [Incident Command System]."
That technology helps the area police officers and sergeants, sheriff's deputies, state officials from the Colorado Information and Analysis Center, and federal partners get on the same page — or screen, as the case may be.
While tens of thousands of people pack into the Buttermilk area each day, that dedicated crew of law enforcement, emergency medical responders and public information officers are on standby at the Mountain Rescue Aspen headquarters. Even ESPN has a regular presence in the room.
"A lot of what we do is the traffic safety messaging and the, 'It's going to be cold tonight; maybe you shouldn't wear a miniskirt to the concert' [messages]," said Tracy Trulove, city of Aspen communications director. "We drive anybody with questions about X Games to the X Games app — really about scheduling — but ESPN, having somebody in here, it's really smooth. They know who to call. It's a pretty cool setup."
In addition to being able to communicate ­directly with the ESPN drone pilot, for instance, the network partner also serves as another communications vehicle from officials to the masses, Burchetta noted.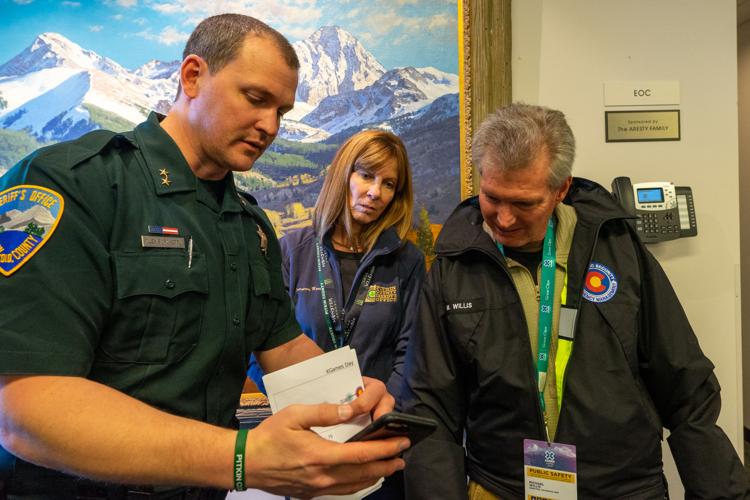 "In the past, our public messaging was robust leading up to the event, but when you actually have an incident — whether it's big or small — having that capability to push out messaging and coordinate it directly with ESPN so that it's the same message coming out from different avenues is huge," he said.
Even internally, the incident management team has developed its own app, which Burchetta showed Willis enthusiastically.
"The other night, we sort of redeveloped an app," he said, scrolling through his own phone for ­demonstration. "So we've got a welcome packet [for visiting law enforcement] … the event schedule and the venue map. It's actually pulled out of Google Sheets. We've got all the contacts for the incident management team — our outside partners, RFTA, the drone pilot, it's all right there. Making sure that, for a tactics meeting, you can see the day and time and who's supposed to be there, so it provides that transparency to the rest of the team."
That's imperative for busier days, when daily calls go from Thursday's 75 to more than 140.
"We can't handle it, the sheriff's office, on our own," Burchetta said. "We pull from the whole valley, pretty much. The only way we can really be successful in this is the mutual aid. We couldn't do the intel stuff that CIAC does. That's hugely beneficial. Mutual aid is key."
The streamlined collaboration has caught the attention of the higher-ups.
Michael Willis, director of the Colorado Office of Emergency Management, came from Denver to see the operation in person.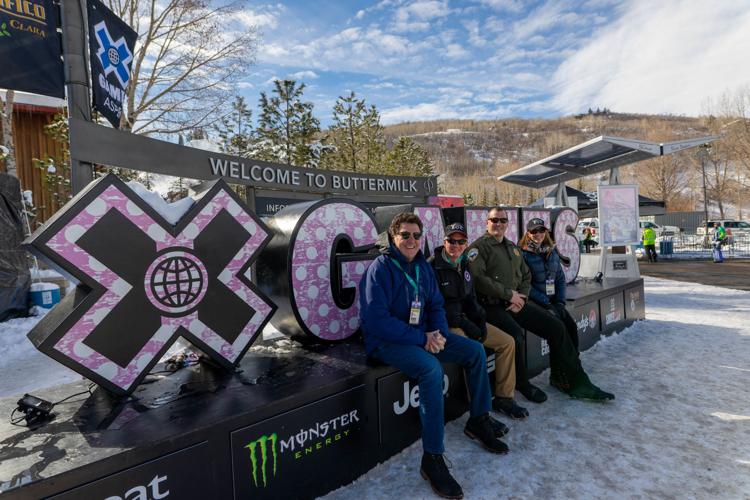 "You guys have established quite a reputation at OEM," he said when addressing the incident management team.
Over the course of the four days that is X Games, more than 100,000 people come through the Aspen area, if past years' estimates are any indication.
"It's spread out almost over two, three miles," Burchetta said, noting that because of the severely limited parking situation, the overwhelming majority of visitors park at the Brush Creek park and ride near the Snowmass Village turnoff. "They'll bus up to the venue. There's no tickets or anything, so there's no capacity control. Then, after the event's over, they spill out into Aspen."
The concert venue alone boasts a 7,500-person capacity — and then the games are usually co-existing nearby. Signage and communication become essential in managing the crowds, which is why QR codes are almost as frequently spotted on site as the X Games logo.
"We use QR codes to make it easy; you just have to take your camera and scan it while you're sitting in line," Burchetta said.
Scanning that code automatically plugs a user into the event's communications network, an opt-in system that provides social media and text message alerts. Those alerts range from traffic and weather alerts to, should the situation necessitate, an evacuation.
Friday and Saturday are undoubtedly the busiest of the X Games stretch — upwards of 40,000 people will likely pass through Buttermilk on each of those days — but even on Thursday, the team received 75 calls for either law enforcement or emergency medical response, more than double the 37 calls received the same day in last year's event.
Of those, three involved medical needs — one for an athlete and the other two for spectators — and of the more-than 70 others, many were routine traffic stops along the highway, Burchetta said.
But the team trains for the worst-case scenario, everyone in the room emphasized.
"That's our job is to think about, 'What if it doesn't go well?'" Willis noted. "So I appreciate that there are so many people out here watching these games or participating in these games that never think about that, and they never will. And frankly, we don't want them to."
The model is one that Willis would like to see replicated throughout the state.
"Next year, a lot of your peers would like to hear how you do this, and you do it routinely. There's a lot here that's going right," he said, inviting Burchetta and county emergency manager Valerie MacDonald to present their formula to a larger audience.
MacDonald spearheads yet another team to support the incident management team.
"I have over 200 people organized on our emergency support function teams, and they're multi-jurisdictional as well," she said. "And having people know what their responsibility is and what their role is before we have an emergency and where they're supposed to go and what they're supposed to do is huge. We've got the systems in place. I know we will get through what comes our way better than a county that doesn't."
As big of an operation as the X Games proves, in many ways it's a training ground for unplanned events, such as the Lake Christine Fire of 2018.
"That's where preparedness really starts to happen, and it shows up, because when it's here on these known events, it's there, ready to go on the unknown events. And they got a taste of that at the Lake Christine Fire," Willis said. "But all those partnerships that you create during things like this, you know you can count on that when an unknown incident happens. You can't do that on the fly — you have to do that in the preparedness phase, and you have to do that with your partners."
Burchetta agreed, but he added that, thanks to a Saturday night blizzard in 2017 that resulted in not only thousands of people eagerly awaiting a bus ride home but a vehicular crash between a snow plow and bus that shut down part of the highway, even an event as planned as the X Games can throw a wrench into the best-laid plans.
"And that's where the partnerships come in," he said. "We plan, we prepare, we meet and table talk on everything from a routine contact all the way to something that would require some mass mobilization of the public."