It was during her 44th evening meeting of the year, the one where Aspen High School senior class parents were given final marching orders about how to let go, when Kathy Klug momentarily lost her composure. 
The slight catch in the voice of the normally steely and revered college counselor was a surprise to Klug as well as those families who filled the school's seminar room on that Tuesday night.
It came as Klug nears the end of a 17-year tenure creating and nurturing a department dedicated to defining options beyond high school. She figures the program has served about 3,000 local students during that time. That's a mission that has led to the creation of the Colorado Western Slope College Fair and College Outreach and a financial aid assistance program called the "Aspen Promise" which vows to leave no student behind during the final throes of college funding.
While she will continue to work part time on behalf of those two programs, when the AHS class of 2018 graduates this Saturday at the Benedict Music Tent, Klug too will prepare for a life transition. Olympic medalist and Aspen native Alex Ferreira is the commencement speaker.
"I'm retired on July 1," from the day-to-day work as a college counselor, Klug said recently.
Klug and Melissa Lustig share college counseling duties for the 130 students in the class of 2018, a job that begins almost from the time students enroll as freshmen and gains steam with each year of high school. By senior year, students will have been guided through essays, college visits, the realities of financial aid and the college application process.
"We're a team," said Klug, adding that Susanne Morrison provides crucial administrative support to their staff. The other parts of the team are the students and the parents, she noted.
"Hearing the kids is one of our primary jobs. Coordinating that with their families is a job," Klug said. 
Knowing the audience and the subject has been critical. This approach is vastly different from back at the turn of the millennium, when the school employed two counselors to handle social, family and school issues as well as college advisement.
Between them, Klug and Lustig have visited more than 500 college campuses, which has helped guide students to places lesser known and find potential scholarship opportunities for schools whose annual costs can range between $30,000 to $70,000.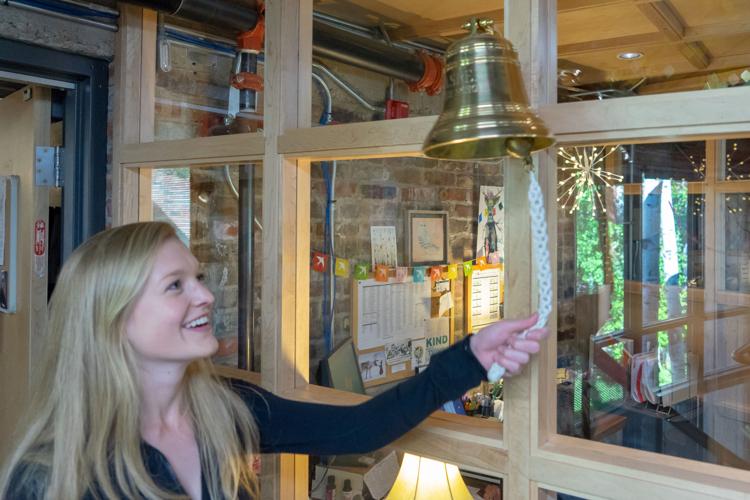 One of Klug's favorite mantras to students is, "there's no perfect school," but "there is a perfect school out there for you." During an interview last week she added, "I also think there's more than one perfect place for a kid."
This year, 94 percent of AHS seniors are going to college, which includes state and private U.S. universities across the continent as well as the Northwest School of Wooden Boatbuilding and Franklin University in Switzerland.
"This year in many ways, they have probably been my best fit and match. Some are rejecting Columbia and others for the schools that fit them," Klug said of the seniors.
Klug likes to cite the statistic that throughout the course of one's lifetime, a college degree is worth a million dollars above what one could earn without a degree. 
While that opinion has produced blowback, including one pointed letter to the editor from a longtime Aspenite citing the need for some graduates to pursue trade work and other jobs that don't require an advanced degree and the requisite debt, Klug remains steadfast in offering students the opportunity of "college knowledge and self knowledge."
Bells and transitions
One tradition that Klug adopted from 10 summers teaching in Asia was the power of bells.
"Bells meant you were sending something to the universe," Klug said, while showing visitors the bell that senior class members ring after they have applied to their first-choice school. 
The current bell was donated by the Stevens family, whose son Brian now works as a school resource officer, Klug said.
Aspen High School Principal Tharyn Mulberry, who is finishing up his third year at the helm, this week reflected on what he categorized as a "unique college counseling program."
"This is a pretty incredible opportunity, as a school, to have a dedicated staff for our seniors," Mulberry said.
That opinion was reinforced during his visits to other high-performing high school campuses in Colorado and California as part of a recent initiative to improve a range of programs.
"In every instance when we visited their college counseling office, it became apparent we had a gem of a program," Mulberry said.
He praised Klug for her "intimate knowledge" of the college admissions process and the relationships she has built with its representatives.
"One of the great things about Kathy's personality is when she calls, they call back," Mulberry said.
Families who have the means to live where they choose have noticed the quality of Aspen schools as well as the college placement program, according to Raifie Bass, who works in real estate for Douglas Elliman and has also volunteered for the nonprofit Aspen Education Foundation.
"There's no question that there's a direct correlation between the quality of the community, real estate and the quality of education," Bass said. He cited several Snowmass Village neighborhoods that have seen an influx of families insistent on buying within the district.
"So many families that have chosen to live here, many came post-9/11 from big cities and would not have stayed here if we didn't have great schools," Bass said. 
"Having as asset like Kathy Klug and Melissa and Susanne in the college counseling department is unique to any public school and on par or significantly better than most private schools," Bass added.
Mulberry said the success of the fall college fair, which is open to students across the Western Slope, is another feather in Klug's cap and one she will continue to positively influence.
Klug approaches the process of ferreting out new colleges with the same zeal as when she finds a good match of student with school.
Once, while on the way to visit the University of Virginia, Klug took a detour and came upon the University of Richmond, which has since been a top choice for several Aspen High School graduates, including one this year. Klug reflects on those sojourns fondly, with a passion she also feels for historical roadside markers. She'll have more time to seek those out with husband Warren Klug, the general manager of the Aspen Square hotel, who is also scaling back his work load, she said.
While AHS students will miss the day-to-day interaction, Klug vows to continue running the college fair until she is no longer able. The same goes for the Aspen Promise, "which is the promise that we will close the gap for every kid to go to college. I will stay with that until I'm not here anymore," she said.
To critics who say she has added to student pressure through her methods, Klug said, "I've never heard a parent say they want their kid to do nothing."
Stepping into her role and as teammate to Lustig and Morrison is Charles Laube, who currently works at Mullen High School in Denver. Klug became acquainted with him while he was a college representative.
In addition to his other attributes that she said make him a good fit, Laube "won't have to say he's the new Kathy Klug," according to the original Kathy Klug.
Follow Madeleine on Twitter, @Madski99