The future of Snowmass had an unveiling of sorts Monday as the Collective – aka the town-owned Base Village Building 6 – offered up the first real look at what's to come this winter when the building opens its many doors to the public. It's a visionary idea for the social hub of Base Village, and whatever else it might achieve, it ensures the future will be colorful.
The building has been shuttered since the end of last ski season as it undergoes a wholesale transformation, but last Friday, 11 Denver artists and local painter Kelly Peters started transforming the lower floor of the Collective into what promises to be a kid-centric game lounge unlike anything seen in a ski town before.
"As soon as we saw the space and talked with East West Partners (the developer of Base Village and manager of the Collective), we said, 'This has to be different from any game lounge that any base area or anybody has ever seen,'" said Chris Beatty, creative director of Cultivator Advertising & Design. "We all agreed in that moment that we could do anything, and anything is possible."
Under Beatty's direction to "artistically affect everything in the space, even the games," each of the artists has been given an area of the game room or the adjacent ball-pool room in which to let their imaginations run wild. The result is a psychedelic feast for the eyes and, in the case of one particular wall, the ears.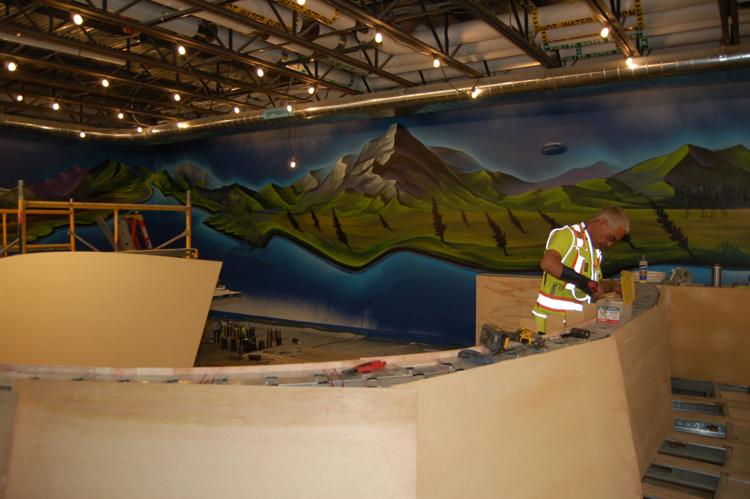 Artist and electronics wiz Thomas Evans, who goes by the handle "Detour," is incorporating small circles, squares and bars into his otherwise large-scale wall painting. They're design features that, when touched, will play a musical note from an instrument that can be changed via computer.
About 20 feet away, graffiti maestro Taste (real name Charles Lewis) is hard at work on a welcome wall displaying the giant words "The Collective Game Lounge" in his signature street style. His aptitude with the spray-paint cans is such – and he works so quickly – that one imagines he'll be done in a couple of hours.
It's the same everywhere you look. Visual treats – silkscreened old-time cameras, groovy wave-like patterns, an interactive video installation, bold geometric shapes – cover every wall, literally. Peters, assigned one of the three unisex bathrooms, is painting mountains and clouds in shades of black, white and gray over the entire room. She'll be opening her own gallery, Straightline Studio, for classes and exhibitions in the west building of One Snowmass Place later this winter.
The artist effect will extend to games such as the ping-pong tube and the ping-pong table made from old road signs with arrows on them. There will also be a vintage skee-ball table backed with a funhouse mirror, shuffleboard, arcade games with a wide array of classic favorites (Ms. Pac-Man, Galaga, Donkey Kong, etc.) and a custom-made, LED-lit eight-person foosball table.
"A lot of times, I'll go into bars and places where kids are allowed to play foosball, but there are only four kids that can play at once," said Beatty. "I wanted everyone to play."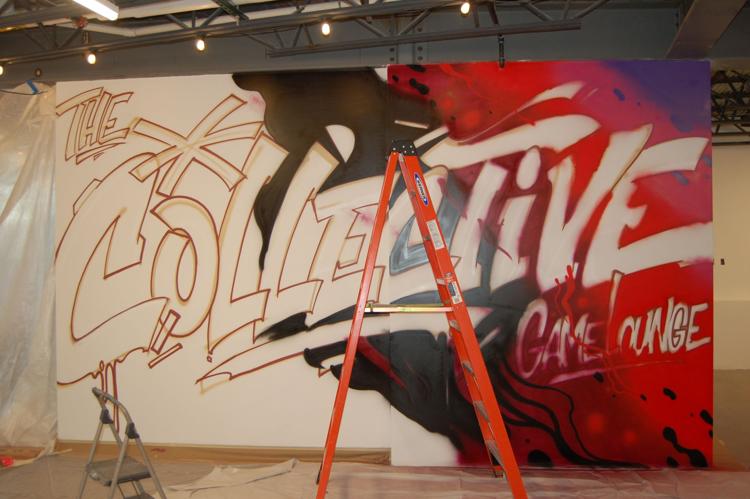 Somewhat less creatively, there will be the requisite large-screen Xbox stations and a standard pool table, but that's the extent of the standard stuff at the game lounge. Practically everything else is unique, including the awesome ball pool that is shaped like Snowmass's Ziegler Reservoir and painted with a mural depicting five of the species – mastodon, bison, horse, giant sloth and camel – whose remains were dug up at the reservoir in 2010 and 2011.
Soon, when construction is complete, the pool will hold 133,000 balls, enough to fill it three feet deep (don't worry: they'll all be washed frequently by a state-of-the-art ball washer). Eleven thousand of the balls will be marked with footprints from the five species, encouraging little ones to learn as they play.
Slated to open before the start of ski season, the Game Lounge will be an ideal place for kids of all ages to hang out, and best of all, it'll be free and first-come, first-served, at least for now. Numbers and demand for use may make it necessary to charge a fee or have an advance signup program in the future.
In the Mix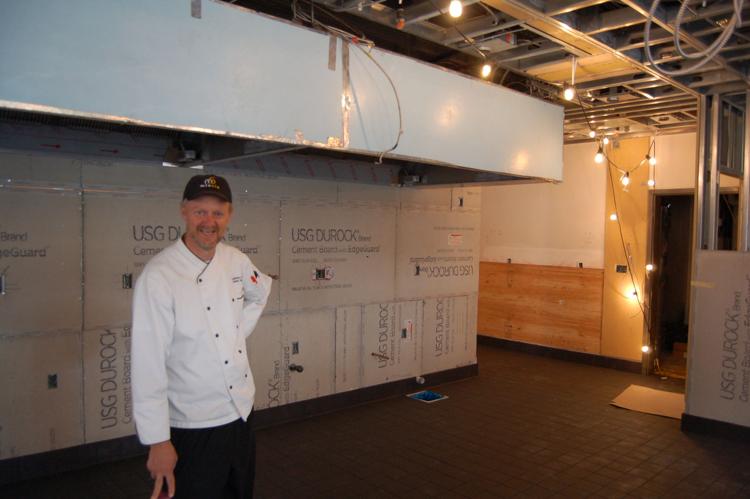 While the kids game it up downstairs, their parents can relax at the main-level Moxie Bar and Mix6 restaurant, the latest creation from renowned Aspen Chef Martin Oswald, known for Pyramid Bistro and for catering Jazz Aspen Snowmass concerts. Scheduled to open Dec. 7, with a grand opening on Dec. 14, Mix6 aims to give Base Village a unique take on an affordable, fast-casual eatery.
The restaurant takes its name from one of its menu options (there is also a Mix4). The idea is that diners will choose six items from 30 different choices in a variety of categories. There will be a number of salads, along with four different starches like spicy sweet potatoes and black rice, six different casseroles and six different meats and fish, including favorite Oswald recipes like lemon chicken and chimichurri steak.
"There will be 30 items you can mix and match, so there are endless possibilities," said Oswald. "And we'll have a great to-go program where everyone in the party can select precisely what they want online." 
The staff will have recommendations for how to mix your six, but the idea is that "the guest becomes the chef while I just curate the flavors," said Oswald. "You can just look at the food and see what appeals to you in the moment." 
The food will be prepared in an open kitchen, and wine, beer and soft drinks will be available, but for those looking for something stiffer, Moxie Bar lies just across the room and shares lounge and seating space with Mix6. It also has large windows that can be thrown open to the expansive patio in nice weather, making it a de facto indoor/outdoor bar.
The main level's other indoor-outdoor feature will be the Collective Lounge, which sits adjacent to Mix6. With the ability to be shut off and configured as a party space or performance venue available for public and private events, the lounge also has garage door-style windows that can roll up and open onto another patio. The venue is already scheduled to host concerts, improv, standup comedy, movies and more this winter.
Taken as a whole, the Collective is an innovative idea for a space whose fate seemed a little bit in limbo before East West took over management, Now, with so much to eat, drink, see and experience, it has the chance to remake Snowmass.
"What attracted me was how much this has to offer," said Oswald. "With all these different aspects in one place, I can't see how it won't be a success. It's being done as well as it can be done."