A land-use application for an 18,000-panel solar farm — to be located on 35 acres of vacant property just south of Woody Creek — was unanimously approved by Pitkin County commissioners on Wednesday at the end of a six-hour special meeting.
Commissioners hailed the public-private project as a small but important step in the movement to promote green energy and reduce the region's reliance on electricity generated by fossil fuels.
While explaining why he was supporting the resolution to approve the solar farm, Commissioner George Newman said that transitioning from fossil fuels to renewable energy is one way to address the impacts of local growth. 
Pointing to former vice president Al Gore's documentary on climate change, "An Inconvenient Truth," he said that very little has been done to address the problem since the film was released in 2006. Thirteen years later, the current presidential administration is rolling back environmental regulations, and it's up to local and state governments to take action, Newman suggested.
"We can't rely on the federal government to try and fix this problem," he said, adding that Pitkin County has always had a strong environmental ethic. 
Prior to the vote, more than 20 residents young and old spoke for and against the project during the public-comment section of the meeting. Much of the opposition, residents of Woody Creek and Brush Creek, stressed their belief that the facility would be an eyesore.
But no one seemed to state the reason for supporting the solar farm as succinctly as the pre-teenage girl who said, "Your view in the morning? Is it really so important that you won't give it up for a healthier world?"
Newman alluded to future generations in explaining his vote. "Our youth gets it, because they're the ones who are going to have to live with it," he said. "We'll be gone."
And noting that Aspen is an international resort, Newman said that once the solar farm is built, locals should showcase it — proving that the community "walks its talk."
Partners in the initiative are electricity cooperative Holy Cross Energy, which will harness enough energy from the five-megawatt plant to power an estimated 1,000 homes; Renewable Energy Systems, a global entity that builds solar farms; and the Aspen Consolidated Sanitation District, which owns the land.
The property is located on a bench above the Roaring Fork River, about two miles from Woody Creek, southwest of Stevens Street off McLain Flats Road. For 31 years, from 1974 to 2005, ACSD used the property to dispose of biosolids. The land is distinctively different from the open space around it; void of trees and brush, it is covered with non-native grasses that give it a light-brown color.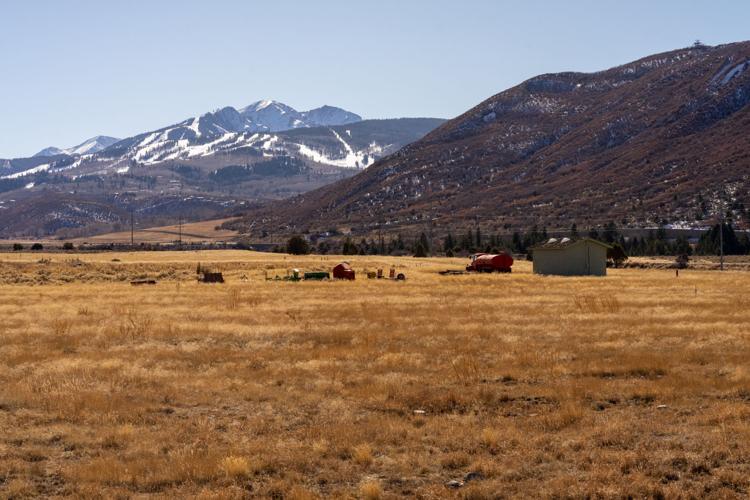 Wednesday's meeting room was packed with people waiting for the public-comment period. The gathering started at 10 a.m., but got off to a slightly rocky start when commissioners had to quiet down a man who spoke out of order following Commissioner Steve Child's disclosure that he has been a longtime advocate of renewable energy production and involved in various studies and projects outside of his public duties. (Despite that, Child said he would assess the application with "an open mind.")
Commissioner Greg Poschman said that similar to Child, he has held a longtime interest in climate-change advocacy, and believes it to be a virtue. He said he was impartial with regard to the application, "sitting right on top of the fence."
Leslie Lamont, a senior planner in the county's community development department, noted that given the land's current zoning designation and the fact that a public utility was involved in the project, the application was entitled to special review. She noted that the county planning and zoning commission, with a positive recommendation from staff, voted to support the request during the summer, but attached certain conditions.
The county's 2017 Climate Action Plan directs it to act to reduce greenhouse gas emissions, Lamont said. Other officials and solar-farm supporters pointed out that commissioners recently voted to declare a "state of emergency" on climate change.
"The project will preserve the rural character of downvalley," Lamont said. "When construction is completed, the project will generate very little traffic, no new employees and no light, or sound, or odors."
Special conditions include an annual review by the county to ensure that the panels and other infrastructure are not causing problems related to glare. The site also must have a certain level of landscaping so that it will blend with its rural surroundings.
Lamont said there are no geological hazards on the property and that the site is void of "mapped critical wildlife habitat." While opponents charged that the solar farm would hinder the movement of mule deer and elk, experts have discounted the tract's importance in that regard.
Local land planner Alan Richman, a consultant for the applicant, noted that the property is one of the few publicly owned vacant parcels in the area that has not been purchased for open space or affordable housing. It sits on a flat bench with no natural hazards and has all-day solar access. Its standing as a "Brownfields Site," applied to previously developed land that's not in use, makes it the ideal location for a solar farm.
Richman's presentation included a quote from Old Snowmass resident Amory Lovins, a renowned physicist, co-founder of the Rocky Mountain Institute and an energy adviser to private firms and governments for more than 40 years.
"This is an excellent, timely, well-sited project that will improve the resilience of the upper-valley power supply and create important economic value within the county," Lovins said.
Richman said the project complies with numerous local studies and reports, including the 2003 Pitkin County Comprehensive Plan and the 2012 Aspen Area Community Plan, as well as the aforementioned 2017 Climate Action Plan and recent climate-change emergency declaration.