A recently completed ASE Vision committee report suggests the need for a multimodal transportation facility located near a new Aspen-Pitkin County Airport terminal and Highway 82.
The report was created by the Focus Committee, one of four subcommittees participating in the ASE Vision process to develop recommendations for airport improvements and expansion. The subcommittee work is designed to guide the deliberations of the overarching Vision Committee, which will then provide final recommendations to Pitkin County Board of Commissioners about how to proceed with future airport projects. The process has been underway since early this year, and commissioners are not expected to deal with the recommendations until early next year.
The Focus Committee was tasked with developing ideas for improved airport connectivity. The report says more convenient ground transport to and from the airport would include a mix of public and private modes of transportation, and consideration should be given to a variety of mass-transit possibilities, "including light rail, monorail, gondola and greater utilization of [Roaring Fork Transportation Authority] buses." The rail, gondola and enhanced bus concepts are accompanied, however, by a disclaimer of sorts: "if feasible."
In addition, the report says that weather-protected facilities should be an important aspect of enhancing convenient movement to and from the new terminal and to and from ground-transportation modes. Currently, arriving travelers must walk outside of the terminal into an open-air setting to catch a cab, shuttle or private ride that will take them to their destinations. 
And, if using a RFTA bus for transport to Aspen or downvalley destinations, they must walk a short but winding distance along a concrete path to the bus stop, first downhill then uphill, and up a flight of stairs, without protection from possible inclement weather, such as snowfall. This can be difficult for travelers carrying luggage or managing children.
"There should be a coordinated balance of facilities for adequate parking, car rental, shuttle, taxi and private drop-off and pick-up," the report states. "Additionally, coordinated management of traffic through the facility will maximize traveler convenience while minimizing energy consumption."
The committee's response to the question of how to enhance seamless connectivity to transit options reads as such: "Facilitate the future development of a terminal with an integrated, multimodal transportation and vehicular circulation facility that will simultaneously accommodate the convenient movement of mass transportation systems such as [RFTA's Bus Rapid Transit system], airport circulator buses, taxis, hotel and rental-car shuttles, and rail-oriented transportation."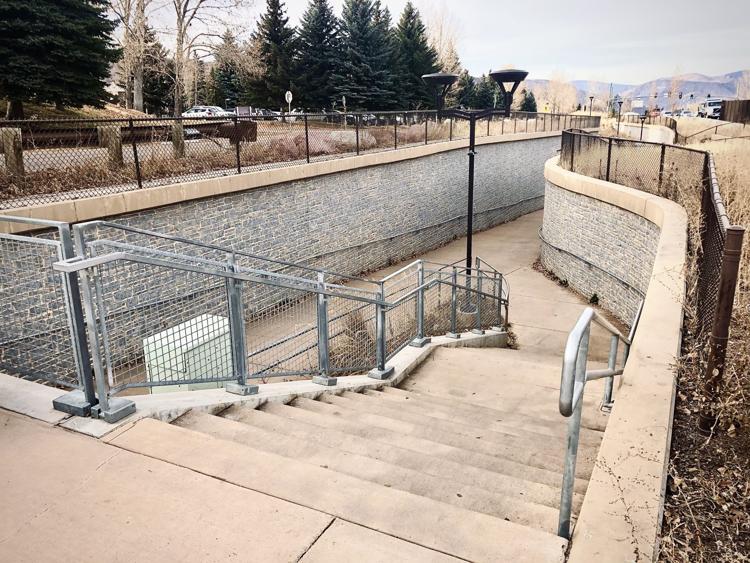 To accomplish such a system, the report suggests that it would be appropriate to hire design-engineering-funding consultants "with demonstrated experience and expertise in multimodal airport ground-transport projects." Local ground-transit stakeholders should be engaged in the design process, and public review and input also would be appropriate, the report says.
Aside from those summary conclusions, the Focus Committee report lists numerous details on a variety of issues for the Vision Committee to consider. Some are recommendations from the committee as a whole while others are basically thoughts from individual members.
Among them:
Provide public buses that loop through the airport. "There is something demeaning about dragging all your luggage out to the highway. Especially during a snowstorm," the report says.
Make it easier to transport luggage on the bus.
Bus schedules must align or be frequent enough to make people want to use them.
Build a large European cable-car type gondola that would not disrupt (or would minimally disrupt) Marolt Open Space.
Develop a luggage-delivery system, if implementable.
Is a parking structure being considered? If so, it should be low-profile or underground. 
Collaborate with the Colorado Department of Transportation to create an ASE-designated structured parking facility at the Brush Creek Park and Ride to accommodate rental-car and long-term parking. Employee and short-term surface parking lots can be made available on county property across Highway 82 from the airport.
Clear, understandable signage in the terminal is needed to direct people to where they want to go.
The county needs to create an airport-transportation "czar" whose role would be to work with and coordinate all the disparate public and private entities that currently, as well as in the future, have an interest or stake in providing ground transit to and from the airport.
Transportation between Snowmass Village and the airport does not appear to be a problem or in need of a solution, even during peak travel periods.
The entrance to Aspen and possible solutions to daily traffic delays that can and often do occur there, especially during peak seasons, appear to remain intractable and highly contentious issues. The Focus Committee believes that the ASE Vision process would be best served by staying out of that debate and by the county's designing, funding, building and operating a multimodal ground-transportation facility that has the flexibility to accommodate and interface with whatever systems may exist in the future.
The Focus Committee report, along with minority opinions, will be formally presented to members of all the committees in a group setting on Dec. 5.