Community leaders and members of the incident management team handling the COVID-19 outbreak in PItkin County held a virtual town meeting Monday afternoon. More than 700 people streamed the eventusing a video conferencing platform and the GrassrootsTV YouTube channel, with more watching on live television and listening on the radio.
IMT public information officer Tracy Trulove opened the meeting by reiterating the joint Pitkin, Eagle and Garfield County public health order that limits large social gatherings, and Aspen's emergency ordinance that shut down a handful of public venues.
"All of our individual actions matter right now," Trulove said.
The IMT put out a call for questions from the public on Friday, and attempted to answer a majority of them during the nearly 60 minute discussion, though Trulove said the team could not answer all questions that had come in at the time.
Joining Trulove at the table in the Pitkin County Board of Commissioners meeting room were Tom Heald from the Aspen School District, Public Health Director Karen Koenemann, Aspen Skiing Co. CEO Mike Kaplan, AVH CEO Dave Ressler, co-incident commander Gabe Muething of the Aspen Ambulance District, and Pitkin County Manager Jon Peacock. The team members were each seated with the recommended six-foot leeway for social distancing precautions. 
In lieu of tests, self report
The largest outstanding question being discussed on community social networking platforms over the last week has been the shifting testing strategy for COVID-19. At this time there are 13 presumptive positive cases in Pitkin County, but many other tests that have been sent to the state lab have yet to be returned.
Earlier Monday, Bill Linn, PIO for the IMT, said that he could not give a hard number of swab kits that have been couriered to Denver for testing.
"The number of people that have been tested in the valley, it's not a static number," Linn said. "So we are not keeping that number."
He said about 20 people were tested on the brief afternoon that drive-up testing was made available to the public at the Aspen Volunteer Fire Department's Aspen Village station last Thursday. Shortly thereafter, Pitkin County Public Health reversed course, and announced they would only be testing people who are hospitalized with virus symptoms at Aspen Valley Hospital.
Ressler, of AVH, said the question is not where people can get tested.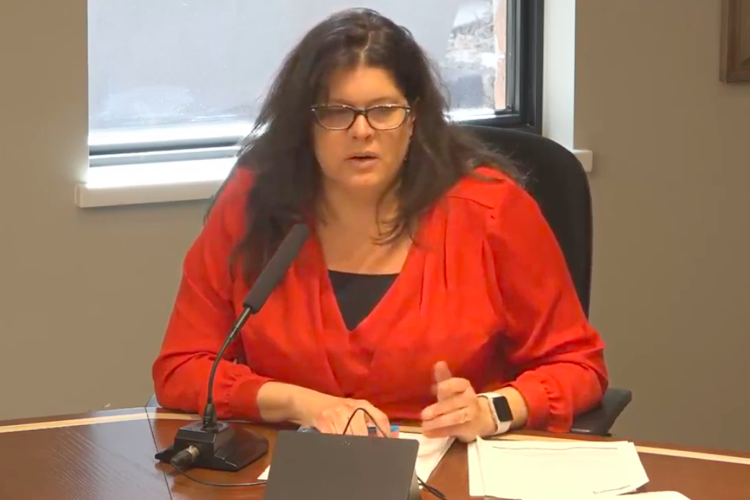 "We should re-frame that question a little bit [to] where should you go for care — that's really the question," Ressler said.
He said once someone is hospitalized, they will be screened and tested if need be. Other precautions could include an isolation room, or getting patients to lower altitude, as COVID-19 is a respiratory illness that can be exacerbated at high elevation.
 Koenemann said the county does not have the capability to do broad-based community testing, which would help identify and track spread. But her team is working to set up a tracking method that does not involve testing and instead relies on the public to self report symptoms.  
"We are going through and devising a new way of being able to track spread within our community," Koenemann said.
Within a few days there will be some sort of online document for residents to share symptoms and demographic data with the health department.
She said in lieu of tests being available, relying on the public to analyze their own health is an option.
"We should be able to track or survey the spread of COVID-19 through our community in a different way besides testing," she said.
Calling it quits on Buttermilk
SkiCo president and CEO Kaplan was asked about the future of the ski season, after Saturday's declaration from Colorado Gov. Jared Polis that all ski areas close for one week. While awaiting updates, the company has decided to close operations at Buttermilk for the season, where closing day had been scheduled for April 5.
The ski area closure order runs through March 22. Kaplan said they are on standby to see what happens on that date, and will proceed along with recommendations from Pitkin County Public Health and the incident management team. 
"If he lifts it after that we are going to be doing a lot of talking around this room, and if everyone is comfortable we will have some thoughtful limited operations," he said. That reopening could take place on any of the other three ski areas.
While uphill access is open currently, Kaplan requested that the community focus on moderate terrain, so as not to overwhelm first responders and hospital staff if resources needed to be rerouted to a skiing accident.
"Just be careful, keep it on the easy stuff," Kaplan said. "We don't need to make their lives more difficult. That said, I think getting out is important for all of us." 
Schools
Acting superintendent of Aspen School District Heald was asked how long kids would be kept out of school. Last week the district made the call to shut down all facilities for this week, leading into next week's scheduled spring break.
Like Kaplan, Heald said he didn't know what the decision would be when that period is up, but he said the schools are already working on alternative educational opportunities. 
"If we do stay closed for a longer period of time, you will see a lot more messaging from us regarding remote learning and online learning," Heald said. 
He said despite social distancing recommendations, many of the high school athletic teams are still getting together to practice. And, though the governor has encouraged residents and visitors of Pitkin County to limit social contact and stay at home as much as possible, Heald said he thinks families are getting away for the extended break.
"I saw several vehicles today loaded up with bicycles headed west. I imagine they are going riding," he said.
Heald praised the school lunch program for continuing to be up and running during the closure for students who rely on the daily meal. He also cautioned families who are relying on older generations to watch children who are out of school, as age is a factor in the severity of COVID-19 cases. 
Future community meetings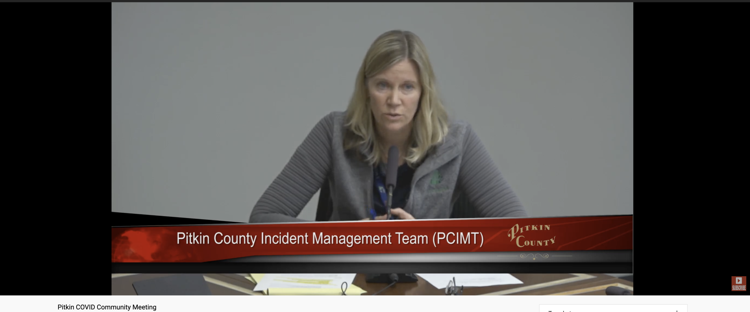 Trulove said the incident management team is working on expanding the social networks they are using to get information to the public. There will likely be follow-up virtual community meetings similar to Monday's. Linn said the online viewership — which maxed out capacity on the online call-in platform used, creating the need for some last minute scrambling to add other outlets — was appreciated.
"We are glad we had a good reception to it, and we are discussing how to replicate it, and how to improve our outreach because it's a constant work in progress," he said.
The rest of the leadership at the meeting reiterated the recommendations for all community members to voluntarily self isolate for the time being. Koenemann said the number one priority now is to suppress spread in order to support the high-risk members of the community.
"We really need to keep our infrastructure in place. That includes our healthcare and our first responders. We need to make sure the most vulnerable are not getting sick so that we don't have mortality in our community," she said.
She said social distancing is a cultural shift that will be hard for some to implement, but that it helps to curb the contagion. If isolation measures are effective it will have the result of COVID-19 likely having a longer duration in the community, but never spiking to the amount that would overwhelm the hospital's ability to treat all patients.
"We need to take the steps to do social distancing and really support each other in that," she said. "We will get through this."