Environmental issues pertinent to the Roaring Fork Valley are getting attention from the leading candidates in what will be one of the country's most closely watched U.S. Senate races.
High on the list of priorities unveiled by former Gov. John Hickenlooper, who is seen as a favorite for the Democratic party's nomination to challenge incumbent Sen. Cory Gardner, is passing the CORE Act, a sweeping public lands bill affecting 400,000 acres in multiple sites across Colorado. Contained in the legislation are provisions that would protect the Thompson Divide region between Carbondale and Paonia from future oil and gas leasing, as well as designate Camp Hale, where 10th Mountain Division troops trained in the World War II era, as a National Historic Landscape.
Protecting the Thompson Divide against a push, beginning in 2003, for widespread natural gas exploration has united Roaring Fork Valley constituencies. As governor, Hickenlooper was supportive of the federal government's move in 2016 to cancel the leases that were immediately threatening the area. Permanent protection and withdrawal of any future oil and gas leasing would be the final step and Hickenlooper is on board, he said in an interview during a campaign swing through Aspen this week.
Though the CORE Act, sponsored by Rep. Joe Neguse of Boulder, passed the Democratic-controlled House in October, it has stalled in the Senate, and Gardner, as of yet, has not signed on. Rep. Scott Tipton, whose 3rd Congressional District includes much of the land affected by the bill, voted against it, citing concerns about the process as well as the impact that new wilderness designations would have on flights from the Gypsum-based High-Altitude Army National Guard Aviation Training Site.
Gardner, a Republican, said in an interview on Thursday that he's spoken with various stakeholders, and "there seems like there is some common ground that has been reached" in terms of the permanent protection and withdrawal of future oil and gas leasing in the Thompson Divide. However, he said Rep. Tipton's support for the initiative remains critical.
"My approach on public lands has always been to make sure that when we designate public lands … make sure we do it in a bipartisan fashion and make sure we have support from the member of congress whose [district] the land is in," he said.
Asked whether that meant Tipton's support was a prerequisite for his support on Thompson Divide protection, Gardner replied, "I wouldn't say prerequisite, but I want to give every chance we can to work it out and I don't think that has been done yet."
Gardner said he is firmly in favor of designating Camp Hale, which sits near the Continental Divide in Eagle County, and whose troops often came through Aspen on training missions. He noted that the area is in the Democrat Neguse's district.
"I suggested we move that," Gardner said.
As for the overall CORE Act, a spokesperson from Gardner's office said that the legislative process is still playing out.
"Sen. Gardner continues to have conversations with the Colorado congressional delegation, local officials and constituents regarding the CORE Act," says a statement released by the senator's office.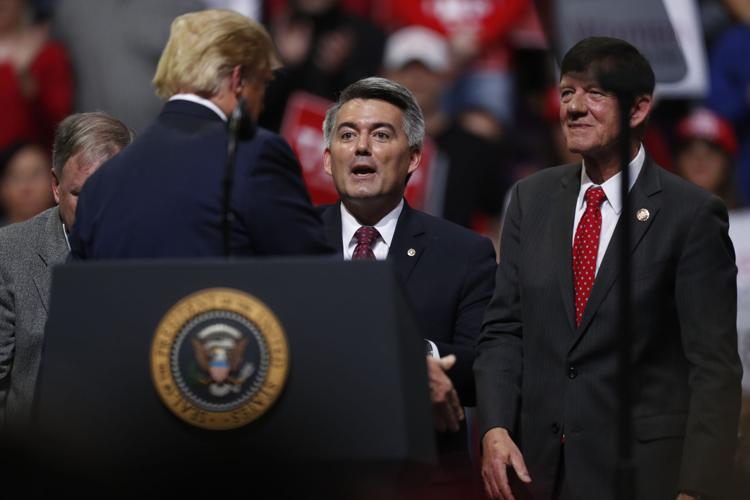 He reiterated the sanctity of gaining the support of the member of Congress who represents the land to be designated as a guiding public lands principle.
"I don't think we want the delegation where Congressman Tipton goes into Denver and does things that Diana DeGette opposes and don't think we want a situation where the Front Range goes into western Colorado and does things that the Western Slope opposes."
Hickenlooper said that electing a Democrat to replace Gardner, while seeing other Republican senate seats that are in play this year flip to the opposition party, is the surest way to win greater public lands protections.
"Hopefully, the ultimate dream is to go out and win not just this Senate seat but a couple of other ones and make sure Mitch McConnell is no longer Senate majority leader," Hickenlooper said, touting the prospects of Mark Kelly in Arizona and Steve Bullock in Montana of winning senate races in 2020.
If the Senate is still Republican controlled, then the "much more difficult road" is to convince moderate GOP members that greater public lands protections will benefit their constituents.
"You have got to be able to go and sit down with Mitt Romney or other moderate Republicans and quietly but persuasively show them how they get a win out of providing more autonomy to states to decide which lands should be protected," Hickenlooper said.
Quarry expansion on both candidates' radar
During his swing through the Roaring Fork Valley, Hickenlooper visited the area around the Mid-Continent Limestone Quarry, meeting personally with representatives of the town and a local coalition that has formed to fight the project situated on the mountainside overlooking the town and its most popular tourist attractions. Quarry developer Rocky Mountain Resources is seeking an expansion that would increase the size of the permit area from 16 acres to 447 acres.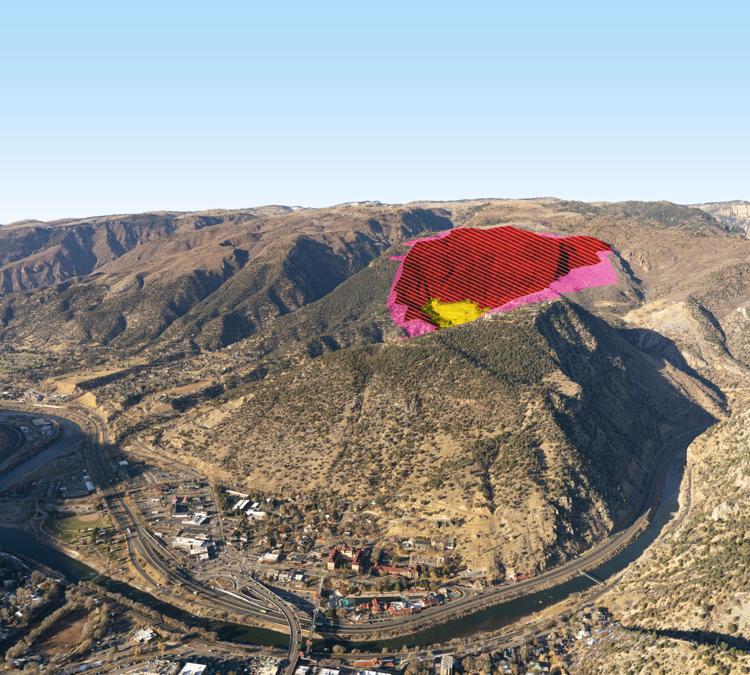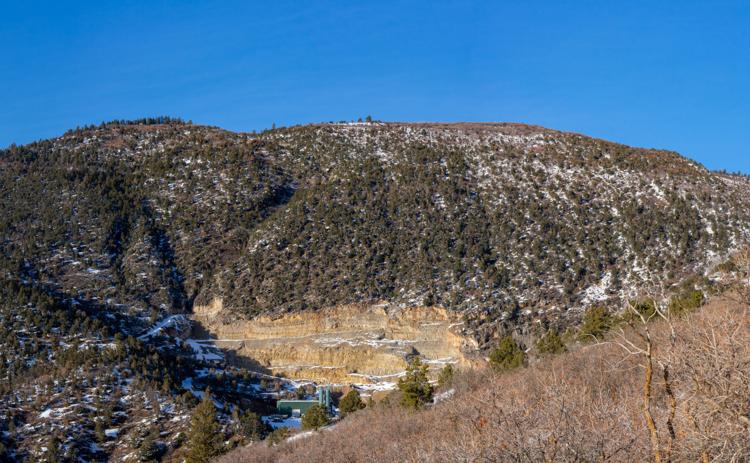 "Local leaders are extremely concerned with the way the project is being rushed and ramrodded through without sufficient review," Hickenlooper said in a statement released by his campaign. "Not only is the mine potentially harmful to air and water quality in the area, but it would also place at risk the diversified economies of Glenwood Springs and neighboring communities. When Republican, Democratic and independent local leaders speak out unanimously, the federal government owes it to them to listen and act accordingly."
Gardner said that he, too, has heard from local leaders opposed to the project.
"We have taken a lot of those opposition concerns, and I have made sure we forward them to the BLM, made sure the Department of Interior has that and I think that's critically important that the local voices are heard through this process," he said. "We have made it very clear these opposition voices need to be heard. … I take that local opposition very seriously."
Public lands protection
Among the chief conservation concerns in the Trump era is the shrinking of protections for public lands. The Department of the Interior has reduced the size of the Bears Ears and Grand Staircase-Escalante national monuments in Utah, following a review of national monuments around the country.
Gardner took credit for preventing that review from leading to recommendations to shrink any monuments in Colorado.
"I was proud to lead the fight in Colorado to make sure that didn't happen in our state," he said. "As a result of my work, that did not happen in Colorado."
However, when asked why he couldn't stop the shrinkage of the monuments on Colorado's border, Gardner said he was focused on his own state.
Hickenlooper said that with Utah, where state-level politics are dominated by conservatives more friendly to mining and drilling than expanded environmental protection, conservation fights are tricky.
"I think my job is to demonstrate that it is not economically a good decision [to shrink public lands]. Looking at the larger picture, that is taking money out of the pockets of their citizens. But I think if Utah continues to be devoted to selling off public lands, it will be hard to stop them unless we have a strong majority in the U.S. Senate."
Of national consequence
Colorado's U.S. Senate race was recently flipped to "lean Democrat" by Sabato's Crystal Ball, an election forecaster. The Cook Political Report still has it as a "toss up." Either way, the seat is seen as one of the most likely pickups for the Democrats on a map where, if everything goes their way, they could win a majority of the chamber.
As Colorado's population has boomed, it has been electing more Democrats, and has gone for the Democratic nominee in every presidential race since 2008. Gardner's political survival, therefore, rests on maintaining some level of bipartisan appeal, while holding down the Republican base.
Hickenlooper came to the Senate race after two terms as a popular governor, and for eight years before that he was the mayor of Denver. He joined the crowded Democratic presidential field last year, but he was one of the earliest candidates to drop out, at the urging of many who saw him as the party's best shot at beating Gardner.
Hickenlooper entered a Democratic primary where there are still nine declared candidates, though that field will be winnowed before a primary election on June 30. All publicly available polling shows Hickenlooper with a wide lead over his closest competitor for the nomination, former state House speaker Andrew Romanoff.
Both Gardner and Hickenlooper have a message aimed to appeal to moderate voters.
Gardner touted his support for public lands legislation in 2019 that reauthorized the Land and Water Conservation Fund and a more recent initiative to fund construction of the Arkansas Valley Conduit, which will deliver water to 50,000 communities in southeastern Colorado that struggle to maintain a clean supply. The 130-mile pipeline beginning at Pueblo Reservoir was first authorized in 1962 as part of the Fryingpan-Arkansas Project. Both of Colorado's U.S. Senators lauded the long-awaited funding as a bipartisan achievement.
Gardner referred to himself as a "bi-partisan workhorse" and noted that the Lugar Institute, which tracks how often senators sponsor bi-partisan legislation, has ranked him the fifth most likely to co-sponsor a bill with the other side. His Democratic critics are quick to point out that he has voted with Republicans and President Trump on the biggest national issues of the day, including the attempt to repeal Obamacare and against hearing from witnesses in the president's recent impeachment trial. On Thursday Gardner appeared at a Colorado Springs rally headlined by Trump, who lavished praise on the senator he said "has been with us 100%."
Hickenlooper, meanwhile, said his long-term success as a politician lies in his ability to listen to what the other side has to say and work toward a place of compromise.
"You have to get the alignment of self-interest," he said. "That is the only time you ever get real progress. … I have a knack for being able to sit down with people and getting them to see the other side of an issue where they may not be the whole thing, but they see there could be some benefit to their position by a compromise, by some collaboration."
He cited as an example negotiations he led as governor between the oil and gas industry and environmentalists, who were on the verge of exerting greater local control on drilling companies. After more than a year at the table, industry officials agreed to a statewide rule regulating methane emissions, giving Colorado one of the country's most progressive policies toward oil and gas development.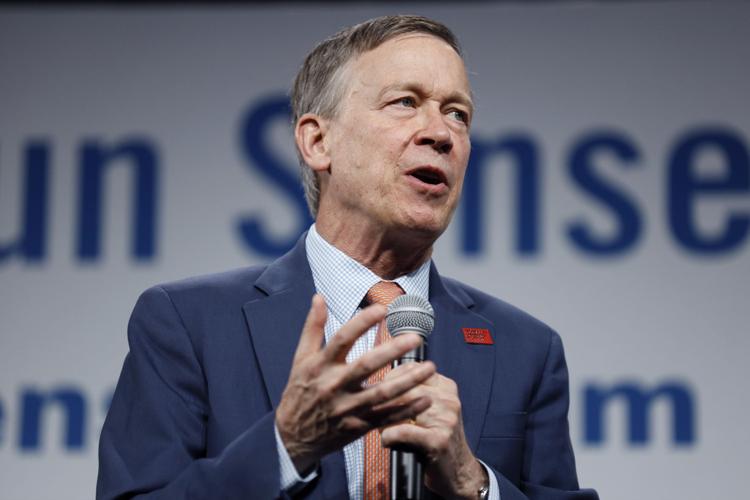 "It was a hard fought, difficult negotiation, but in the end, both sides felt they were better off as a result of what the outcome was," Hickenlooper said. "That's what has got to happen in the senate. We have got to get people to listen harder to the other side and find the value in the other side's position."