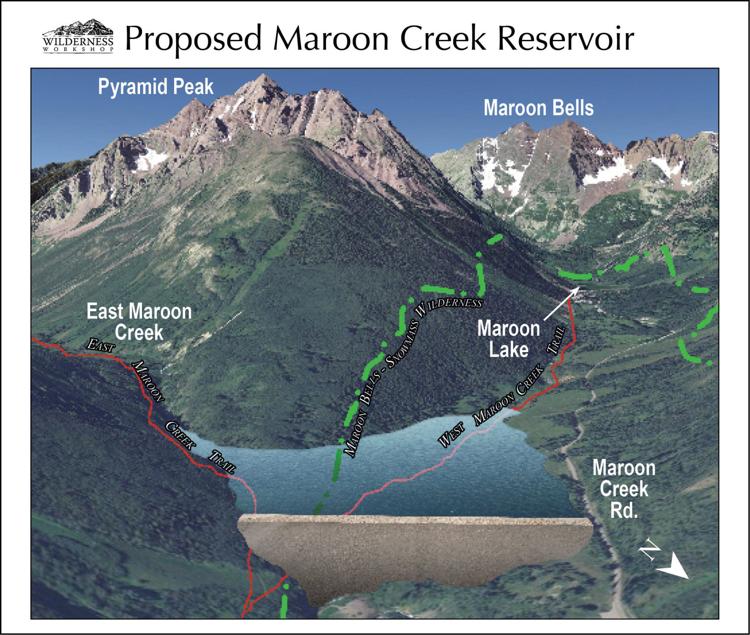 "Painful," but ultimately "a great example of how government should work," is how an Aspen City Council member described the process that led to a pending agreement to transfer long-held, conditional water-storage rights out of the Castle and Maroon creek valleys to less environmentally sacred locations.
Aspen City Council on Tuesday approved stipulations with five parties that have been opposing two water-court actions to extend the municipality's rights to build dams in the valleys. Those rights date to 1965 and are decreed for a 9,000-acre-foot reservoir on Castle Creek, 2 miles below Ashcroft, and a 4,500-acre-foot reservoir on Maroon Creek, just below the confluence of East Maroon and West Maroon creeks, within view of the Maroon Bells and encroaching on designed wilderness.
The parties that have reached the stipulation agreements are Wilderness Workshop, Western Resource Advocates, Asp Properties LLC, Double R Creek Ltd and Pitkin County.
"We are pleased to join with the city of Aspen and Wilderness Workshop on this collaborative agreement to preserve the Aspen area's unique environment, wildlife habitat and the iconic Maroon Bells," Jon Goldin-Dubois, president of Western Resource Advocates, said in a prepared statement. "This resolution passed by the city council once again highlights Aspen's environmental leadership and shows how communities throughout the Colorado River basin can leverage smart water alternatives to sustain the health of our rivers and our quality of life."
Five additional parties are also opposing the city's rights-extension cases. Those parties are two property owners in the Maroon Creek Valley, American Rivers, Trout Unlimited and the U.S. Forest Service. City Attorney Jim True said he is confident that agreements can be reached in those cases as well before a late-June deadline.
The stipulations approved on Tuesday state that the city of Aspen will "not seek to retain any portion" of the Castle or Maroon reservoirs; and that it will file a water-court application to change the location of those rights to one or more of the following locations: the Woody Creek parcel adjacent to the gravel pit, the gravel pit itself, the Aspen Golf Course, Cozy Point Ranch and the Zoline Open Space, or any other location or locations the parties have agreed to in writing.
Though the Moore Open Space is listed as an alternate site on some of the stipulations, the agreement with Pitkin County specifically prohibits that site, which is county property, as a possibility.
The total amount of storage that can be developed between any of the alternative sites cannot exceed 8,500 acre feet, according to the stipulations, meaning the city is giving up some 5,000 acre feet of potential storage.
Councilwoman Ann Mullins said that she initially was not in support of giving up any conditional storage rights. Aspen currently has no water storage, relying on direct diversions from Castle and Maroon creeks, but reduced snowpack and streamflows due to climate change threaten the stability of that system.
Mullins said that "because of the questions and persistence of the community," the city was able to come up with a "much better plan," which is a "great example of how government is supposed to work."
While the process has been "painful," perhaps in the amount of negative input thrown the city's way over the dams and the public disagreements with agencies that the city typically works with hand in hand, Mullins said it has resulted in a better solution.
Giving up the additional thousands of acres of water storage was also a response to community pressure, Mullins said.
"We re-evaluated and studied the need, and we came up with 8,500 feet," she said, thanking the community groups for their input.
Councilman Bert Myrin said that he sees the issue of water-storage rights as part of a larger discussion the community needs to have about carrying capacity. He mentioned a project to expand snowmaking on Aspen Mountain and said many needs must be balanced in the city's long-term plans.
The stipulations approved on Tuesday will only become effective if "substantially similar" agreements can be reached with the other five opposers. True said "productive meetings" with attorneys for those groups are ongoing.
Related