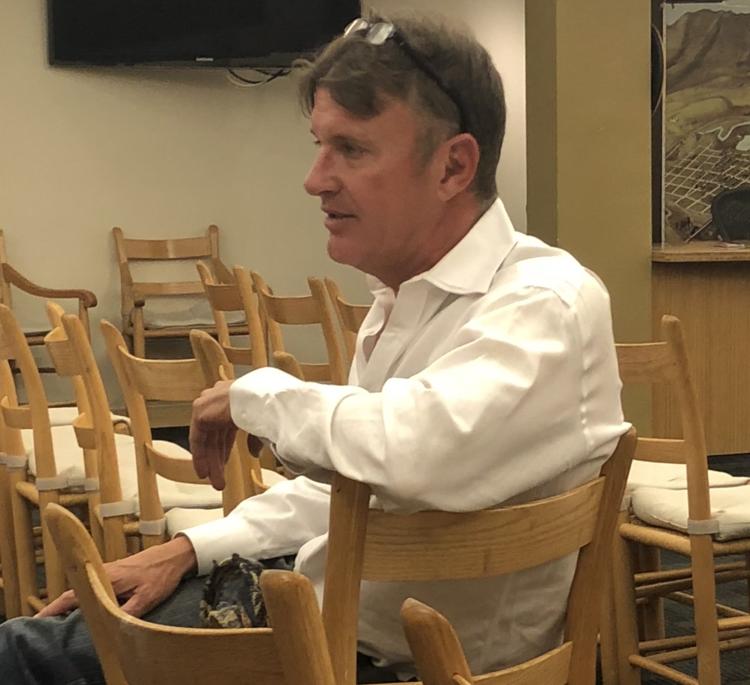 A district court judge last week ruled that the Aspen-Pitkin County Housing Authority's board of directors on three occasions last year violated Lee Mulcahy's constitutional rights by curtailing his remarks during public comment.
In the same 27-page order issued Thursday, Pitkin County District Court Judge John Neiley rejected Mulcahy's claim that APCHA's rules of decorum are unconstitutional. The rules allow board members to expel a member of the public from the meeting if they make comments that are "loud, defiant, threatening, personal, vulgar, uncivil or abusive" or "[impede] the orderly conduct" of a board meeting. The rules also state that comments must be addressed to the board and not to APCHA staff. Those restrictions, Neiley wrote, are reasonable.
However, the board did not correctly apply those rules to Mulcahy on three occasions at meetings in June, July and December 2018, the judge found. 
In a 14-month period through January 2019, Mulcahy addressed the APCHA board, which meets roughly every two weeks, 14 times, according to the record in the case. In most of those instances, Mulcahy's comments concerned the ongoing litigation brought by APCHA against him to force the sale of his deed-restricted Burlingame home. Mulcahy has not fared well in that case, which has seen district and appellate court rulings go in APCHA's favor. APCHA is contending that Mulcahy violated his deed restriction by not proving he worked full time in Pitkin County.
"This is a sore point for Mulcahy, to put it mildly," Neiley wrote. Mulcahy typically would use his public comment time to discuss his viewpoint on the case and express criticism of APCHA, the APCHA attorney and the city of Aspen.
It is fair to say, the judge wrote, that Mulcahy's comments "have often been contentious, repetitive and personally disparaging to APCHA's board members, counsel and employees."
In three meetings, the APCHA board curtailed Mulcahy's public comments, based on a supposed violation of the rules of decorum. The judge found that APCHA did so in violation of Mulcahy's right to freedom of speech. 
At a meeting on June 6, 2018, Mulcahy asked whether he could talk about the board's attorney, according to Neiley's order. 
"The chairperson responded 'No. No. Officer? … I would like this gentleman to be escorted from the room. Thank you.' Mulcahy was then escorted from the meeting by a police officer. 
"Mulcahy never actually said anything that was offensive or disruptive," the order says. "He simply asked a question about what he could discuss and was removed for asking that question. No doubt the board member anticipated that Mulcahy would utter some annoying or impertinent remarks based on his statements at prior board meetings, but he was never given that chance."
Public bodies holding meetings that count as a limited public forum — such as the APCHA board — are free to set standards for public comment that prevent the disruption of a meeting. Those rules have to be "viewpoint neutral," in that they cannot restrict speech based on the viewpoint of the speaker.
"There is no indication that Mulcahy actually impeded or disrupted the meeting in any way. The rules were used to stifle Mulcahy's potential criticisms of the board's attorney. Thus, the rules were applied based on viewpoint discrimination," Neiley wrote.
Similarly, at the July 18, 2018 meeting, Mulcahy again stated that he wanted to talk about the board's attorney, Neiley writes in his order. 
"At that point Board Chairperson Erickson stated: 'No, you cannot. That part of the, part of the rules of decorum is that you will not criticize us or, or use disparaging remarks to anybody on the board or staff."
Neiley noted that Erickson's on-the-fly interpretation of the rules was incorrect, because the rules do not prevent a speaker from criticizing staff — they simply prevent someone from doing so in a disruptive manner. If they prevented criticism, the rules would be unconstitutional on their face, Neiley wrote. 
However, the board curtailed Mulcahy's speech.
"So long as such criticism does not actually disrupt the orderly conduct of the meeting Mulcahy cannot be silenced merely because his speech is irritating and repetitive," Neiley wrote.
APCHA attorney Tom Smith said the order makes clear that, on a couple of occasions, the APCHA board was too strict with Mulcahy and what he could or could not say during public comment. 
"A couple of times, the court said APCHA went over the line and was too strict. Well, OK, we'll do better. That's the takeaway," Smith said. 
Smith noted that Mulcahy, who speaks at nearly every APCHA meeting, "almost always has been able to say whatever he wants." If the board was too sensitive to criticism, it will have to suck it up in the future, as long as the commenter is not disruptive. 
"If you want to spend your three minutes telling the APCHA board that Tom Smith is an asshole, then go ahead," Smith said.
In an email, Mulcahy wrote that he disagreed with the court's ruling about the rules themselves not being a First Amendment violation.
"We honestly believe the restrictions on being 'loud and defiant' can be interpreted overbroadly" and are therefore unconstitutional.
The plaintiffs will ask the local judge to reconsider the ruling with a formal motion, Mulcahy wrote.