The next stage in the planning process for an ambitious proposal to construct an indoor recreation facility in the El Jebel area has received the go-ahead from the Crown Mountain Park & Recreation District Board of Directors.
At its September meeting, the Crown Mountain Board reviewed a feasibility study, commissioned in April. That feasibility study, conducted by Louisville, Colo.-based GreenPlay, was received well enough by board members that the next step — procurement of architectural renderings — was greenlighted.
The notion of constructing an indoor facility came about because of a comprehensive needs assessment that was integrated into Crown Mountain Park's five-year strategic plan, completed in February.
That needs assessment examined indoor and outdoor facilities from Glenwood to Aspen. 
The conclusion was that the biggest recreational need in the midvalley is an indoor facility.
At its September meeting, Crown Mountain Executive Director Rebecca Wagner asked the board members, "Does the board want to move forward on conceptual?" — meaning architectural renderings.
Board member Tim Power Smith answered, "Absolutely. I love where we are going with the concepts and we should focus on conservative projections."
The last part of Smith's statement segues into the matter of potential funding for the proposed indoor facility — being referred to as the "Crown Mountain Field House" in planning documents — an as-yet-unresolved issue that is but one of numerous unresolved issues.
"We moved on to a feasibility study to see if there's any way we could break even by constructing a new indoor facility, because we do not want to go to the taxpayers for funding on a facility like this," Wagner said in early September. "If the feasibility study would have come back saying that an indoor facility would have to be heavily subsidized, we wouldn't even move forward. But the feasibility study said we could do it with 100 percent recovery. The next step is to determine what would cost to build and how are we going to fund it through public and private donations."
"I think the Crown Mountain Board needs to put together a concept, renderings and budget, then go out to public and private sectors to work on funding," Smith said.
Another major concern for the proposed field house is location. There is ample room within the boundaries of Crown Mountain's 123 acres to construct an indoor facility, which Wagner at this juncture estimates would be 60-70,000 square feet. But, were the facility to be constructed on Crown Mountain Park property, it would likely trigger a Colorado Department of Transportation-mandated upgrade of the El Jebel intersection on Highway 82, with an estimated cost of $4 million.
"We're looking at leasing probably 3.5 acres of land," Wagner said. "One possible location is across the highway near the El Jebel trailer park, which is owned by Crawford properties and is zoned for recreational sports complexes. There's already been approval for a new school in that area."
"The Crawford family is willing to let us look at their land, which is awesome," Grinzinger said. "They basically said 'we know there's a need, we know it's important to the community and the community needs this.' They're willing to have this conversation."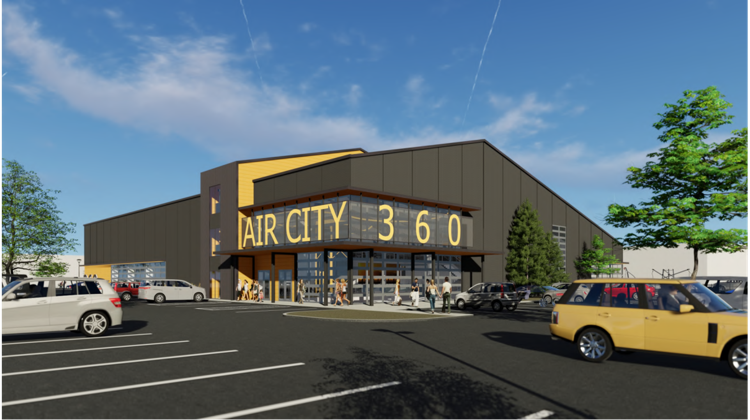 According to Wagner, building a recreational complex on the El Jebel side of Highway 82 would not trigger the need to upgrade the intersection.
Robert Hubbell, president of Crawford properties, is also a member of the Crown Mountain Board and therefore is reluctant to comment on the field house proposal.
"I am trying to stay out of the CMP field house discussion," Hubbell said via email. "Because they asked if we would be willing to lease land, I do not want a conflict of interest."
The architectural rendering process, which Wagner said should be completed by January, will be conducted by Denver-based Barker Rinker Seacat Architecture at a cost of $11,800.
Barker Rinker Seacat has an extensive resume in Colorado and farther afield. Its website lists the Carla Madison Recreation Center in Denver, the Trailwinds Recreation Center in Thornton and the Salina Fieldhouse in Kansas, among many others, as projects for which the firm has consulted.
The process, according to a four-page proposal submitted by Barker Rinker Seacat to Crown Mountain last March, will consist of:
Recommending additional revenue producing Fieldhouse program elements to those provided by the [Crown Mountain Park] District. 
Developing a conceptual building and site design.
Developing a total project cost estimate at a conceptual level.
In its proposal, Barker Rinker Seacat included renderings of Air Park at Colorado Springs, a facility comparable in scope to what is being proposed by Crown Mountain. 
"I am absolutely for this Field House idea," Smith said last week. "I think the Roaring Fork Valley, and especially in the midvalley, would greatly benefit from a facility like this. Fitness, wellness and health, along with a facility for athletes of all ages to train, is what this valley needs. I believe this is very feasible and will only stimulate local economy and local businesses, elevating the value of the midvalley real estate and the quality of living. Personally, I am very excited about this idea and, even though my children will most likely be too old to experience a facility like this, it will open opportunity for young athletes and families to enjoy."
"We are delighted the board has directed us to move forward on conceptual designs of the fieldhouse," Wagner said. "Conceptual drawings will determine the amount of money we will need to fundraise and will give us precise numbers on long-term maintenance of the facility. We have visited over 20 indoor facilities and have learned mistakes each of these facilities have made in their design. We realize how important the planning process is to get it right the first time. That being said, we want to take our time on this process to avoid as many design mistakes as possible."