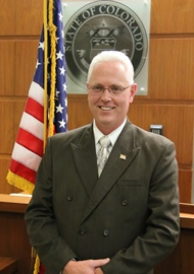 Eagle County Sheriff James van Beek has been charged with second-degree official misconduct, a petty offense, by the Eagle County District Attorney's Office. 
The grand jury indictment alleges that van Beek's office spent state-confiscated monies to the tune of about $17,000 between January 2017 and June 2019 from a reserve fund without getting the appropriate approvals as mandated by a state statute issued in 2017. 
But Eagle County Attorney Bryan Treu — and by extension, van Beek via an official media release from his office — maintains that the indictment is the result of a misunderstanding: mainly, that none of the funds spent were state-confiscated, known as forfeitures, subject to the statute.
"The allegations cited include 14-previously approved expenditures from the Reserve Fund, made in 2019," the statement reads. "The charge comes from a misinterpretation by the District Attorney about the review process of confiscated monies, and specifically when a committee needs to be convened for additional approval."
The reserve fund includes several income streams, Treu explained, from abandoned funds to donations to, yes, forfeitures — but Treu emphasized that "zero dollars" from the time period specified in the indictment came from forfeitures. District Attorney Bruce Brown, who declined to comment for this story, disagrees, according to court documents.
"While perhaps a valid concern initially, it was unequivocally put to rest in the attached email exchanges," Treu wrote to the foreman and 5th District grand jury members in a February correspondence regarding subpoenas. "Mr. Brown was informed that both the Confiscated Funds and Sheriff Reserve accounts are comprised of funds from different sources (found money, abandoned money, donations, etc.). There was no state confiscated funds in either of these accounts, a fact that should be known by Mr. Brown as his office has done little, if any, forfeiture actions during his tenure."
The expenditures outlined in the indictment range from a $500 little league sponsorship to a $4,443 kitchen freezer for a detention facility. Of the 14 listed expenses, six are payments to Jacqueline Cartier for public relations services totaling $6,350 between Feb. 6 and June 13 of this year. 
"Jacqueline Cartier PR services is a contractor with the Eagle County Sheriff's Office who provides some consultative advice to the office and routinely 'ghostwrites' columns for Sheriff VanBeek that appear in the Vail Daily," according to court documents. 
In his response to the indictment, filed July 31, van Beek details his office's relationship with Cartier in the first half of his statement.
"When I arrived in office, I was informed that we had a professional writer and crisis management specialist on-contract. Upon reviewing the work, I renewed the contract," it reads. "The amount paid, for the benefit received is immeasurable. Our office and other agencies within Eagle County have had an opportunity to be featured, and it has given the public a greater sense of participation in governance."  
In its 2018 budget, the reserve fund shows five more payments to Cartier — also the Republican candidate for Eagle County Commissioner in the midterm election — for public relations services that totaled $9,750.
One of those payments was recorded on March 19, 2018, in the amount of $2,500. On March 14 of that same week, The Vail Daily published a column with van Beek's byline and his photo under the headline, "Eagle County Sheriff: Mid-term elections are this year, and they have local impact." 
It went on to outline the roles of elected officials, of which the county sheriff is one. While that column did not endorse any specific candidates, it did provide detailed instructions on how to participate in the election as a voter.
"A new opportunity is available for unaffiliated voters to participate in primaries. They may declare ahead of time in which primary they desire to participate because only one ballot will be recognized. If both are filled out, then the entire vote will be invalidated. If you already know in which primary you desire to participate, then notify the Clerk & Recorder's Office and they will send out the proper ballot, saving the county money on mailing and production costs," the column reads.
Five days after receiving payment from the Sheriff Department's reserve fund, Cartier made an announcement on her business website: "March 24, 2018:  I won the Nomination for Eagle County Commissioner by acclamation."
Van Beek's statement goes on to explain his reasoning for fighting the petty offense he's now facing.
"It is considered a petty offense with a minimal fine but given the nature of the charge (2nd Degree Official Misconduct), our office will be fighting it because it implies dishonesty, which as an elected official, is unacceptable, and against my values," it reads.
Van Beek, who has been sheriff of Eagle County since 2014, is due to appear in court Aug. 30, according to a summons. The presumptive penalties for a second-degree official misconduct conviction include up to six months in jail and up to $500 in fines.