Enhancing community, while limiting growth, were continuing goals voiced by those who attended last Thursday night's Woody Creek Caucus meeting.
About a dozen caucus members gathered at the Aspen Community School in Woody Creek, with caucus board chair Bill Dinsmoor guiding the meeting. Pitkin County Commissioner Greg Poschman also attended, along with David Pesnichak, regional transportation administrator for Pitkin County and the Elected Officials Transportation Committee, or EOTC.
After the meeting, Dinsmoor explained the past history and overall concerns of the caucus, the oldest such entity in Pitkin County: "It's well-known countywide that Snowmass and Aspen have not adequately mitigated within their districts housing, transportation or parking, and all of these issues generate growth. It's commonly accepted. Woody Creek is just the closest community outside of Aspen and Snowmass to see and feel the physical manifestation of these impacts."
Pesnichak kicked off the meeting with a discussion about the proposed upgrade of the Brush Creek Park and Ride Lot. Permanent restrooms, a larger paved area for parking, new security lighting and landscaping are proposed.
Later, he explained how the project came about.
"In 2017, Brian Pettet [Pitkin County public works director] put through an application to Federal Highways Administration  to improve the Brush Creek Park and Ride lot. In 2018, $1.9 million was awarded and the local EOTC has agreed to match those funds, making $3.9 million available for improvements at the Brush Creek lot."
Pesnichak offered details about the project, which currently is at a 30 percent design stage.
A brief survey has shown that 48 percent of the users of the Brush Creek lot originate downvalley. That does not surprise Poschman, who lives about a mile away and uses the lot: "I park, get on the bus and read the newspaper on the way to work. It's a joy to be on the bus and go by that long line of cars that are not moving," he said.
Most everyone gathered agreed that the lot should be as user-friendly as possible, and that food trucks or the ability to get something to eat may benefit commuters. At the moment, commercial operations are not allowed on the lot, but that could be a future discussion point for the EOTC, which includes Aspen, Snowmass Village and Pitkin County elected officials.
Next, Woody Creek Caucus member Janet Shoeberlein detailed plans for a new community center next to the Woody Creek fire station. The 2,600-square-foot facility would have an open area on the first floor for community gatherings, meetings or command by the fire district. A two-bedroom apartment on the top floor would be rented to a fireman, increasing the safety of the Woody Creek area.
Woody Creek lost its longtime community center, next to the Woody Creek Tavern, when the center closed and was sold. Shoeberlein noted that one of the main reasons to push for a new community center is to rekindle and enhance community spirit.
"Everybody down here misses having the community center as an amenity," Dinsmoor said. "It grew into being a really important thing for a lot of people down here as a meeting place for a lot of organizations, including the caucus, and also for social events — Thanksgiving and Christmas parties, art shows. It was really fun to have a place for the community to get together. Those are really grounding things for any community."
The proposed budget for a new community center is $700,000. The bulk of the money will need to be raised privately, though caucus members are hopeful the fire district will help contribute. On Thursday, the caucus passed an informal resolution fo provide a letter of support to Pitkin County to help move the project forward.
Airport redevelopment also was discussed, with Dinsmoor offering an update on the process concerning possible construction of a new airport terminal and a runway widening. For decades, many Woody Creekers have been vocal in opposing the continued expansion of the Aspen-Pitkin County Airport.
Caucus member Phil Holstein noted that he has lived in the Aspen area for 50 years and, in his opinion, "We don't really need to bring more people here right now. We don't need to copy someplace else."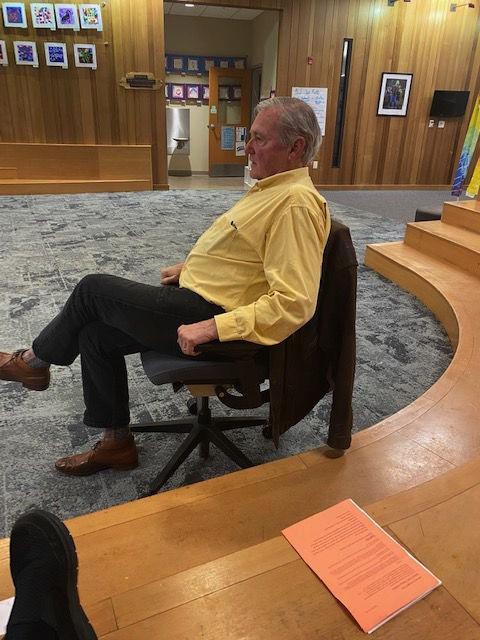 Many caucus members oppose a runway widening, which would accommodate commercial planes with larger seating capacities. They oppose a sentiment that has been voiced by some during the airport review process: if you're not growing, you're dying. 
Dinsmoor further explained the caucus' concerns: "The caucus is very sensitive to growth. We have concern on many projects that are growth generators. In the '70s, the whole community had ongoing heated conversations about growth, the acceptable rate and how to mitigate growth. But a lot of people are new or didn't go through that process and don't have our concerns."
The final discussion item on the caucus agenda was the new 18,000-panel, 35-acre solar array that has been proposed for Woody Creek by the Aspen Consolidated Sanitation District and Holy Cross Energy.
Brush Creek homeowners and residents of Woody Creek have opposed construction of the array on that location, which is a former brownfield with nonnative grass covering about 35 years of human waste that has been spread out after being processed.
The caucus makes two major points about the proposed solar farm, which was approved unanimously by Pitkin County commissioners last year.
"It's not that we don't support solar, that's a no brainer," Dinsmoor said. "But not in that location. We continue to prefer the [Pitkin County landfill]. That's the spot we think is best to site this thing for a lot of reasons. What do you do with a capped landfill when it's capped? Our research showed that the number one use of capped landfills in the country is solar farms."
Poschman provided reasons to move forward with the project. 
"We had an overwhelming positive response from the voting population in the upper valley, especially younger people. This is something we need to address. This is one of the problems that we can solve, brought forth by the utility and the sanitation district," he said.
Poschman said he understands the concerns of many Brush Creek homeowners who look down on the project, and he is sympathetic. But, he noted that his home in Brush Creek looks directly at the proposed site.
The second major issue about the solar project is soil testing. Homeowners at the W/J property, as well as others, are concerned about the soil, saying it hasn't been tested in at least 10 years, and it has never been tested for the release of contaminants during earth-moving processes, which will happen during construction of the solar-panel array.
"Soil testing was not a condition to their approval," Dinsmoor said. "What pathogens or heavy metals will be aerosolized during earthmoving? We are really going to try and insist on soil testing so that people's health is not compromised."
At this time, the Pitkin County Health Department does not see a concern with contaminants as the ground has been dormant, sitting under a layer of grass for many decades.
Editor's note: A prior version of this story included a paraphrase attributed to Woody Creek Caucus member Bill Dinsmoor concerning credits associated with the Pitkin County Solar Array project that has been removed. The solar project generates federal tax credits for the private-sector partner, but all renewable energy credits associated with the development belong to Holy Cross Energy.