Update: At 9 p.m. Thursday, Pitkin, Eagle and Garfield counties announced that events of 50 or more people will be prohibited, at least until April 8, in all three counties. 
In the wake of Pitkin County's 10th confirmed presumptive COVID-19 case, state and local officials on Thursday relayed that mitigation efforts will be shifting from case-specific epidemiological investigations to community response endeavors focused on social distancing. Numerous local events, including favorites on the arts and entertainment calendar, were canceled.
Also on Thursday, the city of Aspen declared a state of local disaster emergency, as a "proactive measure to slow the potential spread, impacts and damage of COVID-19," according to a city press release.
City-owned entities closed their doors Thursday including the Wheeler Opera House, the Aspen Recreation Center, Red Brick Center for the Arts, Aspen Ice Garden and golf simulator, all until at least March 31. That closure could be extended, according to the city. 
Non-mandatory advisory board and commission meetings, as well as classes at the ARC, Red Brick Center for the Arts and Red Brick Gym, are all suspended until April 15. Additionally, the city will not offer any new special event permissions until at least that time. City hall offices will remain open, Thursday's announcement said, but the public is asked to avoid the building unless absolutely necessary. 
Private sector entertainment venues are following suit. Belly Up is temporarily closing until further notice — ticket reimbursements will be handled on a show-by-show basis, staff said, depending on whether a performance is canceled outright or merely postponed. For instance, Bob Weir's three-day booking at the end of the month has been rescheduled to Oct. 7-9, which is reflective of changes to the entirety of Weir's tour.
Snow Lodge, a relative newcomer to the Aspen scene that partners with Belly Up to bring après performances at its location at the base of Aspen Mountain, also announced its closure for the foreseeable future Thursday.
This weekend's Après Ski Cocktail Classic event has also been postponed, potentially until early May.
"The health and welfare of our guests, sponsors and partners is our top priority," event organizers posted on social media. "We are grateful for all of your support during these unusual times."
5Point Film, too, announced that it will be postponing its 2020 Carbondale Adventure Film Festival, initially scheduled for April 22-26, to October 14-18. Carbondale Arts' "Green is the New Black" annual fashion show, set to open Friday, has also been delayed until Nov. 12-14.
One closure that, as of Thursday, is not happening? Aspen schools.
"While many do hope for that to occur, we are not there yet," Aspen School District interim superintendent Tom Heald confirmed in an email. "However, much can change between now and Sunday night."
Colorado Department of Public Health and Environment Executive Director Jill Ryan said during a media advisory Thursday afternoon that response to the spread of COVID-19 will be shifting toward social distancing, though specifics on what that will entail are pending, she said. It appears local and regional municipalities and organizations are already anticipating those measures, given the wave of closure announcements.
"I think we're going to really quickly get to a place with this illness that we won't be doing the epidemiological investigations; it will be on continued prevention measures," Ryan said. "We're going to be moving more into social distancing and less into doing the contact tracing. When we just had a few cases, it was a good way to try to reduce the spread of disease, but it will at some point, probably in the near future, outweigh our ability to keep up with it."
In response to the presumptive confirmed cases of the disease caused by the novel coronavirus making worldwide headlines and sending markets into a tailspin, the local incident management team (IMT) established a local hotline for those concerned they may be showing symptoms.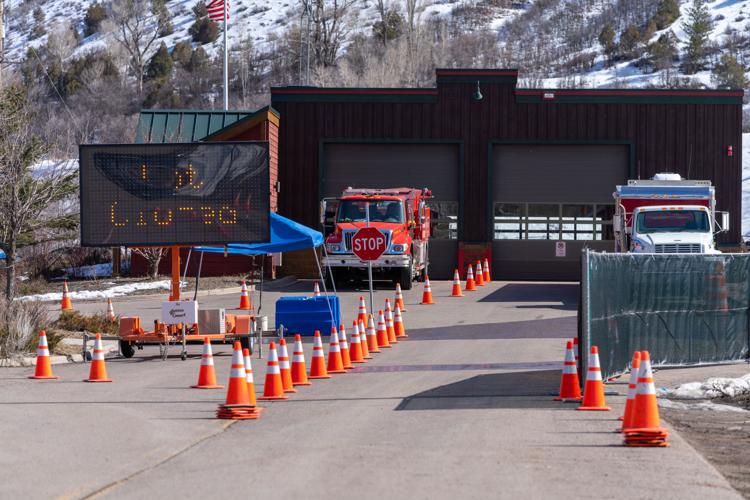 The line, manned from 8 a.m. to 8 p.m. every day, was established to answer concerns from the public and to allow callers to be screened to determine whether or not they should be tested for the disease. During a 1 p.m. media advisory call Thursday, it was reiterated several times by IMT officials that testing was only available to those who had been pre-screened via the hotline, but that was before the public health department's announcement, posted on its website, that testing strategies had been reconsidered.
After establishing a testing site at the Aspen Volunteer Fire Department's Aspen Village location Thursday, at which incident command anticipated an additional 20 to 30 people would be tested just that day, Pitkin County Public Health released a statement on its website with little fanfare that all local screening and testing had been discontinued around 2:30 p.m.
"All local screening and testing for COVID-19 has been discontinued at this time," the statement read. "For general information about how to take care of yourself and help prevent the spread of this virus in our community, please call the Pitkin County Coronavirus Hotline at (970) 429-6186, staffed seven days a week 8 a.m. to 8 p.m." 
Several calls to the Pitkin County Incident Management Team were not immediately returned in the hours after the announcement, but a public information officer did direct media inquiries to an updated statement on the Pitkin County Public Health Facebook page made around 5:20 p.m.
That post, later published to the department's website, as well, served as a clarification message saying the department was "reevaluating" its local screening and testing strategy.
"We are reevaluating our strategy for broad-based community testing. Our goal is to ensure that our high-risk populations are being screened as needed to ensure we can prevent mortality and maintain a strong first responder infrastructure so they can continue to serve our community," the post reads.
While CDPHE has "loosened up the guidelines" for who can be tested, Ryan said earlier in the afternoon, it's important that people acknowledge that with increased testing capacities come increased wait times for results. Still, she noted, anyone who tests positive will then go under a mandatory 14-day isolation, so if someone is awaiting test results, it's best to self-quarantine until those results are returned. 
In line with that advice, Pitkin County Health's most recent update recommends anyone with flu-like symptoms to stay home.
"Those who exhibit flu-like symptoms (fever, cough, or shortness of breath) are encouraged to stay home until symptoms subside so others are not exposed," it states. "If people need to see their primary care physician, please call first and get instructions from their provider so health care facilities and providers are able to take the necessary safety precautions to prevent the spread of illness. As always, if someone is having difficulty breathing, call 911 for help."
Ryan reiterated that at this point, an effective community response requires proactive measures from individuals in the community — a sentiment Aspen Mayor Torre echoed.
"Vigilant hand washing, social distancing, postponing non-essential events or gatherings, working from home, and avoiding unnecessary contacts immediately can be key to the earliest resolve and recovery for our town," he said. "We are asking for residents and visitors and businesses to cooperate in Aspen's containment efforts. Limiting individuals' chances of exposure to and transmission of the virus are the best steps to eliminating this community risk. Public health and safety is our top priority; we will do our best working with our local agencies to give accurate, timely information and direction."