It's a little after 8 o'clock on Thursday evening, and 7908 Aspen is brimming with activity.
Some customers crowd around the bar while others sift into nearby dining areas. Patrons share bites of fried chicken and steak frites, and sample each other's drinks. Hostesses greet eager patrons as they descend the stairs from the Hyman Avenue mall. Alluring entertainers mingle with strangers and prepare for the late-night dance party to come.
On this particular night, happy faces abound — any potential bad vibes must have been exorcised (in moderation, of course, alcohol consumption has its positive benefits).
Bartenders Ross Hensley and Mitch Kortus work quickly, rolling out craft cocktails with inherent ease. The display of pretty colors catches a lot of hungry eyes. There's the light-green "Femme Fatale," a mix of vodka, lemongrass, cucumber, basil and lime. "Trading Places," with its blend of vodka, lemon, blackberry and sage, projects a raspberry hue.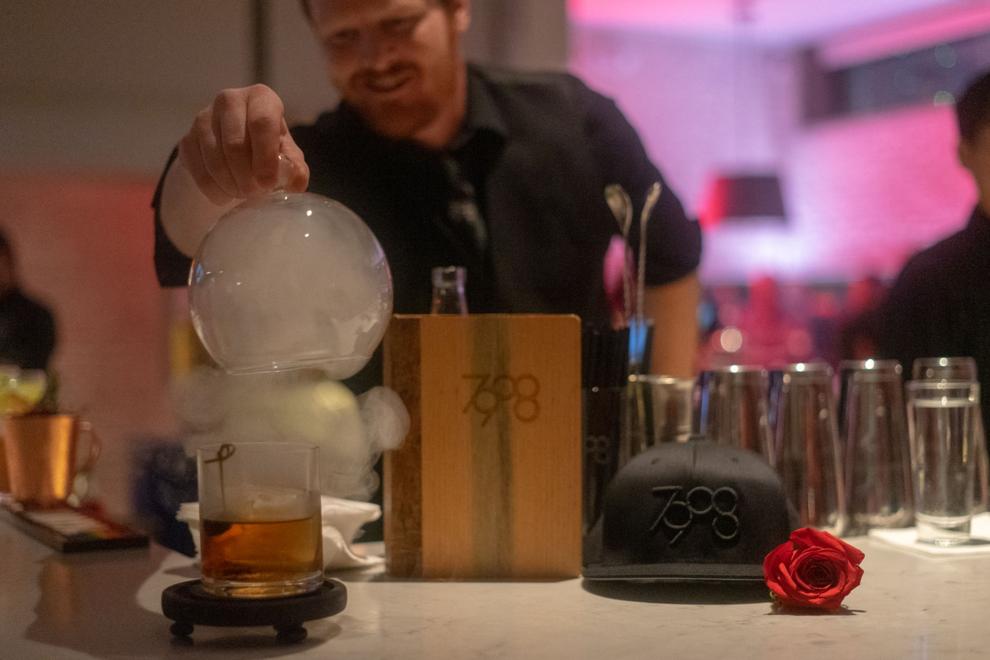 "El Morocco," a concoction made of bourbon, cognac, nutmeg, comes with an impressive presentation, unveiled amid a cloud of smoke. All of the specialty cocktails are named after movies or connected in some way to Hollywood's yesteryear: a nod from 7908's managing partner, actor Roger Wilson, who starred in "Porky's," "Thunder Alley" and the TV version of "Seven Brides for Seven Brothers." He also had a role in the cult film "Aspen Extreme."
Wilson, who opened the supper club in July, moves about the place like Bogart's Rick Blaine in "Casablanca," the difference being that Rick was not as friendly with patrons. He beams when he speaks of his team of Hensley, Kortus and spirits director Matt Corbin, the trio responsible for the craft cocktail menu. At 7908, one can certainly order beer, fine wine and a traditional highball, but the specialty libations, created in-house, are an important facet of the overall operation, Wilson says.
"The first thing anyone does when they go to a bar, especially if they're visiting for the first time, is look at the craft cocktail list," he explains. "In a way, it's a great preview into the planning and the sophistication behind the mixology program. If you're a vodka drinker and you're out of town — and you know what you have when you go to your neighborhood bar — you want to taste something that symbolizes this town and this venue, you'll look right for the vodka drink on the craft cocktail list. So it's like a beacon that people, especially visitors, are attracted to."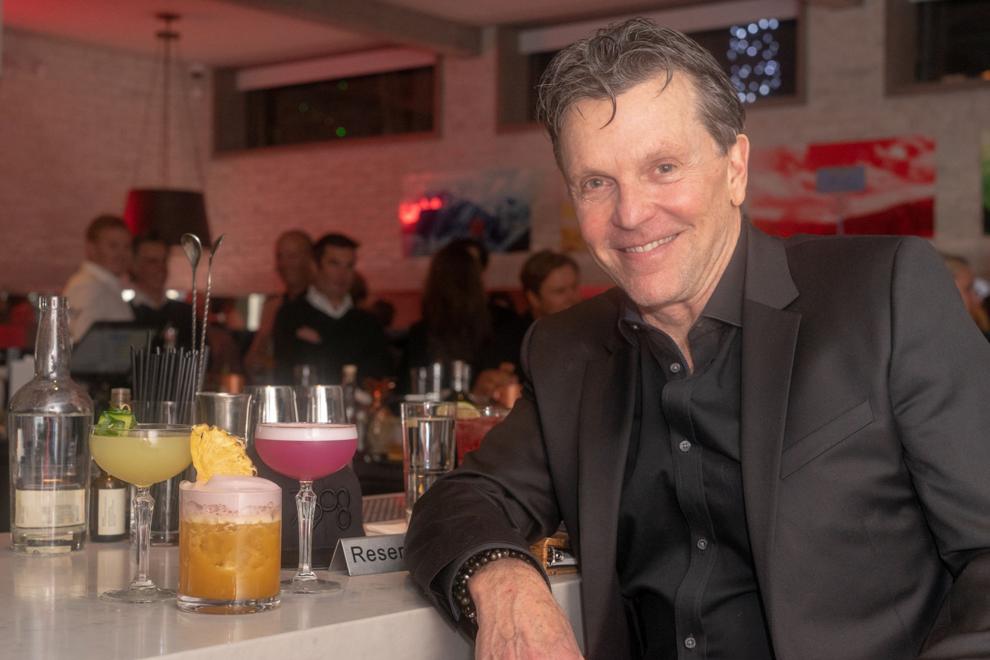 Craft cocktails have always been around — think of classics like the "Manhattan" and "Harvey Wallbanger." Nationally, however, the scene has flourished over the last decade, thanks to creative innovations within the beverage industry.
Once mired under the false perception of exclusivity, the special libations are more accessible to middle-income earners than ever before. Aspen is no exception to the trend; visit just about any restaurant or drinking establishment in town and you're likely to see a craft-cocktail section on the menu, with average prices running between $12 and $25 per offering.
It may come as a surprise that most of the craft cocktails on 7908's list don't carry ritzy price tags. A big spender certainly could go that route, given that the supper club touts two creations — "It's a Mad, Mad, Mad, Mad World" and "Fontainebleau Royale" — that cost customers $500 and $750, per individual drink. Those figures are based on the prestigious brands at the base of each concoction: Pappy Van Winkle bourbon and Louis XIII cognac for the former and Hennessy Paradis Imperial cognac and King Brut Champagne with the latter.
"Mad, Mad World" and "Fontainebleau" are perhaps the most expensive specialty cocktails that can be found in Aspen. But 7908's other 14 specialty libations are listed between $15 and $18 each, which places them in line with the craft offerings at many other bars and restaurants around the city.
Corbin and his team strive to create not only extravagant cocktails, but affordable ones, according to Wilson. Corbin worked last year at the Chef's Club operation at the St. Regis Aspen.
"I was lucky enough to discover Corbin at the Chef's Club and become friends with him," Wilson recalls. "I told him about the concept, that we wanted to be the most exclusive and inclusive place in the world. We wanted craft cocktails that catered to locals as well as the most luxury-minded visitor. He said, 'Roger, I have the team to put it together.' They had all worked together before in Hawaii."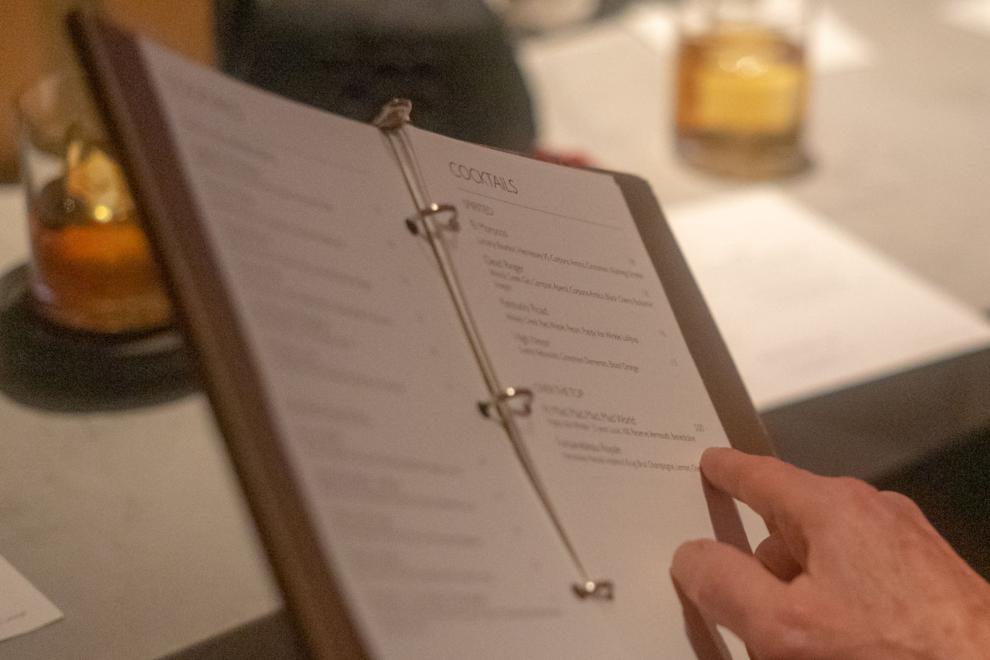 Lindze Letherman is general manager of Hooch Craft Cocktail Bar in the underground spot beneath Meat and Cheese Restaurant and Farm Shop on East Hopkins Avenue. Like Wilson, Letherman speaks of how the craft cocktail world has changed in recent years, with an emphasis on inclusion and affordability.
Hooch opened nearly three years ago. As its name suggests, there's a distinct focus on specialty cocktails.
"I feel like with the craft cocktail scene in general, there are certain stigmas that come with it," says Letherman. "Number one, it's expensive. Number two, it's pretentious. I feel like that's the vibe some people get, and a lot of them are scared to come in and order a craft cocktail. They may have no idea what green chartreuse is or barrel-aged bitters. They think, 'Maybe I won't like it.'
"What we want to encourage here at Hooch is for people to talk to their bartender. We're here to help people hit a home run. Tell us what you're looking for."
'Something for everyone'
In that same spirit of eliminating the false perceptions surrounding specialty libations — as well as to create a fun event centered around ski-season happy hour — the Apres Ski Cocktail Classic was born six years ago.
The four-day event originated in a Snowmass Village hotel and is now spread throughout Aspen. This year's version is set for March 14-17, and as in years past, it will feature grand tastings, seminars from award-winning mixologists and brand ambassadors, pop-up bars, demonstrations, dinners, on-mountain events, a pub crawl and competitions. At last year's event, Hooch won the "People's Choice" award.
Co-founder Joe Lang estimated that the event's growth has doubled since it first came together in 2013. He said last year's version drew more than 2,000 participants. Many of the events are free.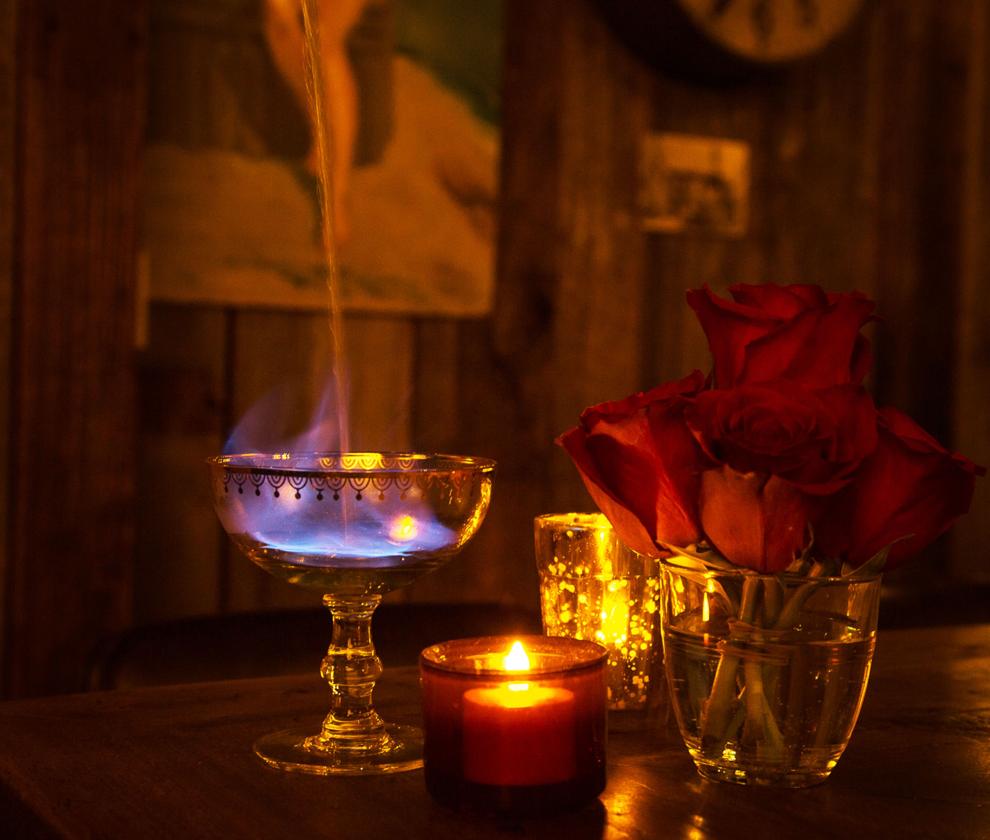 "It's just a rarity, to have an event that can be accessible to so many, not only tourists in town but also the local community," Lang said.
He said he doesn't think of craft cocktails as a trend anymore.
"Over the last decade, there has been more of an appreciation for the cocktail," he said. "I don't look at it as anything that's new anymore. Even the word 'mixology' is not used as much as it once was, maybe five or six years ago. It's more about having a balance of experience at the establishments, with a bartender that can turn you on to something you've never tried before, something that's more intriguing and thoughtful — as well as respecting some of the mainstays."
Lang said visitors and locals alike have definitely embraced Aspen's craft-cocktail offerings. There are too many Aspen establishments with specialty drink menus to mention in one story, but he named some that he's worked with in the past to produce his event, including Hooch, Jimmy's, Mountain Social at the St. Regis, Element 47 at the Little Nell, Bootsy Bellows, Silver City and the Hotel Jerome.
But craft cocktails can be found just about anywhere — even dive bars, and restaurants that tend to focus on a certain cuisine. For example, an eatery such as Mi Chola builds its cocktail menu around tequila and mezcal, traditional Mexican spirits.
He said it's important for bars and restaurants not to get too caught up in what they're creating and explaining — most customers want a drink, and they want it fast.
"There's something special about getting a drink to a customer in a timely fashion," he said. "One thing that's nice about our event is, we're focused on craft cocktails and that alone. We're not [branching out] into the worlds of wine or beers. The apres is really the hero of the event, the idea of celebration at the end of the day on the hill."
Lang also addressed the misperception that craft cocktails are geared toward the wealthy. Prices vary widely, he said.
"When you start getting into the top-shelf spirits that are being included in the experience, it's like anything," Lang said. "There are analogies in the world of wine. A certain bottle can be thousands of dollars. Another bottle could be $12. For the discerning palate, that means something. But I'd like to think that there's something for everyone in the world of cocktails."
Letherman said she doesn't think the craft-cocktail scene was ever a playground for the rich, but the general public saw it that way.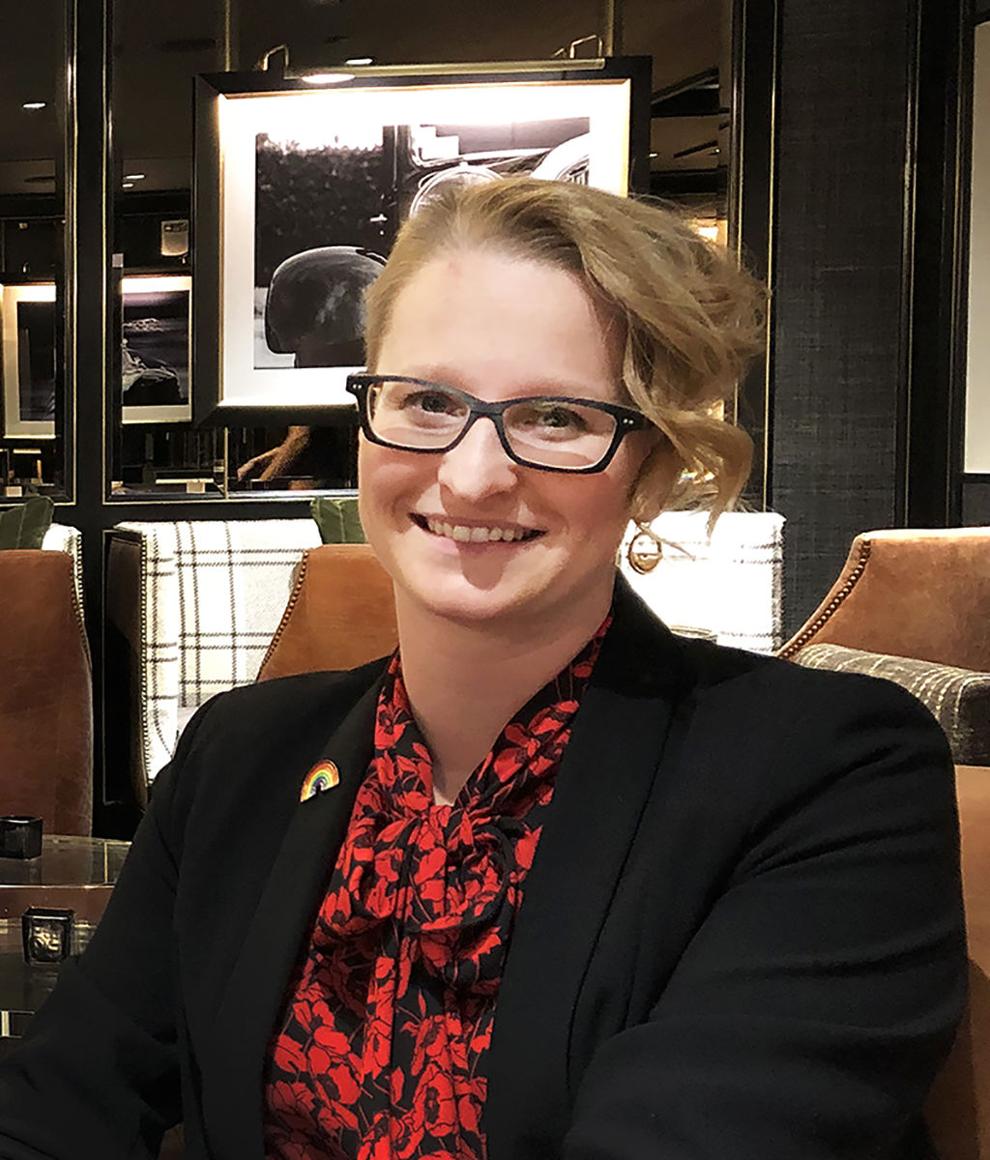 "It's the same thing with ordering wine from a sommelier," she said. "A lot of people see that as very pretentious, as very difficult to do, and that they're going to oversell you and make you spend the money you don't want to, when I don't believe that's the goal. They sort of have the same stigma."
Letherman spoke of how many local establishments that offer specialty libations differ in their basic nature. Some are high-energy while others may be more laid-back. A more mellow setting was the goal of Letherman and Hooch owner Wendy Mitchell, who also owns Meat and Cheese, when they developed their concept for a craft-cocktail bar in 2016.
"We just both wanted to have a place where we would want to hang out," Letherman said. "[Some places in Aspen] have a higher energy, and that's great. But sometimes you want a place that's a little more kicked back, where you don't feel like 'you have to play pool' or 'you have to dance.'
"We wanted bartenders who talk trash, who are going to kind of be your best friend, who will hang out with you. We wanted it to be like the front room of your house, only more fun."
Teamwork makes the cocktail
Others who are deeply involved in Aspen's craft-cocktail offerings spoke of how much fun is involved in developing the recipes and the names with their co-workers.
At Element 47, the bar and restaurant at the Little Nell hotel, bar manager Allison Miller spoke of how she and her bartenders develop new craft libations every six months to fit the summer and winter seasons.
The latest menu represents an expansion of the craft-cocktail list, she said.
"We just recently rolled out a cocktail menu that's a little heavier on specialty cocktails," Miller said. "Typically we had five that we featured and now we're looking at 11 or more."
Six are considered cold cocktails, four are hot and three are barrel-aged. Three popular concoctions were held over from the summer season: "Xavier's White Cosmo," the "Belvedere Mule" and the "Ramona Spritz." All three are priced in the $15-16 range.
Presentation is highly important to Miller and her team. A flavored ice sphere is used in the cold cocktails.
Miller said there's no particular "type" of customer who's more likely to order a craft cocktail as opposed to a fine wine or a beer with a shot.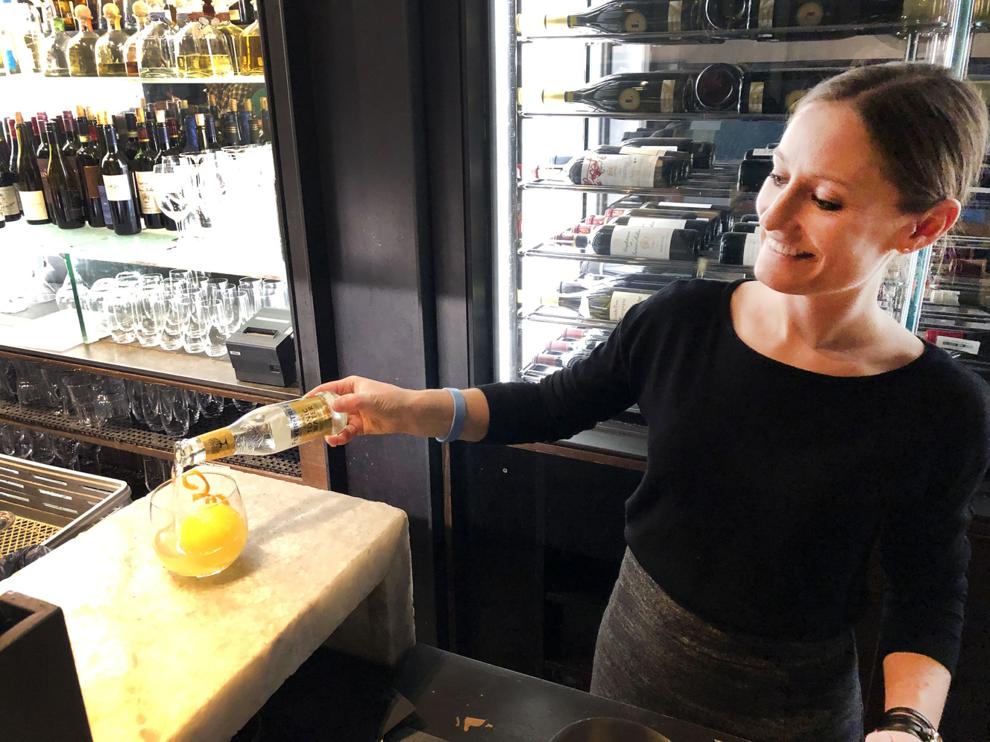 "I don't think it's a level of sophistication," she said. "I think the cocktail list gives ease. When you're not sure what you want, and you take a look at the signature cocktails, you start to get a taste, and you see a drink that may align with what you want. We really try to diversify what we offer."
Jessie Kneitel is manager at Bad Harriet, a craft-cocktail bar component of the Hotel Jerome. Bad Harriet opened in July in the former Aspen Times building on Main Street. It's named after Harriet Wheeler, the wife of Jerome B. Wheeler, the original proprietor of the Hotel Jerome and the Wheeler Opera House at the end of the 19th century. Harriet was said to be prim and proper, and thus the name "Bad Harriet" is a fictitious spin on her supposed countenance.
The Jerome's other bar operations — the J-Bar and the Living Room — have separate beverage teams that create their own specialty cocktails, Kneitel noted.
"Our focus [at Bad Harriet] is the craft-cocktail scene and to add to what we already have in town," she said. "There are several good craft-cocktail bars in town and we want to be seen as part of that."
"The Dame" and "The Duke" are two of the most popular specialty libations at Bad Harriet, bartender Justin McDuffie said. The concept behind the "The Dame" was to make it transparent, "to make you confused as to whether we just gave you a glass of water," he said. It's made with tequila, jalapeño peppers, white vermouth, agave syrup and citric acid powder.
Customers don't wince at its $23 price, Kneitel said. The price corresponds to the high-end tequila used in its making.
"We experimented with a [lower-priced] tequila," McDuffie said. "It didn't really work that well."
"We work very closely as a team to develop all of our cocktails and I don't think that any of them would be as strong if we didn't have each other tasting them and giving that feedback," Kneitel added.
By the way, "The Duke" has nothing to do with actor John Wayne, a Hotel Jerome visitor back in the day (many millennials reading this article may not be familiar with Wayne's nickname). It's a drink centered around mezcal and the name was chosen to provide contrast to "The Dame."