Editor's note: This story initially ran in the Roaring Fork Weekly Journal, our sister publication covering the midvalley. For more, visit www.rfweeklyjournal.com.
Tucked away near the ceiling next to the cash register in Timbo's Pizza is a signed photo of future Rock and Roll Hall-of-Famer John Petrucci. If you have to ask who Petrucci is, then you probably don't recognize his band's music (Dream Theater) thumping out of the kitchen. Tim Goodwin, the longtime owner and operator of Timbo's in Basalt, has deep love for three things: his family, progressive rock music and seriously delectable pizza.
Timbo's has been serving pizza, subs, salads and more going on 24 years now. They opened under that name in 1997; it's derived from a combination of Goodwin's first name, and the nickname his grandpa called him, Bo.
Goodwin, who just turned 55, is originally from Clearwater, Fla. His family moved to Colorado in 1967, and he relocated to Carbondale in 1976. While in the valley, Goodwin worked for Kurt Trede at Peppino's Pizza. He credits Trede with teaching him the pizza-making trade. 
Over the years, there has been some confusion between Peppino's and Timbo's. In the mid-'90s, there were two Peppino's locations. After a long-forgotten fallout between Trede's ex-wife and Goodwin, Trede offered to sell the Basalt location. Goodwin snapped it up, changed the name, and has been baking pies ever since. 
Trede and Goodwin remain good buddies and frequently help each other out.
The menu is what you would expect from a mom-and-pop pizza shop. Calzones, strombolis and made-to-order hoagies round out the offerings. Goodwin's signature sausage rolls sell out almost daily. Some patrons prefer the Detroit-style pizza, which has a thicker crust, infused with ricotta cheese, caramelized mozzarella and the pizza sauce on top. Look for it in the glass case near the front.
Timbo's is a family-owned and run business. In addition to papa Goodwin, his sons Julian and Jason, and daughter Jessie all work at Timbo's, too. The joy and welcome feelings that resonate from the Goodwins are palpable to all who enter.
"Love is what makes the best pizza," said Jessie, as she takes a short break from wiping tables, answering phones and ringing up sales. Tim agrees and elaborates: "We use fresh, whole ingredients, but you have to love what you do."   
Jessie's favorite pizza is the "Margarita," a pie made with garlic sauce; spinach, tomato, basil, artichoke, and mozzarella.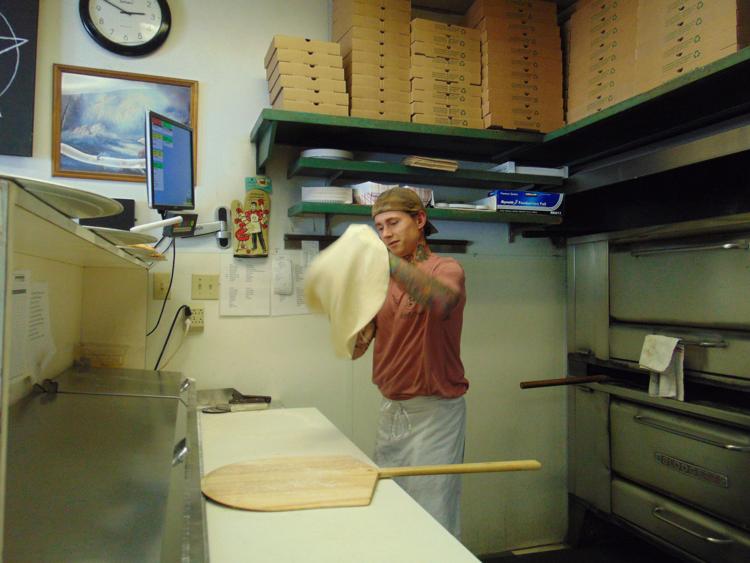 "Her favorite is the peanut butter brownies!" brother Julian teases from behind the prep table. She sheepishly admits there is some truth to that. 
Since the beginning, Goodwin has always played progressive rock music in his pizzeria. Also known as prog rock, or simply "prog," some call it the "thinking man's rock." 
Prog rock leans toward the heavier side of rock music and incorporates longer compositions, complex arrangements and virtuoso flourishes. Bands like Yes and King Crimson, and Goodwin's favorite, Rush, have evolved over the decades into heavier iterations such as Dream Theater and Symphony X.
"I kept a 2000 CD collection, and would play a five-disc (CD) carousel all the time," said Goodwin. He now has a streaming subscription music service to keep his jams going. In his spare time, he and his wife of 34 years, Char, travel far and wide to watch concerts. "I love rock. I've probably seen five or six hundred concerts." The next concert he is planning to attend is the prog metal band, Sons of Apollo.
Julian shares his father's passion for prog rock, and dons a flour-covered Dream Theater hat turned backward while hand tossing dough. Jessie doesn't mind it, but when extraordinarily heavy metal continuously plays, she can get a little agitated. "I tell them, do you want to change the music to something lighter or do you want a grouchy sister?" She usually gets her way.
Timbo's has reduced services and hours which often perplexes locals. Shop hours end at 7 p.m., and Timbo's only offers delivery from 4 p.m. to 7 p.m.
Goodwin cites the importance of family and the diminutive late-night crowd in Basalt as factors. 
"I want my son to be able to go home and read to his kid, not make pizza all hours of the night," Goodwin said. Timbo's does not serve alcohol, and "this side of town closes at seven."
Goodwin's own family ties reach to the Carbondale and Rural Fire Department; his brother, Rob Goodwin, is the chief. With the close proximity of Timbo's to RFFR's Station 41 Goodwin laughs, "I feed a lot of Basalt firefighters." He jests that CRFD Chief Goodwin prefers his pizza hand delivered.
It's the lunch and after school crowd that really keeps Timbo's up to its ears in dough.  
Basalt high-schoolers come in for a bite during breaks, and junior-high kids occupy the booths after class. "Parents give their kids five bucks and they spend it here."
 Timbo's Pizza is located at 23258 Two Rivers Road, Basalt. 970-927-3556.