Some skied in tuxedo jackets over their speed suits. Others took to the gates of Golden Horn and Thunderbowl with a business-as-usual approach, given the slick surface and cold morning that greeted the 50 racers who turned out for the second annual Hansi Brenninger Memorial Race on Saturday at Aspen Highlands.
The final event in the 38th annual Aspen Town Race Series saw younger athletes challenge the old guard with battles to the end after the five-event series that finished with fast times, a sense of style, and respect for Brenninger, an avid town racer and race enthusiast who passed away two years ago during a vacation in Park City, Utah.
This was the second giant slalom held in the Aspen town series this season, as one scheduled in February, as well as the BOOTech super combined race, were cancelled because of too much snow. Three slaloms were run during the 2018-19 season, including a pair held on Aspen Mountain.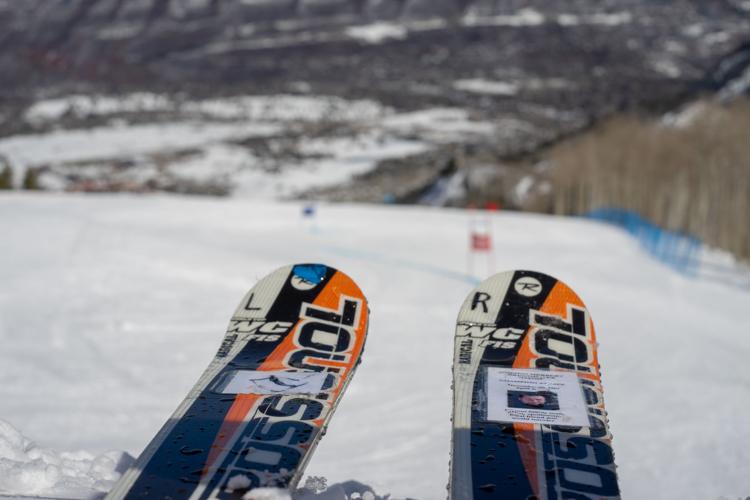 On Saturday, Enrique Evia Roca had the fastest two runs of the day on the long GS, a ripping 3:01.15, which helped his team, BOOTech, defend their 2018 title. BOOTech's David Zamansky and Jonathan Ballou also won their age divisions on Saturday.
S&S Construction finished the Aspen Town Race Series season in second place, in part on the strength of Mike Maple's win in mens over 50. Chuck Tower of S&S won in mens over 70 on Saturday.
KSPN was third among the teams, inching by Bonnie's Babes, which did not start on Saturday, for the season title. Jake Morgan of KSPN won for young adult men in the memorial race.
Chloe Smith, racing in the young adult women division, was the fastest woman of the day with a time of 3:15.37. Juana Castro of ASC Race Team was tops in the women's division, skiing to a two-run time of 3:38.36. Juan Rodrigo Fernandez of ASC S3 team, was fastest in Mens 21-39, posting a two-run time of 3:02.65.
During a post-race barbecue on the Highlands deck, Aspen Skiing Co. race director Scott Nichols praised his race department's efforts and thanked the skiers, who ranged in age from youth to octogenarian Jacques "Franchy" Houot.
Nichols also announced the winner of the Aspen Town Race League's sportsperson of the year, who for 2018-19 is Mike Maple of Aspen.
Aspen Snowmass Town Race Series
Cumulative Race Results by Division
Team Points
BOOTech 1,400
S&S Construction 1,355
KSPN 1,060
ASC S3 1,035
Bonnie's Babes 960
ASC Race Team 940
Highlands Ale House 857
Timberline Bank 786
Women Points
Jennifer Simpson 260
Cindy Lindsay 256
Tanya Milelli 250
Carly Rebeiz 238
Madeleine Osberger 197
Juana Castro 180
KK Fletcher 134
Asia Jenkins. 100
Katie Ertl 100
Manuela Roncallo 100
Kelly Lussan 98
Cheryl McCulloch 84
Conner Keeffe 60
Lori Small 55
Manuela Canova 55
Mens over 70
Chuck Tower 400
Wayne Fuchs 400
Jacques Houot 255
Bill Rom 140
Mens over 60
David Zamansky 400
Tom Kennedy 289
Jeff Handwerk 277
Steve Henley 240
Steve Strickland 237
Tim Mills 171
Donald Shaffer 135
Mark Kwiecienski 80
Peter May 80
Terry Patten 55
James Brokamp 51
Brad Stephens 40
Mens over 50
Scott Strickland 460
Mike Maple 360
David Sturt 260
Chris Wirkler 225
Gary Gleason 213
Mark Shackelford 192
Joey Popinchalk 184
Jim Lindsay 170
Peter Cohn 149
Ari Otterson 135
Michael Payne 122
Chino Martinez 37
Alex Rebeiz 31
Mens over 40
Jonathan Ballou 400
Bobby Schafer 135
Joshua Fogg 115
Fabrizio Valentini 80
Bill Small 60
Mens 21-39
Whit Fuller 420
Juan Rodrigo Fernandez 400
Andrew Aldercotte 60
Lucas Guinazu 60
Tadeo Castellas 60
Augusto Ginaca. 55
Michael Stephens 55
Mens Advanced
Enrique Evia Roca 400
Steve Centofanti 308
Nick Kullas 180
JT Williams 135
Logan Ice 80
Tim Cafe 80
Juan Roncallo 80
Julian Campbell 60
Nelson Riley 55
Young Adult Women
Annika Nichols 360
Alex Engelmann 240
Macy Hopkinson 195
Kaelyn Kroeger 170
Tashi Jackson 106
Edie Sherlock 100
Chloe Smith 100
Gemma Hill 60
Storey Balko 51
Eden Bohart 51
Young Adult Men
Tito Schafer 147
Jake Morgan 100
Langdon Dresser 80
Jack Prusky 60
Luca Blechman 55
Ford Stephens 51
Hansi Brenninger Memorial Race
March 30, 2019
Team
BOOTech 300
S&S Construction 280
KSPN 260
ASC Race Team 240
Highlands Ale House 200
ASC S3 160
Timberline Bank 158
Women
Juana Castro 3:38.26
Jennifer Simpson 3:41.76
Tanya Milelli 3:44.49
Kelly Lussan 3:45.88
Carly Rebeiz 3:59.33
Cindy Lindsay 4:04.91
Madeleine Osberger 4:15.70
Mens over 70
Chuck Tower 3:54.21
Wayne Fuchs 4:21.84
Jacques Houot 5:34.85
Mens over 60
David Zamansky 3:38.92
Mark Kwiecienski 3:47.67
Steve Henley 3:50.11
Donald Shaffer 3:57.88
Tim Mills 4:01.01
Jeff Handwerk 4:08.25
Tom Kennedy 4:12.21
Brad Stephens 4:32.31
Steve Strickland 5:16.15
Mens over 50
Mike Maple 3:18.78
Scott Strickland 3:19.91
David Sturt 3:22.52
Chris Wirkler 3:27.36
Gary Gleason 3:39.41
Peter Cohn 3:30.53
Joey Popinchalk 3:41.05
Jim Lindsay 3:47.48
Chino Martinez 3:52.61
Michael Payne 3:52.61
Alex Rebeiz 4:17.91
Mark Shackelford 4:30.46
Mens over 40
Jonathan Ballou 3:09.20
Bobby Schafer 4:21.55
Mens 21-29
Juan Rodrigo Fernandez 3:02.65
Whit Fuller 3:15.15
Andrew Aldercotte 3:24.94
Michael Stephens 4:11.58
Mens Advanced
Enrique Evia Roca 3:01.15
JT Williams 3:12.81
Nick Kullas 3:13.34
Joshua Fogg 3:25.28
Steve Centofanti 3:26.21
Young Adult Women
Chloe Smith 3:15.37
Young Adult Men
Jake Morgan 3:03.86
Langdon Dresser 3:43.80
Jack Prusky 3:52.64
Luca Blechman 3:55.27
Ford Stephens 4:57.08
Tito Schafer 5:08.87