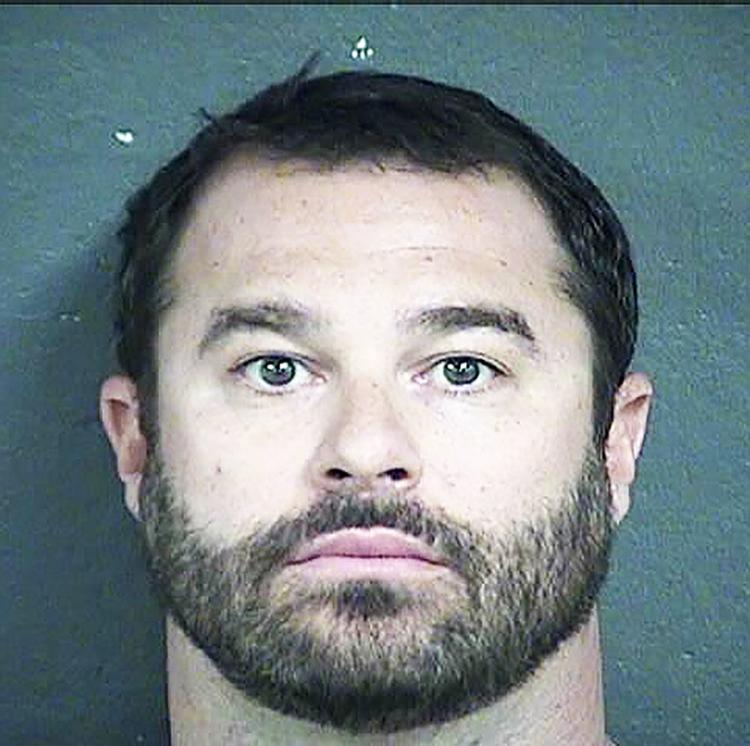 Federal prosecutors and the attorney for the Missouri Heights man who pleaded guilty to online enticement of a child have differing views on how long of a prison term he should receive when he is sentenced today.
Ryan Mausner, 43, faces at least 10 years, and in a sentencing memorandum filed last month in U.S. District Court, Patrick Daly, assistant U.S. attorney, wrote that he should receive 14 to 17.5 years. Daly cited the fact Mausner traveled to the Midwest from Colorado intending to have sex with who he thought was a 7-year-old. He was arrested at the Kansas City International Airport in May 2018 and has been in custody ever since. He pleaded guilty as part of an agreement with prosecutors that saw a count of traveling across state lines with the intent to engage in illicit sexual conduct with a minor dismissed.
His flight from Denver to Kansas City "was the culmination of months of online discussions of the types and sorts of sexual acts Mausner intended to perform on the purported 7-year-old girl and her mother, who was in fact an undercover agent with the Federal Bureau of Investigation," Daly wrote.
The FBI began investigating Mausner in January 2017. Using the Kik messaging application and texts, he began talking that month with the undercover investigator, who said they were the mother of a 7-year-old girl.
Referring to himself online as "Dom_G," Mausner told the agent that he wanted to have sex with the woman and her daughter, and that he would fly from Colorado to Kansas City for that purpose, according to his grand jury indictment. He also made "overtly sexually explicit comments using BDSM terminology" and insisted he be referred to as "sir," the criminal complaint said (BDSM is an acronym for the practices of bondage, discipline, dominance and submission). The next day, Mausner wrote that "big boss man has been thinking about his girls … Spending quality time getting to know you both." 
He eventually provided the investigator with his phone number, which the FBI linked to his home and email address, and a screenshot of his May 25, 2018, travel itinerary.
Because Mausner used a computer or an interactive service — in this instance, Kik Messenger and text messaging — to persuade, entice, or coerce a minor to engage in prohibited sexual conduct, and because the purported child was under the age of 12, the recommended term of 14 to 17.5 years is within federal sentencing parameters, the prosecutor wrote.
But Mausner's attorney, Marilyn Keller of Kansas City, asked for the minimum 10-year sentence. She wrote that her client has been a "productive member of society. He was successfully employed as the director of operations at an Aspen, Colorado-based full-service event planning and coordination firm. In connection with this employment and in addition to planning for-profit undertakings, Mr. Mausner was involved with a number of nonprofit partners to plan fundraising and/or awareness events for the benefit of the greater community on behalf of several organizations.
"Importantly, Mr. Mausner acknowledges his wrongdoing," Keller wrote. "He does not diminish his wrongful conduct, nor does he excuse it. He provided a full and complete factual basis during the guilty plea hearing before this honorable court. … Mr. Mausner is embarrassed and remorseful for the conduct that has brought him before this court."
Keller also cited the fact that no child was ever actually involved in his crime.
"Without intending to minimize the criminal conduct, the underlying facts reveal that Mr. Mausner was communicating with an adult [undercover agent] during the online chats, not directly with a minor," Keller's filing says. "And, while unknown to Mr. Mausner at the time he committed the offense, no minor was actually involved in the offense."
The defense attorney also highlighted letters of support for Mausner, writing they "paint a compelling picture. The letters reflect the authors' observations of Mr. Mausner as a hard-working, caring individual. He was raised in a home focused on the value of hard work and a need to give back to the community, characteristics he has embraced as an adult. His commitment to family, and his particular commitment to his younger brother born with Down Syndrome, is at odds with the criminal conduct he has admitted to in this case."
The love and support in the letters show that Mausner's actions "can and will be overcome by him," Keller wrote. "His family has remained supportive. Others in the community, as well as from his family, have written to express their support of Mr. Mausner. Surely a sentence of 120 months will serve as a sufficient punishment."
Daly, the prosecutor, said Judge Greg Kays of U.S. District Court should not consider Mausner's statements to the U.S. Parole Office about alcohol contributing to his decisions. Mausner told the office, as part of a presentence investigation, that he has suffered from depression and began drinking nightly in early 2018.
"Taking these statements at face value, he has not participated in mental health treatment, did not express a need for treatment, and apparently claims to self-medicate through the use of alcohol," Daly wrote. "To the extent Mausner attempts to rely on this past alcohol abuse as a mitigating factor at sentencing, this argument should not be seriously entertained. [He] has no independent recorded history of alcohol abuse, and does not appear to have a familial history of this addiction. … If anything, Mausner's purported alcohol use is an illustration of in vino veritas [a Latin phrase that means, essentially, a person tells the truth while under the influence of alcohol] rather than serving as the basis for a departure" from typical sentencing guidelines.