Johno McBride, the head men's speed coach for the U.S. Ski Team and a local resident, said this week he will not return for a third consecutive season with the national squad.
"This was my choice," McBride said Tuesday by phone from his home in Old Snowmass. He said the decision is rooted in a desire to spend more time with family.
Johno and Sunny McBride are parents to children aged 11, 14 and 15.
"Two of them are in high school. Before you know it, they're out the door," he said.
"Between October 15 and March 15, I saw my kids for only 12 days. It's just not sustainable. I wish I could have my cake and eat it too," McBride said.
The 2017-18 season wasn't quite as tough; the family based itself in Madrid, Spain for the year, which allowed the coach to visit intermittently between World Cup stops. It was different, however, during the just-completed competition season — Sunny and the kids had returned home to Old Snowmass.
McBride said his replacement will be Randy Pelkey, a western regional coach and who he said has "a personal connection" with many of the athletes. Last season heading into the 2018 PyeongChang Olympic Games, Pelkey coached the Korean Ski Association's men's speed team. He is married to Karin Harjo, a longtime respected coach on the World Cup circuit who works for U.S. Skiing.
Pelkey's appointment was confirmed Thursday by Megan Harrod, alpine communications manager for the national team.
In a statement, it was noted that, "Having worked with the western region for a number of years prior to taking the head men's development coach role with U.S. Ski & Snowboard, Pelkey has significant experience coaching speed, and specifically doing so with many of the current men's World Cup speed team athletes." Rounding out the men's speed coaching staff are longtime coaches Scotty Veenis and Josh Applegate.
McBride said he informed the team of his decision prior to the 2019 World Cup Finals in mid-March, while at a race in Norway, because he knew not all of his athletes had qualified for the Finals.
"I wanted everyone to know. I don't think the guys were psyched. Nobody really saw it coming," McBride said.
The 2018-19 season saw the U.S. men's speed team make some positive steps forward, he pointed out.
"My view with this group is that relative to the prior year they had a pretty darn good year," McBride said.
Skier Bryce Bennett of Squaw Valley, Calif., enjoyed a breakout season under McBride, notching a pair of fourth-place finishes during December at Val Gardena and Bormio, Italy and a top 10 during the World Championships in Are, Sweden.
"Bryce is in a really good place. He's hungry to keep progressing," McBride said.
There was also a marked improvement in the results from speedsters Steven Nyman, the team's veteran, and Travis Ganong. Both were coming back from injury.
McBride said he has faith that the best is yet to come for Ryan Cochran-Siegle, the Vermont athlete who has had most of his success to date in slalom and giant slalom events.
"I'm waiting for the day that guy is on the podium in speed events," McBride opined.
"I believe the guys will produce more. The team's in a pretty good place. It's jelled and come together," he added.
McBride accepted the U.S. Ski Team job three years ago this spring. At the time he was the alpine director for Aspen Valley Ski and Snowboard Club and had just completed his third year in that position.
Asked if he would like to return to AVSC, McBride said, "For sure I'm interested in trying to help but I'm not interested in being the alpine director."
That job is now held by Alice Black, the longtime AVSC coach who was also an outstanding junior and collegiate racer.
An AVSC spokesperson did not respond to a request for comment about McBride.
Camp Push-Your-Limits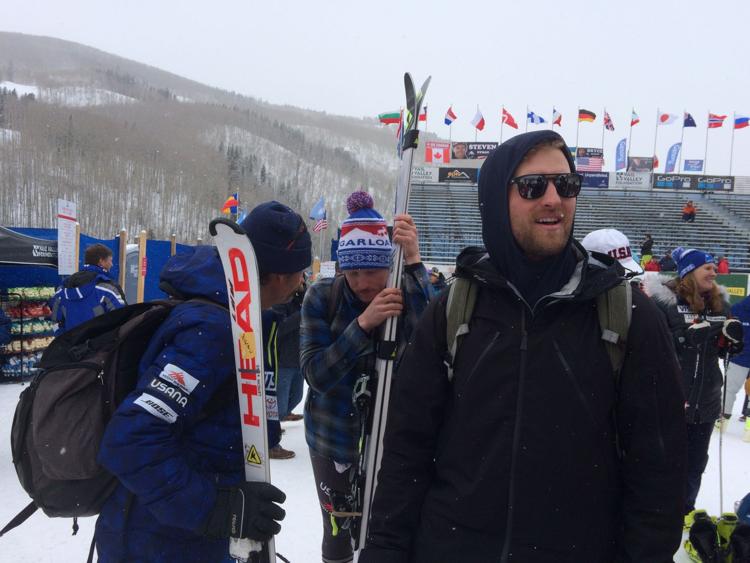 McBride's emphasis on dryland training and use of innovative methods to make workouts less tedious was appreciated at the junior and national team levels. In July 2017, McBride hosted a camp for seven of the team's speed skiers at his family's ranch that included activities like hiking Capitol Peak, soo bahk do and paintball. Camp rules at the McBride compound banned electronics of any kind, including cellphones.
The following year, his charges ventured to Malibu for the qRWE fitness camp that also served as a successful bonding exercise. McBride said he is leaving open the possibility of conducting another athlete camp before bowing out of the coaching job.
Aspen native Wiley Maple took part in both fitness camps at the invitation of McBride, despite not being an "official" member of the U.S. Ski Team either season. McBride made Maple and other ski racing independents feel like they were part of the team, even if they were funded differently from the named athletes.
On Wednesday, Maple, a 2018 Olympian and seven-year national team member who focuses on the speed events of downhill and super-G, said he was sorry to see McBride's current tenure come to a close.
"Certainly the end of an era and sad to see the 'band' break up. It will be very different without his leadership and staffing," Maple said.
"Working with Johno was like a return to what I always thought U.S. Skiing and specifically skiing on the World Cup was supposed to be like.
"Johno commanded our ship of misfits as we bound around Europe. His biggest strengths were keeping morale high in the beatdown that can be ski racing. Managing multiple athletes who had drastically different results each day can be hard but he made it fun and pushed us hard.
"Most of all, he made working hard, training hard, a team sport and somehow made pushing our limits easy and fun, if that's possible. His level of enthusiasm and charisma encouraged you to try new things and push new lines," Maple added.
This isn't the first time McBride has come and gone from the national team. He was hired as a head coach for the U.S. Ski Team beginning in the 1990s and was Bode Miller's coach in 2005 and 2008, when he won the men's World Cup overall globes. During the years that followed, McBride coached the Canadian men and also adaptive alpine ski racers.
He isn't opposed to another return to the "White Circus," as the World Cup tour is sometimes known.
"I could come back," McBride said with a laugh. "Never say never. I do love it," and joked that he could be known as "Mr. Change Your Mind."