The sign, posted in the window of the Art Base, reads simply, in hand-painted red letters, "Art Kits To Go," but it says a lot in those four words. Normally, the visual arts center in downtown Basalt would be open after school for local kids to come and make art for free, but now, closed due to the coronavirus pandemic, the Art Base is resorting to giving away art supplies so kids can still fuel themselves creatively at home.
"It felt like a way we could be positive and contribute," said Art Base Executive Director Genna Moe. "It's meant to be just a fun activity for kids or kids and parents, and there are incentives to post on social media and tag the Art Base. For instance, we'll give scholarships away to classes for people who post 14 days in a row. It's a way to stay engaged."
The Art Base is also working on other ways to bring art to the people, such as online tutorials, but they're a far cry from the real thing, and they mask an important question facing arts organizations and other nonprofits in the valley and, indeed, around the world. What will happen in the long term as a result of the inevitable global recession being caused by the coronavirus scare?
It's an issue that is particularly relevant here in Basalt, where both the Art Base and the Arts Campus at Willits (TACAW) will soon be breaking ground on new homes that won't come cheap. The good news is that both have the money to get started on their builds as scheduled. The bad news is the bad financial news. The problem is that nobody knows right now how bad the news will be.
"We have enough donations to pay for half the building and financing for the other half, so this doesn't affect our ability to move ahead," said TACAW Executive Director Ryan Honey. "Will it impact donations moving forward to remove our reliance on financing? That's certainly a possibility we're considering given people's state of mind and the state of the economy."
During the last serious economic downturn starting in 2008, arts organizations were hit particularly hard by a decrease in funding from would-be donors who either had less to give or diverted their charitable efforts to more social-service-oriented nonprofits. A 2009 story in The Chronicle of Philanthropy noted that "arts charities around the country are laying off workers or adopting hiring freezes and cutting other expenses in response to a falloff in donations from companies, individuals and governments."
So some level of financial disruption is bound to occur as a result of the coronavirus scare, but how big will it be? It won't stop TACAW from building the Contemporary, its new performance space and lounge in Willits. Provided all the necessary permits get approved on time, that building is set to break ground in April. But what of the Art Base's new home, which will be part of the Basalt River Park development in downtown Basalt but probably won't break ground until 2022?
"We're still proceeding as planned, and the fundraising was not yet to commence in a major way," said Moe. "We're being flexible in the rollout of asking publicly due to everyone's financial impacts."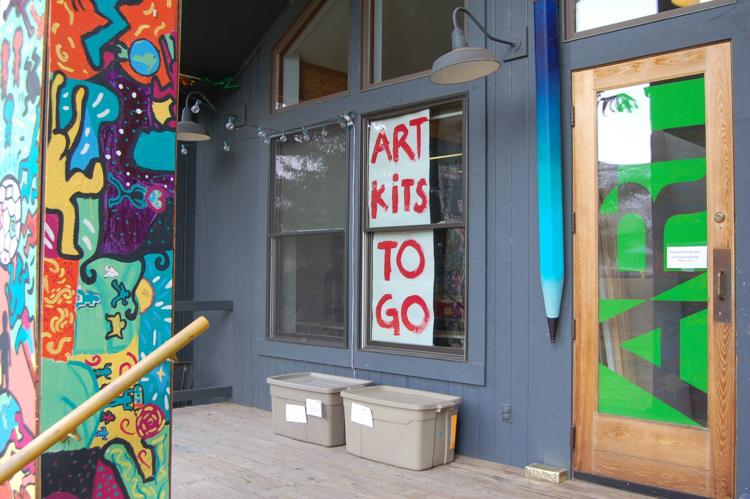 The show mustn't go on
For TACAW, which has essentially been homeless for the last 10 months since the closing of the Temporary, cancellations as a result of the pandemic have been an inconvenience, certainly, but they won't result in a large financial hit. It's a similar story at the Art Base, where much of the programming is either free or just barely covers the cost of the materials. They'll lose some revenue from canceled adult classes, but that's not a big part of the budget to begin with.
Such is not the case, however, at Thunder River Theatre Company in Carbondale, where ticket sales are a significant revenue generator. As noted on its website, TRTC was forced to postpone a Cabaret Workshop Showcase scheduled for March 23 and a Diva Cabaret with Mike Monroney slated for April 13, but that's just the start of the problems for Carbondale's hometown theater.
"We've had to cancel or postpone a number of improv shows, the cabaret performances, a couple of building rentals, a class and three fundraisers," said Corey Simpson, TRTC's associate artistic director. "While we can reschedule some of the events that were going to be held here in the theater, there are some revenues we will not be able to recapture."
Simpson and TRTC are looking into online possibilities like live-streaming performances as a short-term measure, but in the long run, he finds himself in the same unknown but undoubtedly precarious position as Moe and Honey.
"The biggest consideration for us right now is the effect that the market will have on donations," said Simpson.
With so much uncertainty and the impacts of the pandemic – on nonprofits, markets, public gatherings and more – yet to be realized, this is an uneasy time to be an arts organization that relies on the largesse of people whose minds and money might be on something else. But the world needs art and creativity as much now as ever, so Simpson had a reminder for everyone out there.
"As much as possible, if people can continue to remember the good work that nonprofit organizations are doing to support people through challenging times right now, their support is more important now than ever," he said.