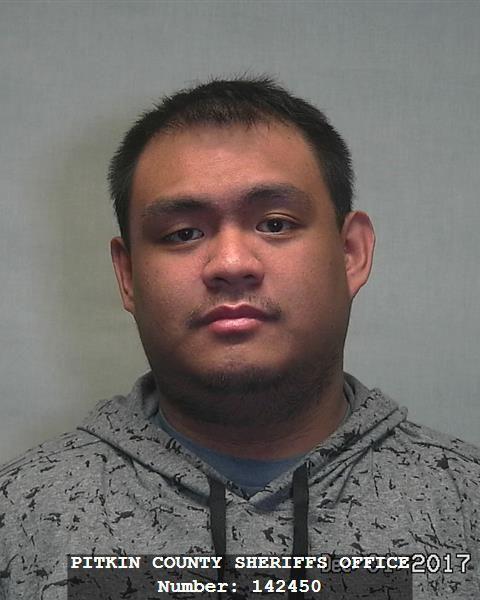 A former Snowmass Village resident who already has served 553 days in the Pitkin County Jail while awaiting a disposition in his child-pornography case will spend seven more days in custody to help him transition back to outside life.
Uny Nabua, 25, a native of the Philippines, also received five years of supervised probation and 40 hours of community service during his sentencing hearing Monday in Pitkin County District Court. Nabua — who previously pleaded guilty to one felony count of sexual exploitation of a child — also will be required to register as a sex offender.
Much of Monday's hearing concerned the fact that Nabua has nowhere to go upon release. He has a relative in the Roaring Fork Valley, but because there is a youth living in the home, he cannot stay there. As part of his plea agreement and probation terms, Nabua cannot have contact with anyone under the age of 18.
Public defender Scott Troxell said the pre-sentence evaluation shows Nabua to be a good candidate for rehabilitation. He speaks English well enough to gain employment and interact with the community, Troxell said. At previous court hearings, Nabua has always been assisted by an interpreter.
But Troxell added that he did not have a solution to Nabua's housing issue, which led to his recommendation to District Judge Chris Seldin that his client receive a small amount of additional jail time to aid in the transition. Deputy District Attorney Don Nottingham, while also recommending the probationary sentence, also expressed concern about where Nabua would be living.
"Housing will be the biggest short-term hurdle for Mr. Nabua," Troxell said.
Nabua has been a local jail resident since December 2017, the month he was arrested on a felony charge of sexual exploitation of a child following an investigation that began a few months earlier. It was initiated after he allegedly showed a co-worker graphic images on his phone.
His bond was initially set at $10,000 and at some point, it was raised to $15,000, according to jail records. The investigation by Aspen and Snowmass Village's police departments, and assisted by the district attorney's office, led to the revelation that images and videos of children engaged in exploitative acts were stored on the microSD card of Nabua's phone.
Prior to outlining the sentencing terms, Seldin said an aspect of the evaluation that stood out was Nabua's first exposure to child pornography at his father's house in the Philippines. Those materials belonged to Nabua's father, the judge said.
Seldin said the images found on Nabua's phone were "nauseating," leaving no doubt as to why lawmakers view child pornography as a serious offense. But, he added, the evaluation shows Nabua to be a good candidate for rehabilitation, partly because he is still young. He will be required to undergo an intensive treatment program during his probation term.
The judge also voiced concern for Nabua's housing dilemma. He said the 553 days of pre-sentence confinement was a factor in his agreement with the recommendation for a probationary sentence.
"I wish you the best of luck in finding housing and staying out of this kind of trouble in the future," Seldin said.