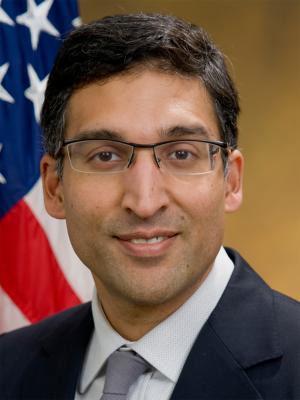 Former Acting Solicitor General Neal Katyal, author of "Impeach: The Case Against Donald Trump," is expected to discuss the recently released book and other matters related to national politics and law during an Aspen Institute event on Friday.
Katyal, 49, served as acting solicitor general from May 2010 to June 2011 under President Obama. Before and after taking that position, he worked for the Obama administration as principal deputy solicitor general.
A Democrat, Katyal regularly appears on major television networks as a commentator on political and legal affairs. He is a Chicago native, born to immigrant parents from India. He attended Yale Law School and served as editor of the Yale Law Journal. He went on to clerk for Supreme Court Justice Stephen Breyer.
He is credited with arguing more U.S. Supreme Court cases than any minority group lawyer in American history. While serving in the Justice Department, he successfully argued for the constitutionality of the Voting Rights Act of 1965 and also the constitutionality of The Affordable Care Act. While teaching at Georgetown University, he was a vocal critic of the government's treatment of prisoners at Guantanamo Bay and won the landmark Hamdan v. Rumsfeld case which claimed the treatment of detainees violated the Geneva Conventions. Additionally, he served as former Vice President Al Gore's co-counsel in Bush v. Gore, the case that settled the recount dispute in Florida's 2000 presidential election.
According to an Aspen Institute news release, Katyal will lay out the facts needed to make the determination as to whether President Trump solicited election interference from Ukraine. He also will discuss the history of impeachment: why it was included in our Constitution, how it has been enforced throughout our history, where that leaves us today — and what it means for the fate of our democracy.
"President George Washington said in his farewell address: 'Foreign influence is one of the most baneful foes of republican government.' The founders' apprehension of foreign actors ultimately led to the Constitution granting Congress the power to impeach a president on the grounds of treason, bribery or other high crimes and misdemeanors," the release says. "But what are high crimes and misdemeanors, exactly? As Congress considers impeachment, do we risk losing a piece of our democracy? Or would the precedent set by the failure to do so cause even greater damage?"
Kaytal's appearance is set for 5:30-6:30 p.m. at Paepcke Auditorium on the Aspen Meadows campus. It's billed as an "In Conversation" event with Dahlia Lithwick, senior editor of Slate magazine. The cost to attend is $25 and tickets can be obtained via aspenshowtix.com or in person at the Wheeler Opera House box office. Parking at the Aspen Meadows is limited and attendees are encouraged to use public transportation.