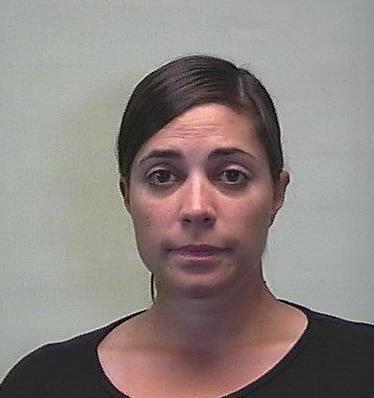 Angela Callen, former executive director of the Red Brick Council of the Arts, pleaded guilty to one count of felony theft in Pitkin County District Court on Monday afternoon.
Callen, 38, agreed to a deal with prosecutors that calls for probation but no state Department of Corrections prison time, her attorney, Mark Rubinstein, said in court.
She faced four felonies for allegedly stealing an estimated $160,000 from the nonprofit arts group and the city-owned Red Brick Center. The money was funneled to her failing snowboard business, student and business loans, and "extraordinary personal spending," according to her arrest warrant.
Also as part of the plea agreement, Callen will pay restitution of $125,000, Rubinstein said. He presented the court with an initial payment of $50,000.
During the proceeding, District Judge Chris Seldin asked Callen a series of questions designed to obtain an admittance of guilt.
"I used money inappropriately for my own use," Callen said.
The judge then asked if it was her intent to deprive the Red Brick and the city of Aspen of the use of the money. Callen paused briefly to confer with Rubinstein, then spoke.
"Your honor, if I want to accept the plea then I have to accept that," she said.
Seldin repeated the question, and Callen again paused, before finally answering, "Yes."
Seldin set sentencing for July 1. Callen — who was initially charged with the crimes in August 2018 following an investigation started more than a year earlier by the 9th Judicial District Attorney's Office — could still receive a Pitkin County Jail sentence in addition to probation.
After accepting the guilty plea, Seldin ordered Callen, a resident of Basalt, to contact the Glenwood Springs probation office to initiate a pre-sentencing investigation report.
The specific felony theft charge to which Callen pleaded guilty relates to amounts between $20,000 and $100,000. It's considered a Class 4 felony, with state sentencing guidelines recommending between two and six years of DOC prison time and three years of mandatory parole for the offense, Seldin said.
By pleading guilty, Callen gave up her right to a jury trial but avoided the possibility of a conviction on multiple charges, which likely would have resulted in a harsher sentence than what she will receive under the plea deal.
Rubinstein sought to delay the sentencing date until August because of a planned June vacation. Deputy District Attorney Don Nottingham, noting the large number of people in the courtroom with great interest in the case, was not keen on the idea, saying three months would be too long of a postponement. About a dozen people, many of them with ties to the Red Brick, were present for Callen's plea hearing, and left soon after it was over.
The case underwent several continuances since Callen was first charged last summer, including a change in defense attorneys from Lawson Wills to Rubinstein. During a hearing early this year, Seldin noted the lack of movement and told Callen that if she didn't move forward with her defense he would be forced to set a trial date.
Callen's illegal activity at the Red Brick, according to the agreement read by Seldin, occurred between May 2015 and June 2017. Jeff Fain, an investigator with the 9th Judicial District Attorney's Office, began investigating Callen in June 2017, the same month she was fired from her executive director position. Callen was hired to oversee the Red Brick and all of its operations in 2013.
Fain's arrest warrant delved into the complex financial world Callen maintained, accounting that drew the attention of another then-employee of the Red Brick Council of the Arts. That person told Fain she overheard Callen making a credit card payment over the phone, and alleged that Callen paid for the purchase by providing a Red Brick debit card number.
Callen also confided in this person that a snowboard business she had purchased, Bomber Industries, was a "total failure," the warrant says.
The employee kept digging. She found an email from the PayPal online payment firm that detailed a $10,000 payment to Bomber from a Red Brick bank account, Fain wrote.
Also allegedly uncovered were several payments from Red Brick accounts to a company called Kabbage, which makes small-business loans; and Callen's issuance to herself of additional paychecks.
The employee went to Red Brick board members, and Callen was fired June 14.
"Callen immediately admitted to stealing the funds and was 'remorseful and cried,'" Fain wrote, citing the board members' statements to him.
According to the warrant, Callen told the board she had kept a list of everything she had stolen, and that it totaled $114,000.
Aspen Daily News staff writer Chad Abraham contributed to this report.