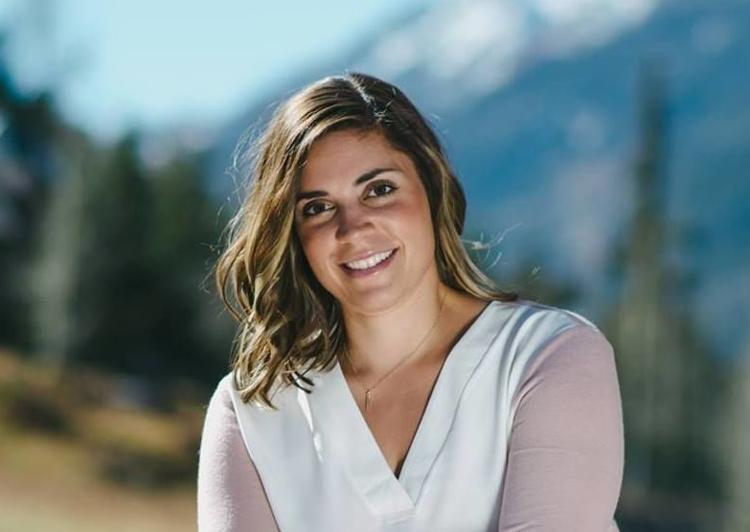 An elaborate, years-long embezzlement scheme by Angela Callen, the former executive director of the Red Brick Council of the Arts, allowed her to funnel tens of thousands of dollars to her failing snowboard business, student and business loans, and "extraordinary personal spending," according to her arrest warrant.
Callen, 37, of Basalt, faces four felony charges, including theft and embezzlement of public property, for allegedly stealing nearly $160,000 from the nonprofit arts group and the city-owned Red Brick Center. A judge signed the warrant Monday. Callen had not been arrested as of Tuesday evening.
Jeff Fain, an investigator with the 9th Judicial District Attorney's Office, began investigating Callen in June 2017. He was told by Aspen City Attorney Jim True that Callen was suspected of embezzling money from both Red Brick organizations. The alleged thefts lasted from 2015 to 2017.
The warrant delves into the byzantine financial world Callen allegedly maintained, accounting that drew the attention of another then-employee of the Red Brick Council of the Arts. That person told Fain she overheard Callen making a credit card payment over the phone, and alleged that Callen paid for the purchase by providing a Red Brick debit card number.
The defendant also confided in this person that a snowboard business she had purchased, Bomber Industries, was a "total failure," the warrant says.
The employee kept digging. She found an email from the PayPal online payment firm to info@aspenart.org that detailed a $10,000 payment to Bomber from a Red Brick bank account, Fain wrote.
Also allegedly uncovered were several payments from Red Brick accounts to a company called Kabbage, which makes small-business loans; and Callen's issuance to herself of additional paychecks.
The employee went to Red Brick board members, and Callen was fired June 14.
"Callen immediately admitted to stealing the funds and was 'remorseful and cried,'" Fain wrote, citing the board members' statements to him. "Callen told them that she had kept a list of everything she had stolen, and it totaled $114,000."
On June 28, 2017, True told Fain that he had been contacted by a local attorney, Lawson Wills.
"Wills indicated to True that his client was willing to pay $150,000 and was hoping that the matter [would] not be reported to the police …," Fain wrote in the warrant.
Wills said Tuesday that is not accurate and that the only contact he had with Red Brick officials was "nothing but an inquiry" on Callen's behalf. Wills is not representing Callen currently.
After Callen was fired, the employee found a manila folder on Callen's desk "containing credit card statements for an additional credit card that was unknown to anyone at the Red Brick," the warrant says.
Charges to the card, which was registered to the Red Brick Center and Callen, appeared to be for personal purchases by the defendant, and for payments to Bomber Industries.
The warrant also details the relationship between the city and the Red Brick Council for the Arts, which involves multiple bank accounts. The city owns the building and pays the arts council a fee to manage various tenants, and to do maintenance and upkeep. The council, which has a 13-member board, handles bank accounts for management of the Red Brick Center. Callen was executive director of both entities.
From one account alone, the defendant allegedly stole roughly $102,000. An accounting showed purchases of items that were "shipped to Callen's home or other addresses and clearly had nothing to do with the day-to-day operations of the Red Brick," the warrant says.
These allegedly included swimsuits, maternity items, a gas grill purportedly shipped to Callen's parents, multiple "gluten-free" cookbooks, high-end computer parts shipped either to Bomber or her husband, and car parts.
Callen also used a Red Brick check to write herself a $15,000 "loan" and another for $3,700 to Bomber, Fain wrote. He added that she regularly used Red Brick money for payments on loans from Kabbage, totaling over $38,000.
As for her salary, Callen in 2015 was supposed to have made $61,000 but, boosted by payroll advances, was issued paychecks for $71,500, according to the warrant. In 2016, she was supposed to have earned $65,000 but received paychecks totaling $81,677.
One of Callen's accounts into which an extra payroll check was allegedly deposited was also reviewed.
"The spending habits on this account range from business-related to extraordinary personal spending on catering, flights, bars and restaurants, fly fishing outfitter companies, trips to surrounding ski areas and subsequent charges for hotels, bars and restaurants …," the warrant says, including $18,250 that was spent in Snowmass Village (what this amount includes is not detailed).
The arrest warrant was issued with a $15,000 bond. A message left with Callen on Tuesday was not returned.