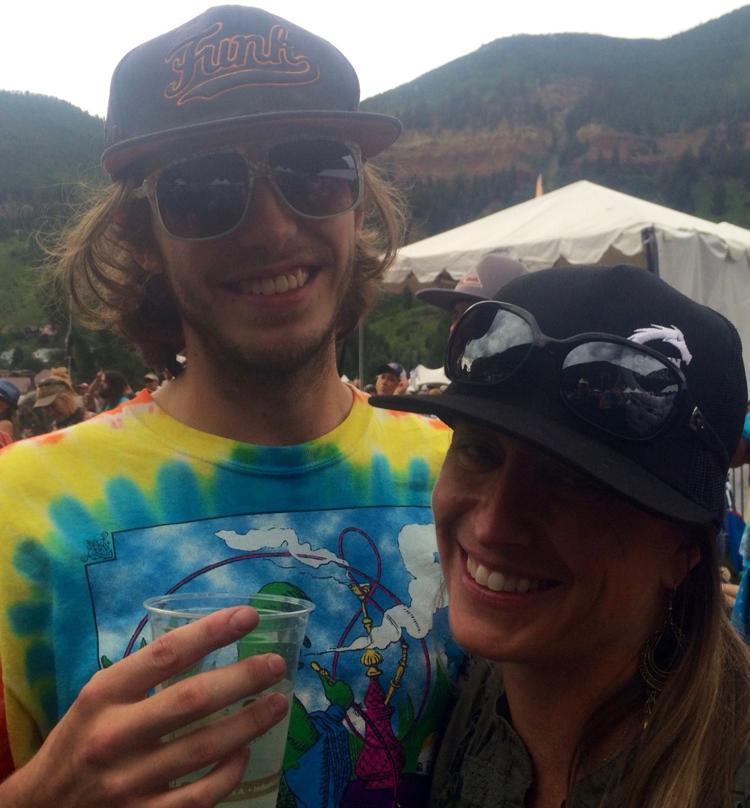 Friends of Alexander Sills, the Aspen area man who died early Tuesday morning in a motorcycle accident on Highway 82, recalled someone whose passion for life was manifested in his love of music, motorcycles, amateur photography and dogs, including Macy, his black lab.
Sills, 30, was identified Tuesday afternoon as the victim in the single vehicle crash that occurred just after 1 a.m. on June 11. He was traveling eastbound on Highway 82 near the intersection with Emma Road when he went off the right side of the roadway, collided with the guard rail and was ejected off the 2008 Kawasaki motorcycle he was riding. Sills was declared deceased on the scene, according to Scott Thompson, chief of Basalt Fire.
"He was very well liked and always had a smile on his face," recalled friend Jay Edelmann, who knew Sills through New York Pizza, and also worked with him washing windows. According to Sills' Facebook page, he was the owner and founder of Sopris Window Cleaning.
"He cleaned windows with me. Because of my injuries, I was feeding him more of my clients so he could eventually take over," Edelmann, the owner of Dirty Bird window washing, said Tuesday afternoon.
The two men had spoken Monday night just hours before the accident, which is being investigated by the Colorado State Patrol to determine whether excessive speed, drugs or alcohol were contributing factors, according to state patrol spokesperson Trooper Josh Lewis.
Edelmann said he had dinner with Sills on Monday during Sills' work shift at New York Pizza. "We shot the breeze. I had a slice with him while I was standing at the side counter."
Edelmann was among those who said the tight-knit "New York Pizza" family is "devastated" by his sudden passing.
"The kid was so full of life. I can't believe it," Edelmann said.
Sue Lovell, who dated Sills for about two years and remained friends after they parted, said simply: "This is a very sad day for me."
"We shared a connection about music, living here, skiing and the mountains. We were both animal lovers," Lovell said.
"He was kind of an old soul, such a young kid stepping into an older environment," she added.
Sills, who was living in Old Snowmass, was also an amateur photographer whose work has appeared in the Aspen Daily News. According to his Facebook page, he was originally from Sydney, Australia. A friend said he spoke fondly of Philadelphia, where he had moved at the age of 4. He also had lived in Boulder before moving to the Roaring Fork Valley.
Another co-worker from New York Pizza, who asked that his name not be included in this article, said Sills was crazy about the band Phish, which he had seen multiple times, and the jamband Umphrey's McGee.
"He was talking about going all the way to Iceland to see Umphrey's," according to the colleague. That passion for music seemed typical of how Sills lived his life.
Edelmann, who said Sills celebrated his 30th birthday recently, noted that, "He loved music and was getting ready to go to Telluride to see Widespread [Panic]."
The work colleague said that while Sills liked to have a good time, he was also entrepreneurial and a hard worker.
"If someone was screwing up at work or acting like a jerk in general, he would call them out fast. But he was mostly lighthearted and laid back," the person said.
The initial accident call came in to dispatch at 1:17 a.m. early Tuesday morning, according to Chief Thompson.
"We responded to a report of a motorcycle lying in the road with the lights still on," he said.
Lovell said when she first heard the news her immediate reaction was, "Tell me it's not true. None of it makes sense." She, as well as Edelmann, wondered aloud why Sills was riding back upvalley that late at night.
Sills was also part of the expansive local friend group that included Sam Coffey, who died last month while on vacation in Cabo San Lucas. According to Coffey's family, his passing was related to a blood disorder that caused a series of strokes.
"There's a heavy heart in this community," Lovell said. She said that despite her colleagues' sorrow, New York Pizza remained open on Tuesday.