High winds on Sunday prompted the cancellation of the final halfpipe skiing practice round for athletes competing at the 2020 Winter Youth Olympic Games in the Leysin (Switzerland) Pipe and Park.
But Hanna Faulhaber, a 15-year-old Basalt High School sophomore and one of two local athletes represented in these games, was undeterred on the eve of her big event.
"I'm ready," said the Aspen Valley Ski and Snowboard member who last year was named to the U.S. Freeskiing rookie pipe team while just 14 years old.
"I landed my run for my competition. I did that on the first day I arrived here (Jan. 14) . Now I'm just working on cleaning it up and stuff. I feel pretty confident," Faulhaber said Sunday.
She added that the Leysin pipe has a similar feel to the Buttermilk halfpipe, which is about 550 feet long and features 22-foot walls.
Her halfpipe run begins with a switch air, then segues to an alley oop followed by back-to-back flairs. It concludes with a 720 and a switch 5.
While in Switzerland for the games, which finish Wednesday with closing ceremonies and the extinguishing of the Olympic flame, her coach is halfpipe national development team coach Ryan Carey.
"He's really encouraging me and helping me throughout the process," she said of Carey.
In Aspen, Faulhaber works with AVSC's Greg Ruppel. Joining Faulhaber on the U.S. women's halfpipe team at the third edition of the Winter Youth Olympic Games are 15-year-old Jenna Riccomini and Riley Jacobs, 16.
Faulhaber said she likely earned a spot on the YOG team because Eileen Gu, who was born in America but last year became a Chinese citizen, opted to compete for her mother's home country.
Gu finished with a silver medal in slopestyle on Saturday behind world champion Kelly Sildaru of Estonia, who is well known to X Games audiences. Hanna Faulhaber did not compete in slopestyle at the YOG.
Peek at Beijing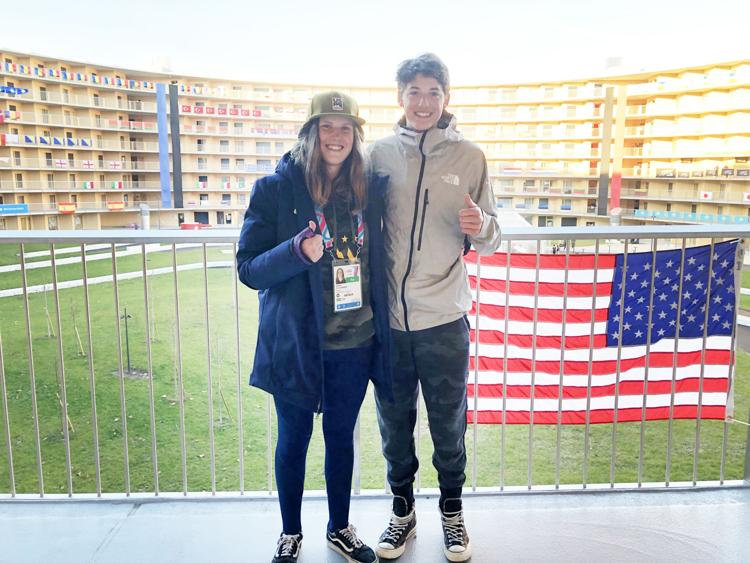 The entire experience of qualifying for and competing in the Youth Olympic Games has been transformative, Faulhaber suggested.
"It will be a life-changing event for me, for sure," she said. "Not exactly a harder competition, but an experience that will stay with me forever."
It's also given her a glimpse of what the Beijing 2020 Winter Olympics might offer.
"Getting to meet different people has been super cool," Faulhaber said. She's also enjoyed staying in the athletes' village, which she described as "like this big vortex.
"They check you for alcohol and drugs" before you are allowed in, she said. "There, all the different teams are staying on different levels. There's a big cafe in the middle."
Aside from watching other competitions — on Saturday she was a spectator for the slopestyle event and later took in a U.S. hockey game — Faulhaber said trading pins with athletes from other countries was one of her favorite pastimes.
After her return to the U.S. later this week, Faulhaber (who won't compete in the X Games) will set her sights on the Land Rover U.S. Grand Prix at Mammoth Mountain, Jan. 26-Feb. 1.
In a December World Cup freeskiing event at Copper Mountain, Faulhaber finished 15th in a field stacked with Olympians and halfpipe veterans. As a 14-year-old, she notched a Revolution Tour win in December 2018, and a third place later that season in the Aspen Open. Her elevation to the U.S. Freeskiing rookie team followed last spring.