At 100, Klaus Obermeyer can be found surrounded by beautiful women sitting on his lap and offering hugs and kisses.
They were among a crowd of hundreds at the Hotel Jerome ballroom on Monday afternoon, all celebrating the skiwear pioneer's birthday with drinks, music, and German sausages and strudels in a nod to his home country.
From the stage in the ballroom, Obermeyer told partygoers about another time when he was in the very same hotel, surrounded by beautiful women. It was in his ski-instructor days, a program which he helped to launch. His friend, the actor Gary Cooper, approached him.
"'Klaus, I don't know what you've got that I don't got,'" Obermeyer recalled him saying. But, it was obvious, "a ski instructor was the next thing to God then."
The next morning at breakfast the tables were turned as a young woman recognized Cooper and fainted in front of them.
Initially a private affair, the centenarian's birthday festivities on Monday afternoon were eventually opened to the public. The event served as a nod to the overwhelming impact that Obermeyer has had on Aspen over the last 70 years, as he took his love of skiing and turned it into a world-renowned ski fashion brand. 
Video on large screens throughout the room showed the Sport Obermeyer founder messing around on the slopes of Aspen Mountain throughout the decades. An homage made for his 85th birthday — back when he was young — show him riding kayaks down the mountain with a group of young skiers, using just a paddle to steer.
"Never fight with the mountain," he preached, "always play with the mountain."
His relatives and extended Aspen family came to the party decked in their finest odes to Lederhosen. His loud laugh pegged him in the middle of the room, ringing out even above the  band of alphorn players. Klaus sat on a high chair, a ski king greeting the long line of attendees who all wanted a photo opportunity, along with a hug and a smile.
Klaus Obermeyer Jr. was among the many family members present. Born and raised under the shadow of Aspen Mountain and his father's legacy, he said, even after 100 years, he knows how lucky he is.
"It's really special. I knew that he's healthy and I knew that he'd have a good chance (of making it to 100), but you never know in anyone's life for any reason if they will be there," Obermeyer Jr. said. "I think I've been viewing every day with him as a gift for most of my life."
And, while the company is a family affair, his father is still setting the pace at the Aspen headquarters of Sport Obermeyer.
"The whole family is involved to some degree, and dad has been really actively leading everything. There is never a question who is running the place," Obermeyer Jr. said with a laugh. "He's always clearly been the leader, and the person who is inspiring, and kind of reminding us why we're there."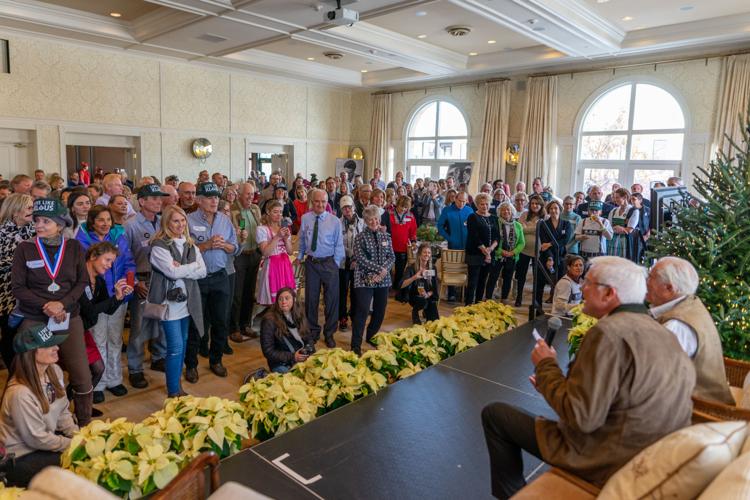 Aspen Mayor Torre read a proclamation declaring Dec. 2 as Klaus Obermeyer Day. He led the crowd in a characteristic Obermeyer yodel.
"Aspen is very fortunate to have Klaus living and giving in our community for over 70 years," Torre said.
Torre is a tennis pro at the Smuggler Racquet Club, where one of the courts is named for Obermeyer who would play there most days of the week into his 90s.
"Anybody that holds recreation at the highest of esteem like he does typifies our community," Torre said. 
The mayor said Obermeyer's own spirit exemplifies the spirit of the town as a whole.
"It's part of your initiation to Aspen. You learn about him whether it's on the slopes or off the slopes, the stories are endless. If you look into any history, Klaus is everywhere. He is enigmatic," Torre said.
Olympic skier Alex Ferreira of Aspen read about the open invite to the 100th birthday party and decided to come to help celebrate Obermeyer, who was always a legend to him growing up.
"It adds to the Aspen legacy, and our deep roots," Ferreira said.
The young skier said he is inspired by Obermeyer beyond his reputation on the mountain.
"He lives life to the absolute fullest, and on top of that he's a great businessman. And overall he's just super grateful, so that's what I love about him," Ferreira said.
Obermeyer was just a little older than Ferreira is now when he first got to the top of Aspen Mountain in 1947 and plopped down his skis for his first run.
"He describes the powder going up and floating in the air crystalling and weightless," related Obermeyer Jr., "and he thought 'I'm never leaving here.'"
"You get a natural high," Obermeyer said of skiing, in the video from his younger days. "You almost get drunk from it. It's the closest thing to flying." 
The scene cuts back as Obermeyer can be seen bombing down a mountain, straightlining moguls as if they were marshmallows. Surely his legacy, if not his knees, will last forever. For the mortals though, Obermeyer sends his regards.
"I wish you all the best of luck," he said with a smile.