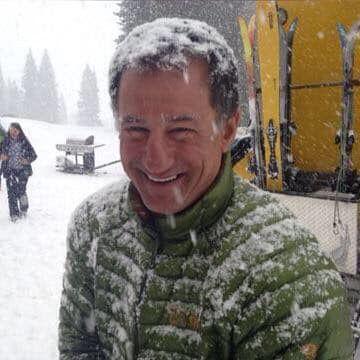 Jerome Hatem, a longtime local Aspen resident who died Sunday after a snowmobile accident near Little Annie Road on the backside of Aspen Mountain, was remembered Tuesday as a loving father, a champion of the sport of rugby, and a big-hearted and tough-yet-kind man.
Hatem, the father of two daughters and the president of the Gentlemen of Aspen rugby club, was 59. His body was found underneath the snowmobile he was using Monday evening by a fellow resident on Little Annie Road, according to authorities. The accident site was 2.8 miles up the road from its intersection with Castle Creek Road.
Also a renowned chef, Hatem was working as a property manager for a residence in that area and others in town, said Bo Buck, who first entered a rugby scrum with him in 1982.
"He was one of those guys who was willing to do everything and anything for you," Buck said. "He was a stalwart guy, a good friend and a good father. It's just so sad. He was so young and so full of life."
On the latter description, Hatem, a native of Ohio, was still playing rugby as recently as three years ago, taking the pitch at age 56 against competitors half his age, said Will Herborn, a former coach of the Gents.
"He has been an institution in and of himself as a rugby player, ambassador and coach and president of the club for many years," Herborn said.
He added that Hatem in 2016 helped the Gents win the Cowpie Classic rugby tournament in Steamboat Springs and was inducted into the Gents' hall of fame on the 50th anniversary of the popular Ruggerfest in Aspen in 2017.
"It was very noble of him to get on the field with kids half his age," Herborn said. "He needed the club, and the club needed him."
Rugby peers said he had recently coached participants in the junior, or high school-age, level of the Gentlemen of Aspen club.
"He loved life, always had a smile on his face and was extremely generous with his time," said Tim Francis, a close friend and Gentlemen of Aspen board member. "He would go out of his way to help others. If something needed to be done, he would put his hand up, offer his time and say, 'Let's go do it.'
"We're going to miss him."
Cameron McIntyre, another close friend as well as a fellow Gents board member who played and coached with Hatem, agreed.
"He would always be available," McIntyre said. "If there was some sort of celebration, he would offer his excellent cooking skills, but he wasn't trying to be the centerpiece of anything. He was just very supportive.
"It's a hard thing to process," he continued. "He was skiing on Sunday with friends, so he was certainly having enjoyment and living his life until the very end."
A resident on Little Annie Road told authorities that he heard a snowmobile near his home on Sunday evening and thought nothing of it, as such vehicles are regularly used in the area, said Jesse Steindler, a patrol captain with the Pitkin County Sheriff's Office. The person saw a snowmobile off the road Monday morning but again thought little about it. That evening, the person approached the snowmobile to identify who it belonged to, and discovered Hatem's body. Police were called just before 8 p.m.
Chip Seamans, an Aspen resident and another close friend, said plans are in the works for a memorial for Hatem.
"He had the biggest heart and was the hardest man I ever knew," Seamans said. "He was a tough son of bitch.
"He's going to be missed terribly by many."