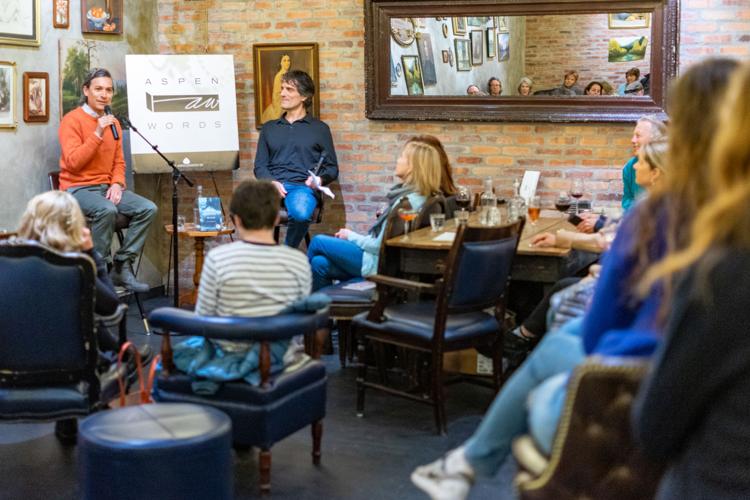 Aspen Words, the literary arm of the Aspen Institute, kicked off its summer season last Thursday evening at Hooch Craft Cocktail Bar when author Luis Jaramillo sat down with local writer Scott Lasser for an intimate conversation before an audience of some 35 people. Jaramillo is Aspen Words' writer in residence for the month of May and the author of the short-story collection "The Doctor's Wife." He was the first of six authors who will be coming to Aspen this summer and fall for one-month residencies and monthly author talks at Hooch that are free and open to the public.
Prodded by Lasser, himself the author of four novels, Jaramillo talked about mining stories from his family history and his time spent as a child in California and at his grandmother's house north of Seattle to assemble the rapid-fire tales told in "The Doctor's Wife," which follows three generations of a family in the Pacific Northwest.
"I started writing the book around 2007," said Jaramillo, who is also the director of the School of Writing at The New School in New York City. "I wrote down stories that had been told through the years in my family that I thought were interesting or funny — although some of them ended up being kind of dark — and after I'd written them all down, I had a book."
If that makes the process sound easy, Jaramillo and Lasser assured the audience it is not, and Jaramillo emphasized the importance of writing every day, which, as anyone who's tried to do it can attest, can be difficult when things like jobs, family and life get in the way. Even after his book was written, Jaramillo described the challenges of getting someone to publish it and the sometimes upsetting things a writer might hear on the way to that goal.
"I showed a draft of 'The Doctor's Wife' to my agent," said Jaramillo. "He wrote back, 'I think this is one of those books a writer writes for himself,' and he said he wouldn't be able to sell it."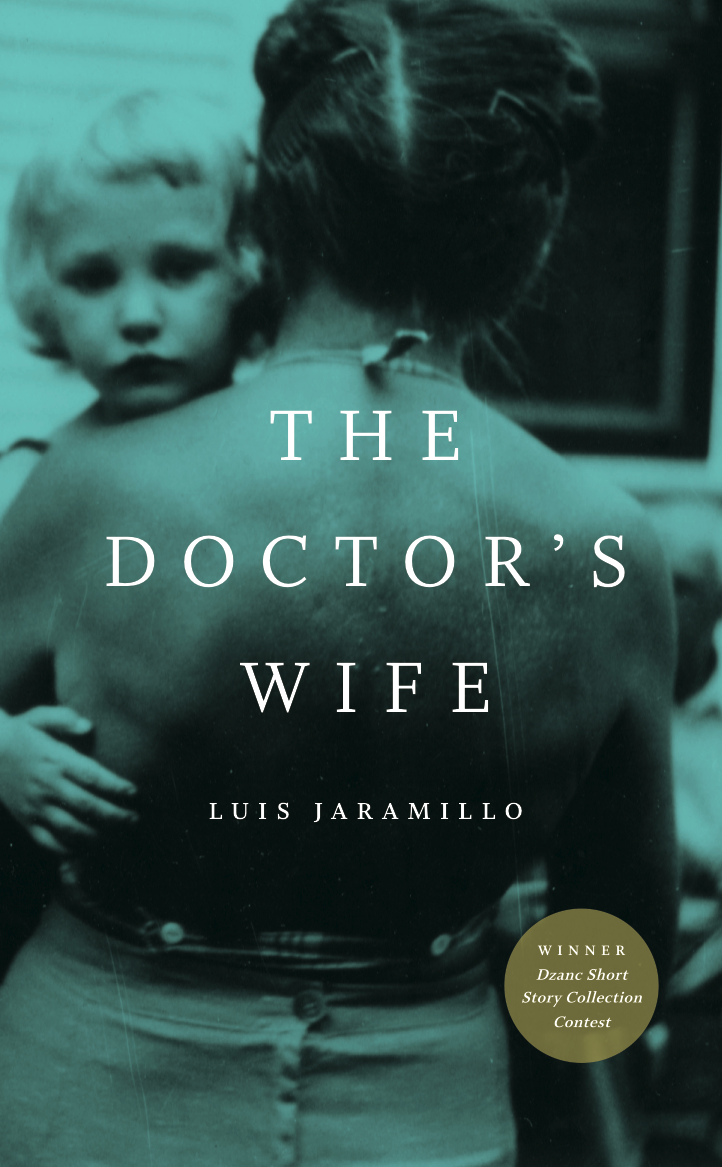 Nevertheless, Jaramillo persevered, polishing the stories and entering the book in contests, and in 2010 the book won the Dzanc Short Story Collection Contest, an annual prize sponsored by Michigan-based Dzanc Books. The win netted Jaramillo some spending cash and a deal with Dzanc, which published "The Doctor's Wife" in 2012. It met with rave reviews (oprah.com called it "A poignant and glittering pick"), and Jaramillo suddenly found himself in the limelight and with considerably more demands on his time in the form of book-promoting appearances and obligations.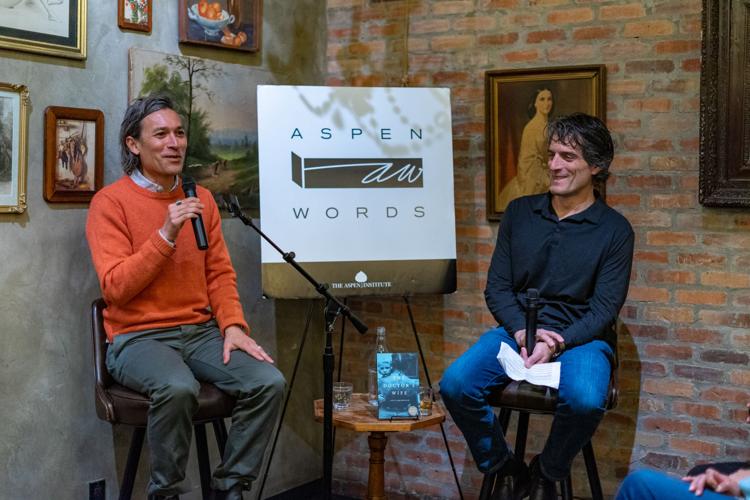 That sort of busyness is part of what makes the Aspen Words writer-in-residence program such a welcome escape for the writers lucky enough to land a spot. For Jaramillo, it means a brief sabbatical from his full-time job and a month away from his New York City home to spend at a house in Woody Creek, where he can go for a run each morning, greet some neighborhood dogs and then spend a good four hours each day working on his next book, tentatively titled "The Witches of El Paso." It's a slightly supernatural work that stems from Jaramillo's desire to delve into his Latino roots, which span the border between Texas and Mexico.
"It comes from family stories from the other side of my family," he said. "It's about a lawyer in her 40s going through a divorce, and her great aunt is a witch."
It's a novel Jaramillo started writing five years ago, a testament to the amount of craft and effort it takes to write a book, and he conceded that conditions had changed a lot along the U.S. border in that time. Though he didn't intend the book to be overly topical, Jaramillo responded as one might expect, heaping more work on his plate and doing "a ton of reading" and research, including several visits to El Paso, where he lived for a year in grade school, and Juarez, Mexico.
Asked what advice they had for aspiring novelists, Lasser and Jaramillo both talked about the importance of establishing a routine and compared it to working out every day, as if building one's writing muscles. To illustrate the point, Jaramillo said that when he was getting started on the tales that would become "The Doctor's Wife," he worked on one short story for the first six months.
He'll need many more months to finish "The Witches of El Paso," which is a longer, more conventional book, but for the last month at least, he got to make a good chunk of ­progress in the relative peace and quiet of our very own Woody Creek, which seems to have a thing for writers. Hopefully, he can bring some of that mental peace and quiet back to New York with him once his month is up.
Next up for Aspen Words as artist in residence will be Kaui Hart Hemmings, author of the novel "The Descendants," which was made into an Oscar-winning movie directed by Alexander Payne and starring George Clooney. (The award was for Best Adapted Screenplay.) She'll get to spend June in Woody Creek and will give a free talk at Hooch on June 11. The rest of the schedule includes Zinzi Clemmons (July 16), Samyak Shertok (Aug. 20), J.C. Hallman (Sept. 17) and Aja Gabel (Oct. 15).
Get your read on
The end of Jaramillo's residency and the onset of June herald a big month for Aspen Words itself, which, in addition to hosting Hemmings, will present Summer Words, its annual reading and writing festival, from June 16 to June 21. It will also continue its Community Read program (in conjunction with the Pitkin County Library) with a June 13 public discussion at the library of the book "An American Marriage" by Tayari Jones, winner of the 2019 Aspen Words Literary Prize.
That program, which encourages locals to read by offering free copies of the book at the library or through aspenwords.com (a few copies are still available), will peak on June 18 when Jones comes to Belly Up as part of Summer Words for a discussion with Aspen Words Executive Director Adrienne Brodeur on why she chose race, incarceration and feminism as the themes running through "An American Marriage." The Community Read program culminates on July 9 with a panel discussion at the library about the issues raised in the book.
As for the rest of Summer Words, which draws bookworms and fledgling authors from around the globe, the juried workshops are closed to registration, but tickets for the public events went on sale last week. In addition to Jones' appearance at the Belly Up, there will be two afternoon workshops at the Gant: Crafting Memorable Characters and Compelling Dialogue (June 17) and The Business of Being a Writer (June 18). The Gant will also host The Takeaway (June 20), a perennial Summer Words favorite where five of the festival's professional writers wax unscripted about the writing life.
Another big public event generating a lot of buzz is "Writing Your Way Around the Globe," a travel-writing talk June 17 at the Belly Up featuring Aspen-bred National Geographic writer and photographer Pete McBride along with Laura Fraser, a New York Times bestselling author and travel journalist. The talk will be hosted by local writer Amiee White Beazley.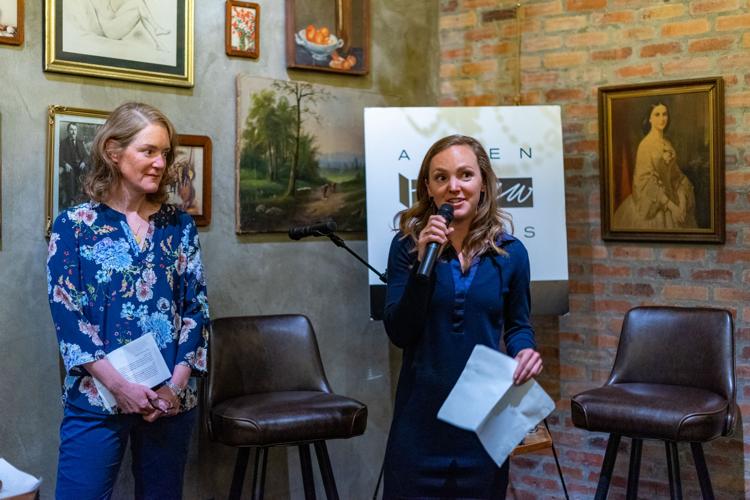 McBride, author of "Grand Canyon: Between River and Rim," will also be hosting a three-day reader's retreat focused on what makes compelling travel writing. Registration for the retreat and a five-day non-juried workshop on fiction writing with Nepalese writer and Indiana University professor Samrat Upadhyay, is still open.
The final public Summer Words event will be Aspen Words' Summer Benefit at the Hotel Jerome. The gala event will feature a keynote address from Susan Orlean, author of the bestselling books "The Orchid Thief" and "The Library Book." Tickets to the benefit and the other public events can be purchased by visiting aspenwords.org.