Editor's note: This story initially ran in the Roaring Fork Weekly Journal, our sister publication covering the midvalley. For more, visit www.rfweeklyjournal.com.
At least the ospreys know what to use the property for, even if nobody else does just yet.
Each spring a pair of the fish-eating raptors returns to a 17-acre pasture along Valley Road in El Jebel to ply the Roaring Fork River for trout, lay their eggs and raise that year's brood. They come back to the same large nest atop a telephone pole that sits by itself in the middle of a field, and for a few months each summer, they make the Mid-Valley their home, until their young ones are fully fledged and they head south for the winter again.
Humans, on the other hand, aren't sure what to do with the property, as evidenced by the fact that the pasture beneath the nest, formerly used to grow trees and, later, hay, is now home to little more than cheatgrass, tumbleweeds, some rusting trailers and a stack of leftover wooden beams.
Soon enough, however, decisions about what to do with the property – decisions that are virtually guaranteed to upset some people – will have to be made, and that's when, metaphorically speaking, the feathers will fly.
The 17-acre plot is part of a larger, roughly 70-acre tract in Eagle County owned by the U.S. Forest Service called the El Jebel Administrative Parcels. The land has been USFS property since 1961, but in 2016, the White River National Forest decided that the two parcels comprising the property were "disposable," meaning they could be sold off.
It was a decision that, understandably, worried Mid-Valley residents, many of whom use the area to walk their dogs or access the river and were concerned that a developer might come in, bulldoze their playground and replace it with, possibly, a hundred homes or more.
To the relief of those folks, nothing has happened with the parcels over the last three years, but a rider in the Farm Bill approved by Congress in 2018 could soon change all that. The rider, penned by Sen. Michael Bennet (D-Colo.), would allow the Forest Service to lease parts of the property to local government entities for purposes that fulfill some kind of "community good."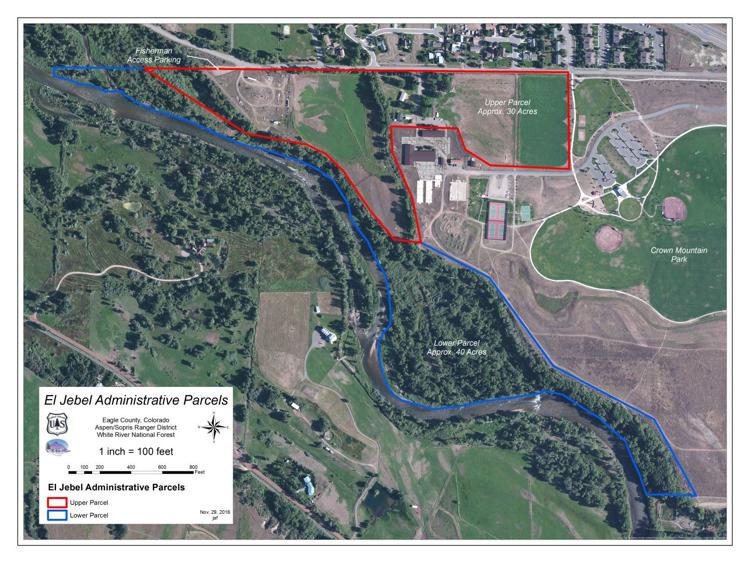 With that possibility on the table, talk of what to do with the parcels has started up in earnest, and at some point in the next handful of years, something will be done. What, exactly, that will entail remains to be seen, but a few ideas are starting to emerge.
"We're working on the final decision of whether or not to get rid of the properties," said White River National Forest Supervisor Scott Fitzwilliams. "We'd prefer to sell and/or enter into a long-term lease of that land. Our eventual goal is to do something about our housing and be able to use the money or get in-kind employee housing for both our seasonal and permanent workforce."
There are currently three small homes on a 4-acre part of the upper parcel that are rented out to WRNF employees, but Fitzwilliams said that's a far cry from what the Forest Service needs.
"We've looked at this pretty closely," he said. "We need seasonal housing for half the year for 25-30 people between Aspen and Carbondale. We also would like five to seven transitional housing units of differing sizes – one- to three-bedroom types. We use the term 'transitional' because I don't think we're in a position to say, 'You can have a house forever.' What we try to say is, 'You're new to the Valley. You're guaranteed a place to stay for two years while you try to get on the affordable housing list or try to purchase or look for a good rental.'"
The Forest Service, like many federal departments, is typically strapped for cash, so the thinking is that a developer – either private-sector or a local municipality – could lease the land inexpensively rather than buy it and build Forest Service housing as part of any development.
"Someone could say, 'I want to lease this parcel and build some apartments or some affordable housing. In exchange, I'll build you some federal housing,'" said Fitzwilliams.
The lower parcel, which is approximately 40 acres, lies in a riparian zone along the Roaring Fork River and can't be developed under any circumstances. The Forest Service has had preliminary talks with local conservation groups about how best to administer that land. But the upper parcel, totaling about 30 acres (including the 17-acre pasture), is fully developable and more than large enough to accommodate new Forest Service housing and any number of other uses. So far, though, any ideas about those uses are purely speculative.
"There's been nothing on paper," said Fitzwilliams, "but there's been lots of conversation and lots of ideas being passed around."
One idea floated to the Eagle County commissioners would involve planting a heritage orchard with genetic stock taken from the 30-plus apple, apricot and plum trees growing wild around the 17-acre pasture (full disclosure: that idea was floated by this writer). Other ideas include senior housing or using some of the property for a long-desired Mid-Valley recreation center.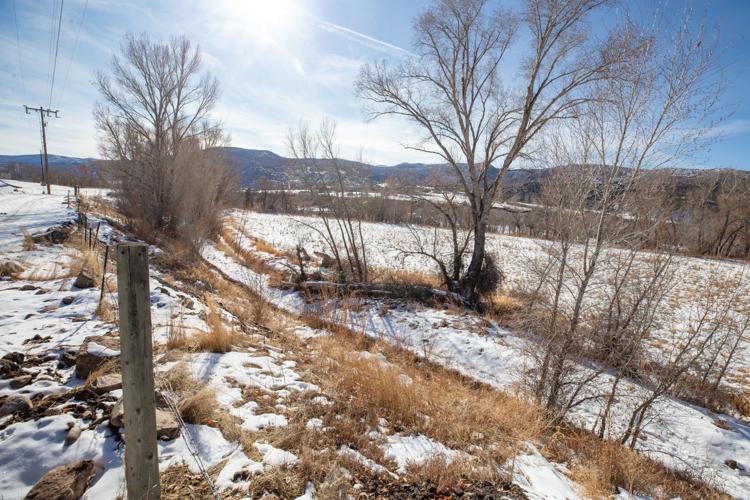 But those are merely concepts at this point, and Eagle County is waiting on the Forest Service to make the first moves before expressing any desires about its own preferences for the parcels.
"We definitely want to adhere to whatever the Forest Service puts out there for direction," said Eagle County Manager Jeff Shroll, who hinted that any development or preservation will likely require partnering between a number of multi-jurisdictional public and private entities.
"We want what's best for everybody and best for that area. We haven't gotten to a place where we care who's necessarily in charge of it or who gets the credit for it. I think it's just something that we as partners want to come together and protect the values that are there. I think that's a common theme that all the jurisdictions would have on that issue," he said.
So, for now, both the Forest Service and Eagle County find themselves in a holding pattern, waiting for the ball to get rolling before seeing which way it can be pushed. That's good news, even if it's only temporary, for those who'd like to keep the parcels as open space, and it means that the ospreys, when they return in the spring, are likely to find their summer home unchanged.
Roaring Fork Weekly Journal correspondent John Fayhee contributed research to this article.