When racers blast out of the horse race-style start gates at the Audi Ajax Cup today, they'll be competing for more than just bragging rights, though there's no doubt that competition will be keen in this, the 10th incarnation of Aspen Valley Ski and Snowboard Club's primary fundraiser.
The club hopes to improve upon the more than $800,000 raised last year through team sponsorship and a live auction. In turn, those monies will be used to fund what, this season, amounted to a staggering $1.8 million in scholarships for members of AVSC. Between its team and recreational programs the club serves about 2,400 athletes this year.
Started a decade ago as an upstart benefit intent on putting "the fun back in fundraising," the Ajax Cup has far exceeded the expectations outlined by the club at that time.
"Everything has a shelf life but the Ajax Cup is not only still going, it's going stronger than it ever has," said David Stapleton, development officer for AVSC. The Aspen native competed as a member of the U.S. Ski Team before joining the pro skiing ranks later in his career.
This week, in addition to his fundraising hat, Stapleton donned a coach's cap as he helped Ajax Cup members fine-tune their skills on Golden Horn at Aspen Highlands, where many trained side-by-side with AVSC alpine athletes. 
What better way for Ajax Cup skiers to see first-hand the fruits of their donations?
On a cold Sunday morning, team members were skiing for a handicap during timed runs on Little Nell.
Jonas Nyberg, a member of the Chicks on Sticks team, competed on 2018's victorious squad, Team Super G!, but has switched alliances. A former AVSC coach, Nyberg spent last year coaching the Swedish National Team, he said.
"Aspen is such a special place. I've been here like 48 hours," Nyberg said, noting that it's like he never left in the first place. He sported a one-piece suit decorated with a faux bikini that was the Chicks on Sticks uniform.
Tickets to the Ajax Cup (teamavsc.org) run $500, which includes breakfast, optimum viewing, an open bar, continuous food and entry to the post-race party and live auction at Scarlett's. DJ Naka G plays the music in Gondola Plaza during the event and at the Scarlett's party, tunes will be provided by 3LAU and DJ Charly Jordan.
"It really is kind of a long day," Stapleton said. "But it's a lot of fun." Racing begins around 9 a.m. and continues until 3 p.m. From there the post-party and auction commences.
'Sam's Club' honors Coffey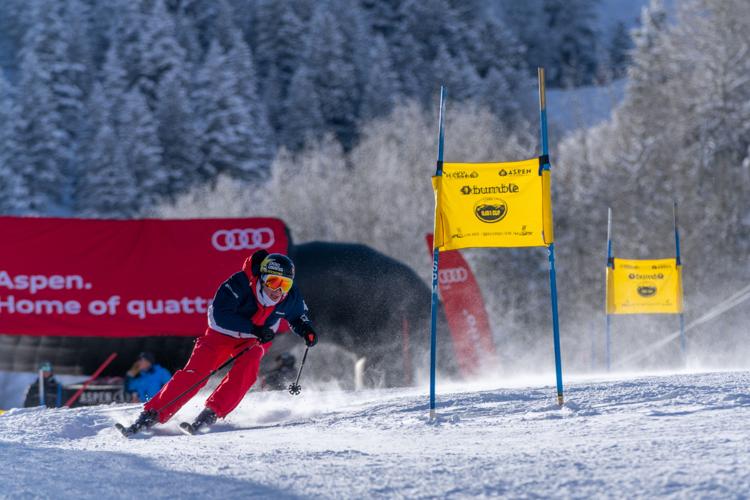 Ski racing aficionados and the general public can watch for free from the side of the course or while riding the Little Nell chair. According to AVSC's race director Pat Callahan, a fast time on the 16-gate course is 22 or 23 seconds.
The final run of the day will be dedicated to Sam Coffey, a veteran Ajax Cup competitor who passed away last May, according to Callahan. A team called Sam's Club honors his memory as well.
Callahan said the final three gates on the course could determine victory or defeat due to their turniness and because people may be short of breath at this point.
This year's field of accomplished veteran racers includes AJ Kitt, Daron Rahlves, Casey Puckett, Jake Zamansky, Wendy Fisher, Kristina Koznick and Anna Goodman. Other former U.S. Ski Team members who will be racing include: Marco Sullivan, Jake Fiala (an X Games silver medalist in skiercross behind Puckett), Nolan Kasper and Aspen's own, Katie Ryan.
Ryan, a member of the U.S. Ski Team from 2011-16, has competed in every single Ajax Cup.
"That's crazy," she said from the start house on Sunday. "I feel like this is my stomping grounds." 
Ryan, part of the Fathers with Daughters team, has traded gates for ski films and last spring she was featured in a movie that was filmed in Canada.
Aspen native and 2018 Olympic silver medalist in halfpipe, Alex Ferreira, who won X Games gold last year in impressive fashion, returns for another year to demonstrate how his skills transfer from pipe to the gates. 
Another athlete whose crossover skills from another sport — in this case auto racing — have made him competitive is Jimmie Johnson, who Stapleton described as "very passionate about skiing. He's a great athlete whatever he does." Stapleton went on to point out how Johnson, the decorated NASCAR champ, understands the importance of a good line in ski racing, as that's a necessary skill on the race track.
Last year's winning team, Team SuperG! is back as well but with a different composition. 
Racers are handicapped based upon Sunday's times, with the faster skiers typically launching out of the start gate behind those with slower times. That means the victor is often determined right near the base of Little Nell and in front of an audience.
When the Ajax Cup debuted a decade ago, a dozen teams were sold or sponsored. That expanded to 13 teams and finally reached the current capacity of 16 teams with six racers each.
Seats in the viewing stands, offered to ticket holders, provide an up close and personal experience for spectators who may get a snow spray from racers blasting through the finish.
"What I love about the Ajax Cup is it brings everyone together," said Kajsa Sutro, a sophomore at Colorado State University and former AVSC athlete who this year is racing on the Snowbirds team. 
Her mom, Gella Sutro, has competed in every Ajax Cup but 2018's, and said Sunday before her practice run that "I love the competition and all of the different levels of skiing" at the Ajax Cup.