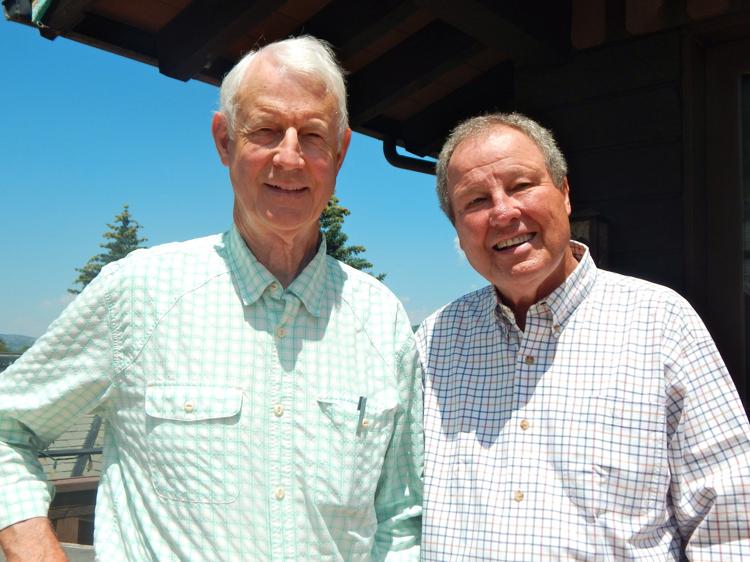 After the 2010 Base Village foreclosure, Snowmass Village was never again comfortable with Related Cos. as its owner, according to Jim Chaffin and Jim Light, early developers of the resort community, and Wednesday's featured speakers at the Aspen Business Luncheon.
"I told (Related Cos. President) Jeff Blau, you guys live in New York and have homes in Aspen. You dress in black and come to Snowmass and say you're a local," Light recalled Wednesday during the 90-minute presentation that was held at the Mountain Chalet. That disconnect, as well as Related's failure to pay some of its bills during the foreclosure, was antithetical to the way "The James Gang," as Chaffin and Light like to call themselves, have operated in communities from Snowmass to Sea Pines, Ga., as well as Basalt's Roaring Fork Club and Spring Island, S.C.
"We were trying to integrate ourselves to be part of the community, not just a developer," Chaffin said. That was critical to establishing trust with the locals and elected officials, both men suggested, adding that East West Partners, which is managing the Snowmass Base Village construction restart, "is building that trust."
Things were different earlier in Snowmass Village's history.
"The resort was really about skiing from 1966-78," Chaffin said. The developers, who originally relocated here from Hilton Head, S.C., saw the opportunity to provide some higher end building, but with that would come a commitment to affordable housing that they said is needed more now than ever. Chaffin stressed the importance to not just develop employee housing, but to have it be "woven into the community," rather than relegated to the outskirts.
Chaffin and Light also suggested that the then-newly incorporated Snowmass Village of the late 1970s was open to cooperative planning and that even those seen as being on the opposite sides of the aisle were able to work toward a common goal of community livability.
"You can agree to come at something from a different point of view without making each other wrong," Chaffin said.
The developers paid $7 million for the old Snowmass Corporation's holdings, which included 3,000 acres of prime Snowmass Village land for 1,899 free market and 525 affordable units, in April 1978. The purchase came down to the wire after a bank had withdrawn its original commitment. A last-minute scramble and cash from an "angel investor" as well as money from locals Marty Schlumberger and Bronson Ramsey, allowed them to close on the land, which also came with water and sewer entitlements.
Still, it was tense before the deal was signed and sealed. "The last half-million came in the last 36 hours," Chaffin said. 
Mentor was ahead of his time
Chaffin and Light met in college and shared an early mentor, Charles Fraser, whose three-pronged development philosophy and master planning ethos that strived to balance community livability, environmental sensibility and economic vitality in Sea Pines Plantation became their imprimatur. One example of Fraser's "genius" was that for every 500 feet of oceanfront, there was a 50-foot easement, so all had access to the beach.
That contributed to a philosophy that underscores the "difference between a development and a community, a subdivision and a neighborhood," that's been at the core of their developments, both men said. Land donations to Anderson Ranch Arts Center, Snowmass Chapel and for employee housing put their money where their mouth was in Snowmass. Development of the Roaring Fork Club, the 300-acre golf and fly fishing club in Basalt, saw the partners found the Roaring Fork Conservancy, which aims to protect the local watershed.
While there was initial pressure to develop the Roaring Fork Club's golf course into a "macho" club, Light said they relied upon previous experience from a lifetime's worth of projects.
"The lessons learned from Snowmass and Spring Island were about families," Light said.
Lessons learned also included an emphasis on activities beyond golf, to reflect the changing desires of the marketplace and a mindset among millennials who may be willing to spend three hours, but not four or five hours, on a golf course. 
The trajectory of their development path wasn't always smooth- just weeks after securing approvals from Snowmass Village in the mid-1980s, their partner, Bowery Bank, informed the duo that it could not fund a $30 million commitment, leading to an unwinding of the joint venture. Chaffin and Light walked away with the developed buildings while undeveloped parcels that would later become Horse Ranch, Two Creeks and Base Village were deeded to the FDIC.
A development in Puerto Rico and excess debt on a South Carolina project were other missteps that Chaffin and Light were quick to own, while at the same time they celebrated successful developments here and on the East Coast.
On Wednesday, in answer to an audience question at the Aspen Business Luncheon, Light opined that a redeveloped Snowmass Center should have a pedestrian component linking it to Base Village.
"Otherwise it will be isolated by itself," he said. The men also said they had faith that Base Village Building 6 will be filled with worthy non-profits.