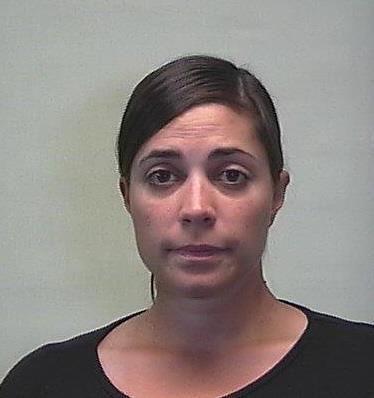 For her theft from the city of Aspen and the Red Brick Council for the Arts, Angela Callen will be spending the next 89 days in the Pitkin County Jail.
Callen, 38, former executive director of the nonprofit arts organization, also must complete five years of supervised probation and 140 hours of community service under terms of a sentence handed down Monday afternoon by 9th Judicial District Judge Chris Seldin. 
Though Seldin sentenced her to 90 days in the local jail, she will receive one day's credit for time previously served on the day of her arrest. Callen will not be allowed time away from the jail during the day for work purposes, a privilege that is sometimes granted to nonviolent offenders. 
In early May, Callen admitted to inappropriate use of Red Brick funds when she pleaded guilty to one count of felony theft under a plea agreement reached with the district attorney's office. The deal also includes restitution of $125,000, of which $50,000 already has been paid. Callen, according to police records and prosecutor's statements, stole from the nonprofit that managed the Red Brick in order to prop up a failing business as well as to support a lavish lifestyle.
Seldin said he believes that Callen's remorse is sincere, but added that the sentence ought to reflect the seriousness of the crime. He noted that Callen, who oversaw the Red Brick from 2013 to 2017, was highly trusted by the many people whom she betrayed. In response to Callen's actions, the city has taken direct oversight over the arts building and its operations, stripping the nonprofit's board of the control it formerly enjoyed.
Seldin described the crime as a calculated instance of theft that "brought the organization essentially to its knees." The judge further called Callen's actions "a poignant betrayal by a trustee, the captain of the ship."
In certain respects, Callen was doing a great job for the arts group, the judge pointed out. The valedictorian of her high school class, who later earned top honors while studying engineering at Carnegie Mellon University in Pittsburgh, Pennsylvania, had a "precipitous fall" from a promising career, Seldin suggested.
After listing the sentencing terms, the judge immediately remanded Callen to the jail's custody, a move that appeared to catch her off guard. Earlier in the hearing, defense attorney Mark Rubinstein argued for a 30-day jail sentence and a two-week delay in starting it.In court on Monday, Callen for the first time spoke publicly with regret about her actions.
She asked for forgiveness, saying the harm she caused "will never be undone." Because of the serious nature of the allegations, she said she was unable to speak about the case or express remorse. It was a relief, she said, "to finally be able to say I'm sorry." 
Callen said she engaged in a "series of poor decisions" relating to a bad business venture and investment. Her position at the Red Brick provided access to money to help shore up her finances, and she always intended to pay it back, she said.
"Regardless, this was a flawed way of thinking," Callen said, adding that for two years, all she could think of was "I need to pay this back." Prosecutors and investigators say she began stealing funds in May 2015 and the activity continued until she was fired in June 2017.  
Despite the habitual thefts, "No one loved the Red Brick more than me," she said. "I took advantage of something that I loved dearly."
Two members of the now-defunct Red Brick board spoke at the hearing. Jackie Kasabach, who served as its president, said that the money Callen stole represented an entire year's budget. 
Volunteer board members worked hard to keep the Red Brick going in the months after Callen was fired and the investigation got under way, putting "heart and soul into the organization." 
"We miss it very much," Kasabach said.
Rubinstein, in arguing for a lighter jail sentence, said that while Callen provided many reasons for her actions, "none of them would make sense to the court." He said she "cries daily" and will never be able to forgive herself.
In addition, "her reputation in the community is tarnished" and she'll have a difficult time finding employment that matches her skills and education level, he said.
Callen's intent was not to steal on a permanent basis, Rubinstein said. At the time, her marriage and business were failing, and her life was spiraling out of control. He disputed prosecutor Tony Hershey's suggestion that Callen's motivation was based on "the Aspen lifestyle" and "to live high on the hog."
"She is nothing but remorse," Rubinstein said.
But Hershey, in arguing for 90 days of jail time instead of the 30 days recommended in a pre-sentence report, noted that Callen's scheme not only involved using Red Brick money to keep the business afloat, but also to purchase expensive gifts for friends and family.
"I think the court should ask, had she not been caught, would she really have paid the money back?" Hershey said.
Callen had options, he said, and didn't have to steal. She could have taken another job, applied for a business loan or declared bankruptcy.
Hershey said he hopes the sentence will send a message to others "that this type of crime will not be tolerated." 
The plea agreement kept Callen from having to serve state Department of Corrections prison time, Rubinstein said during the May hearing. While Callen stole an estimated $150,000 to $160,000 from the nonprofit arts group and the city-owned Red Brick Center, according to authorities, the deal with prosecutors stipulated restitution of only $125,000.
The money was funneled to her failing snowboard business, student and business loans, and "extraordinary personal spending," her arrest warrant said.
Seldin also ordered Callen to write a letter of apology.