A popular Aspen eatery is bringing its cold-pressed juices, homemade granola and other goodies to two new spaces in Snowmass Base Village this winter.
Jus Aspen co-owner Landon Goldstone plans to open "Jus Snowmass" and "Gigi's Market" by Thanksgiving and mid-December, respectively.
Reflecting on the past three-and-a-half years running Jus Aspen, which opened in March of 2016, Goldstone said: "I think now we have a really good hold for being a local favorite. We see the same customers, literally, every day. And honestly, they say that it really does make a difference."
"Jus Snowmass" will be significantly larger than the café's Aspen post, which is tucked away in the corner of Ute City Building and measures at 900 square feet, 550 of which is occupied by the kitchen.
Housed inside the main level of the building known as One Snowmass, Snowmass' new juice bar and café will span 2,500 square feet. The building, located behind The Collective on the walkway, is slated for final completion in early 2020, said Sara Halferty of East West Partners, the developers of Base Village.
While the Snowmass menu is still in the works, Goldstone said it will include all of the Aspen's classics: juice blends, smoothies, a full-service espresso bar, acai bowls, granola — which is Jus' No. 1 seller — burritos, wraps, sandwiches and salads.
"GiGi's Market" will open in the space where Clark's Express previously operated.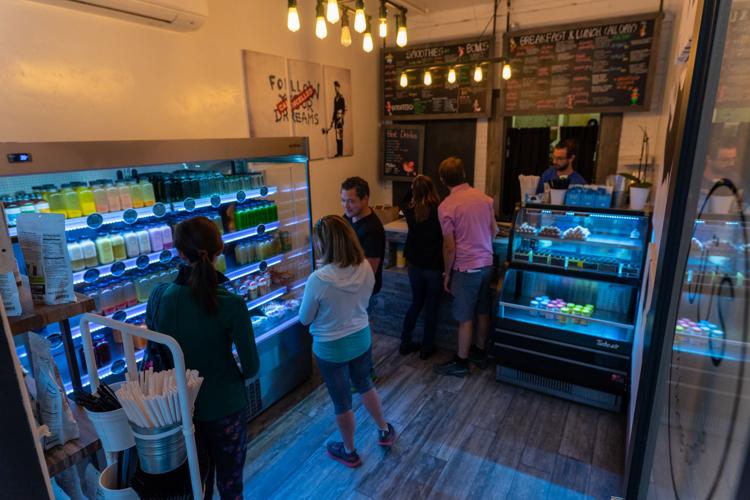 The grab-and-go spot is named in memory of Georgia Grace Gibsone, a beloved Aspen local who died by suicide this summer. Gibsone and Tamara Petit, Goldstone's sister and fellow Jus owner, played on the same softball team and were close friends, Goldstone said. "We wanted to honor [Gibsone's] memory," he added.
For members of the Base Village development team, securing a Jus Snowmass locale was a goal more than a year in the making.   
"Admittedly, I stalked them because they really are a perfect fit for the village," Halferty said. "As it turns out, the village is becoming quite health-centered with longtime locals having businesses in both Aspen and now Snowmass."
East West marketing director Sue Hyde noted that Jus' ability to offer a full-service coffee bar was "important and currently missing in the Base Village core area."
She added that Jus' reputation in the Roaring Fork Valley was another factor in determining food and beverage tenants.
"They are good people with a great local following, which will be instrumental to their success," Hyde said.
As for Jus Aspen, it will be business as usual, said Goldstone, who plans to move from Aspen to Snowmass to open the new locales.
"It's my baby," Goldstone said of both Snowmass concepts.