Klaus Obermeyer, Aspen's most iconic ambassador of skiing and good living, turns 101 years young today.
Obermeyer's first skiing of the season will wait until after the Christmas holidays, he said Tuesday by phone in a wide-ranging interview from his ranch in Emma, which is well-populated with an orchard, half a dozen horses and some chickens for good measure.
The property's been Obermeyer's sanctuary since April, when the walls of COVID-19 reduced the boundaries of everyone's physical life. About half of his employees work remotely like their founder, which leaves more room for the rest of the staff to social distance in their Aspen Business Center offices, he said.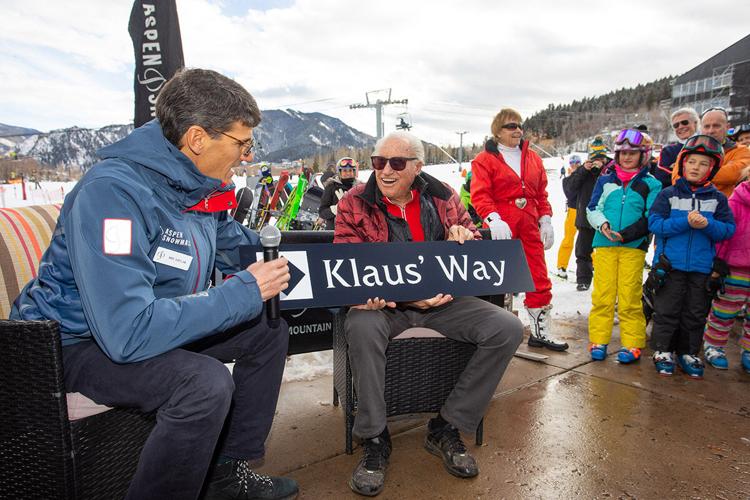 Obermeyer's input into the company that bears his name continues to be more than just perfunctory.  
"Over all the years and each year forward, we try to make it technically more functional and nice looking," he said of the evolution of his ski-clothing line, from its origins to this year's pieces.
The Klaus insulator jacket, with an 800-fill of down, is warm but lightweight enough for those who are climbing Highland Bowl, he said. 
Katy Wabiszewski, of Sport Obermeyer, said Tuesday that Klaus asked that specific design requirements be built into this piece, including a deep front pocket, adjustable cuffs and ease of packability. An unexpected bonus in the pandemic has been the company's neck gaiters — standard apparel in the line for years that now have a dual use as a breathable face mask.
The changes in skiing and ski clothing since Obermeyer first started constructing his own pieces back in 1947 are staggering, of course. That first winter season, Obermeyer moved to Aspen to work as an instructor at the invitation of Austrian ski school director Friedl Pfeifer and found that his shivering students needed more durable clothing.
Today's high-tech down jackets, including his current namesake piece, had oh-so-modest beginnings — like insulation that once came from floor sweepings when Obermeyer first set out to build the business that's now more than 70 years old.
During Tuesday's conversation, Obermeyer recalled how "in Europe, when I was a kid, there was no ski clothing, no outdoor clothing. You skied with a suit jacket, a Knickerbocker suit and necktie." 
A Knickerbocker boasts knickers: pants that are just past knee-length. Obermeyer started skiing at the age of 3, fashioning his first pair of skis out of orange crate board and string. The native of Oberstaufen, Germany, would go on to earn his degree in aeronautical engineering but found his talents better suited to the then-burgeoning ski industry.
Solid foundation
There's a 30-foot deep well on his property, hand-dug by immigrants from the Valle d'Aosta in northern Italy who predated Obermeyer as the owners of his 100-acre ranch in the midvalley. Lined with river rock, the well's walls were likely completed by the children or teens of the property's owner due to the tight space, Obermeyer said with admiration.
The foundation of the original home on this verdant parcel is also built of local river rock, sturdy but adaptable, like the centenarian himself. That's been a needed trait especially in 2020.
"Business has been good this year even though it's such a horrible time," Obermeyer said. He conducts meetings on the phone, on Zoom "and through the internet" with regularity and still signs the employees' paychecks.
Two weeks ago, in a Zoom appearance on GrassRoots' "The Local's Show" with Erik Skarvan, Klaus looked hearty and happy in the program's season kickoff. 
"I took a shower that day," Obermeyer said with a big laugh Tuesday, sharing a relatable pandemic moment and one that is typical of his self-deprecating manner. During Skarvan's show, Obermeyer related how business is down for the year, but not by much, and that the company's workforce was not reduced due to the effects of COVID-19.
"The sport of skiing is fun. The business of skiing is fun," he said.
Serious once again on Tuesday about how business has pivoted during the age of COVID-19, Obermeyer shared that his workforce has so far remained free of the virus.
"We're trying to get through this horrible disease. So far, none of our people have gotten it," he said.
And that's by and large why in 2020, there will be no public celebration of Klaus Obermeyer's 101st birthday — unlike a year ago, when hundreds turned out at the Hotel Jerome for a seriously fun bash. The soiree followed the dedication of Klaus' Way, his namesake trail at Tiehack, earlier in the day.
"Nobody's getting together this year," Wabiszewski said. "Klaus doesn't want any gathering and anyone getting sick on his account." She noted how he is excited by the promise of a vaccine and also is  looking forward to marking his 102nd birthday in a significant way.
Obermeyer agreed: "Next year, hopefully we'll have a birthday party." In the near-term, however, "I'm looking forward to skiing on my run at Buttermilk."