Aided by hotter, drier and windier weather, the Lake Christine Fire has grown nearly 1,500 acres since the beginning of the week and now stands at 8,315 acres, fire officials reported Friday morning. The fire is now under the management of Rocky Mountain Type 2 Incident Management Team Black (Team Black), after a few days of management by a Type 3 squad.
Fire behavior was active on Thursday, with fire growth primarily occurring on top of Basalt Mountain. Air resources, including three single engine air tankers (SEATs) and three helicopters, worked throughout the day Thursday to help cool the fire's edge on the northwest corner.
On Friday, crews will work to construct indirect fire line from the northwest flank to existing bulldozer lines northwest of the fire. Air resources will be available as needed to assist ground crews. Air resources will work along the rim of Basalt Mountain to restrict fire spread to the east and helicopters will be utilized to control the active fire edge. Structure protection efforts will continue in the Cattle Creek drainage. 
A public meeting is planned at 6 p.m. Friday at Basalt High School. Representatives from the incident management team and cooperators will provide an update on the Lake Christine Fire and be available to answer questions from the public.
Warm and dry conditions are expected to continue Friday. Temperatures will reach the low 90s and humidity will remain in the teens. A small chance of thunderstorms Saturday brings the likelihood of strong outflow winds with a 20 percent chance of rain over the fire.
The residents of Missouri Heights remain on a pre-evacuation status. The residents of Cedar Creek, Toner Creek, Seven Castles, and Taylor Road were placed on pre-evacuation status at 6:30 p.m. Thursday evening. 
"This is an advisement for a possible evacuation order," a message from Pitkin Alert said. "There is no mandatory evacuation, but you are advised to prepare for evacuation."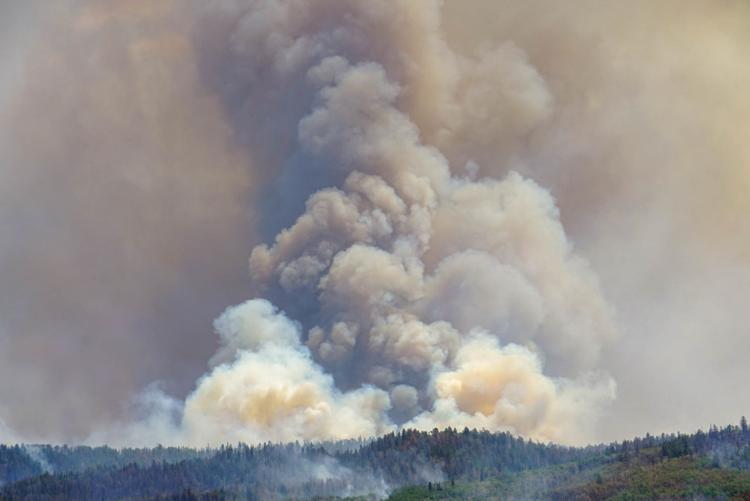 In addition, the Aspen/Pitkin County Airport announced that temporary flight restrictions that led to dozens of cancelled commercial flights during the fire's first week will be back in effect starting Friday at 9 a.m., and will remain in effect until further notice.
The fire started at a gun range northwest of Basalt on July 3, and had grown to more than 7,000 acres as of Wednesday evening. Growth slowed and containment increased to a point last week that allowed the Type 2 team set in place during the early stages of the fire – when it was spreading more rapidly and destroyed three houses – to leave the crisis in the hands of a lower-level Type 3 team on Monday morning.
The Type 3 team was making progress Monday and Tuesday, when conditions were favorable for putting out hotspots and keeping growth in check. But Wednesday's turnabout in conditions necessitated the need for change, according to Scott Fitzwilliams, White River National Forest supervisor. He and other officials spoke during a community briefing at Basalt High School on Thursday afternoon.
"We're going to be living with this fire for awhile," Fitzwilliams said.  
As of Thursday afternoon, though the fire was burning in several spots atop a mesa near Basalt Mountain. Prior to the issuance of the opera-evacuation order, which came out at 7:36 p.m. Thursday, officials said it was not a threat to any residential structures or commercial areas in the Basalt area or populated areas along Highway 82. Officials advised that could change, depending on wind direction and speed, along with continued dry weather. An increase in rain chances is not likely until Sunday or Monday.
On Thursday, smoke columns rose above the burning trees atop the mesa. Reporters at the briefing noted that community concerns were rising, especially in the area of Missouri Heights and El Jebel, where the three residences were destroyed in the wee hours of the morning on July 5.
But Alison Richards, Type 3 incident commander trainee, said the fires were moving toward the southeast along the mesa in a backcountry area.
Areas that are considered contained "are what burned earlier in the fire," Richards said. That would be the area along the fire's southern perimeter, including the scarred areas of hills west and northwest of Basalt that are visible from Highway 82.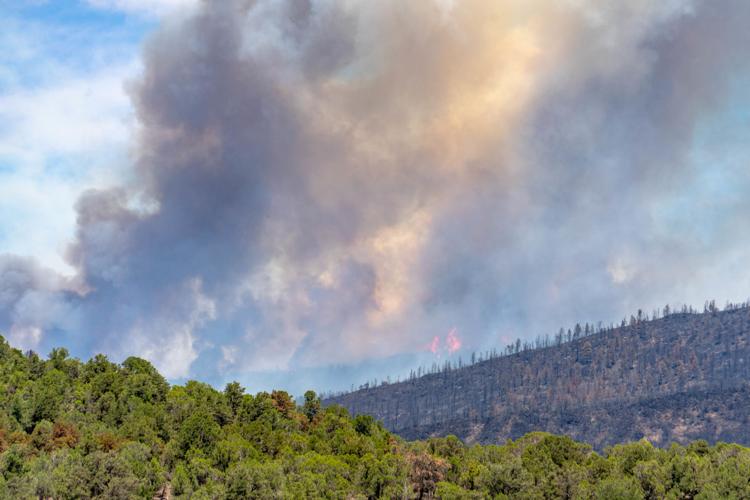 Richards added that some areas along the western perimeter also have been contained.
Some 240 personnel, including management-team members and firefighters, were involved in the overall effort as of Thursday morning. That figure is expected to increase to more than 300 sometime Friday.
Shane Greer, the Type 2 incident commander who takes over Friday morning, said the changeover from Type 3 to Type 2 doesn't signal that the switch on Monday was premature or that the Type 2 team means "better firefighters." He said the Type 2 managers have different skill levels necessary to manage a stronger fire with a greater amount of personnel. 
Officials aren't bringing in a full Type 2 management team – it will be about half the strength as the team the managed the fire's early stages, Greer said.
The Lake Christine Fire is most active along what is known as its northeast perimeter, a few miles north and northeast of the town of Basalt. Houses along Upper Cattle Creek Road, north of Basalt Mountain, and the Cedar Drive area, north of Fryingpan Road, are in no immediate danger, officials stressed.
Fitzwilliams said that his decision to bring in the Type 3 team last week was sound, based on expectations of better weather this week for fighting the fire and the possibility of rain. He said he doesn't second-guess the decision: Often there are "ebbs and flows" in the incident command system based on the complexities of wildfires and weather.
Sign up for fire alerts at ecalert.org and pitkincounty.com/alertcenter.
Fire danger remains high throughout the region and Stage 2 Fire Restrictions are in effect on private, state and federal lands in Eagle, Pitkin and Garfield counties.