Bridger Gile and Cooper Cornelius, two born-and-bred natives of the Roaring Fork Valley, will be skiing in the 2019 FIS Alpine Junior World Championships in Val di Fassa, Italy, on Feb. 18-27, the U.S. Ski and Snowboard Team said in a weekend announcement.
Both men are 19 years old and trained during some formative years with the Aspen Valley Ski and Snowboard Club. Gile and Cornelius also competed for the Ski and Snowboard Club Vail, which produced a pack of athletes with 1998 and 1999 birthdays who provided each other pace to compete against the best in the world. A number of those athletes were among the 14 skiers named to represent the United States at this event.
"I know that my skiing is there," said Cornelius of Glenwood Springs, whose skiing foundation was set with the Sunlight Winter Sports Club. "I'm really looking forward to the world juniors."
Cornelius said he hopes to compete in alpine combined, downhill, super-G and giant slalom. He was named to the U.S. Ski Team's men's alpine C team at the start of the 2018-19 season and is a 2017 graduate of Glenwood Springs High School.
Gile, who is skiing independently this season, qualified for the Junior Worlds based on his results racing in the NorAm Series, where he stands 15th overall. Considered a ski phenom from the time he was a preschooler at the Wildwood School, Gile around that time also became the youngest ever to ski Highland Bowl.
He works with Matt Underhill, who coaches five U21 men who were originally with Vail's program. Gile was unavailable to speak Monday but his dad, Rob, said Bridger has benefitted from his post-graduate gap year, allowing him to focus on racing and not worry about school.
"It's been good for him to concentrate on skiing and get his points and his profile where he could be a really good college racer," Rob Gile said Monday.
Bridger Gile started the season strong in North America with a fourth place in Panorama and built on those results with giant slalom and super-G races in Mont-Ste.-Marie and Camp Fortune in Ottawa; that paved his way to the Junior Worlds, his dad said.
"He isn't going to the World Cup yet. You just have to take small bites. He's trying to make a name on the NorAm circuit," Gile said. "For him, compared to where he was, it's a big deal."
That translates to a better starting position in the NorAms and the European equivalent, the Europa Cup, which are stepping stones to the World Cup.
A total of 14 U.S. athletes will be represented in Italy, including Nellie-Rose Talbot and Jacob Dilling of Vail, River Radamus of Edwards, Steamboat's Jett Seymour and Kyle Negomir of Littleton.
According to the USST, the 2019 Junior Worlds include men's and women's downhill, super-G, alpine combined, slalom, giant slalom and a mixed team event. Live time is provided byFIS.
"The 2019 squad derives from U.S. Ski Team B, C, D teams, and the U.S. Ski & Snowboard National Development Group, as well as top U.S. Ski & Snowboard Club program athletes from across the nation," according to the USST.
Membership has its benefits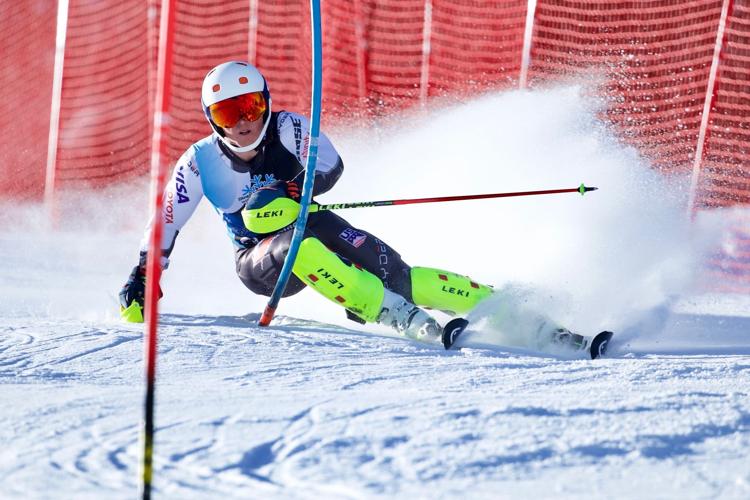 Cornelius said he's feeling confident coming into Junior Worlds.
"I know, based on the world ranking list, that I can compete with every single one of those guys racing. You just have to stay composed, not let the pressure get to you, go out there and ski fast," he said.
Rob Gile hopes his son skis well and said top three would be a sizable goal. He said Bridger aims to make the alpine C team, like Cornelius did this season, primarily because of U.S. Skiing's financial support of the athletes. Gile said their family's costs to race NorAm and Europa Cup is over $40,000.
A fundraiser held by The Ski Shop in Aspen helped bridge the gap with Bridger's costs, he said. While in Italy, Gile will ski and train with the U.S. Ski Team.
As a C Team member, Cornelius' budget takes a smaller, though still sizable, bite.
Cornelius said he's budgeted for out-of-pocket expenses this year in the mid-$20,000 range. That includes a $13,000 team fee, and travel and flights on top of that. "It adds up," he said. "I do a lot of private fundraising."
Cornelius' place on the national team avails him the services of a Head Skis technician.
"It makes all the difference. You have more time to focus on what you need to do, get your recovery in. You don't have to stay up late [tuning skis]. It helps quite a bit," he said.
What has helped both men this season is skiing different race venues, not only to learn a new hill but experience variable snow conditions.
"It's a huge advantage if you can ski on a hill or if you've raced on it before. The first time you ski on it you have no clue," Cornelius said with a laugh. He has been able to sample the runs that will be used for the technical portion of the Junior Worlds.
Gile said most valuable for Bridger so far was a mid-January trip to take a training run on the famed, and frightening, Hahnenkamm course.
"He has so much respect for those downhillers. It's different shade of ice that we don't get here," Gile said.
Cornelius said he's found that the depth of European teams is far greater than that of their U.S. counterparts, in part because many of those athletes are government-funded at the development level.
He's also finding that the competition right now is as steep as some of those racecourses.
"Most people will say a Europa Cup is harder to win than a World Cup. It's all of those guys who are trying to gun for World Cup spots," Cornelius said, adding that he'll see many of those same competitors at the Junior Worlds beginning Feb. 18.