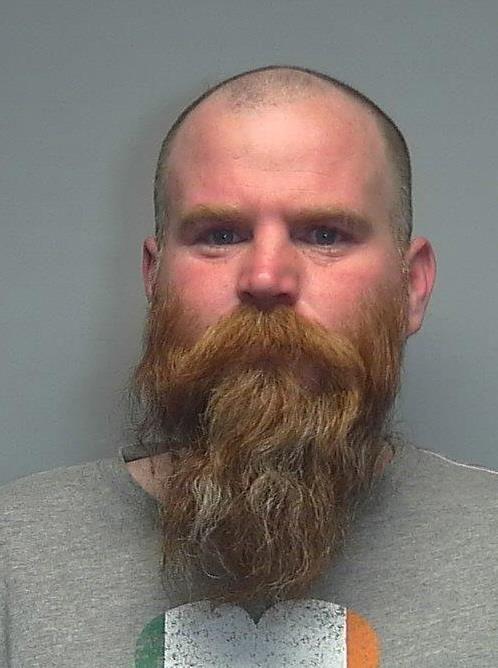 A 37-year-old man was arrested Wednesday evening and charged with second-degree assault on a peace officer, a class 4 felony, as well as misdemeanor resisting arrest and unlawful conduct on public property.
A Roaring Fork Transportation Authority official reported an apparently transient, heavily intoxicated man Wednesday evening who would not leave the Rubey Park Transit Center after being repeatedly asked to do so, according to a warrantless arrest affidavit. 
When Aspen police officers Alyse Vollmer and Ian MacAyeal arrived in response to the call, Sgt. Chip Seamans and officer Lauren Sumner were already on scene, struggling to arrest Paul Kennedy, Vollmer's affidavit states.
Kennedy allegedly was sleeping in the Rubey Park waiting area and would not leave, despite being woken on three separate occasions over the course of about two hours by RFTA staff. According to what Vollmer reported she saw when reviewing Seaman's body camera footage, after Seaman directed Kennedy to leave several times, Kennedy instead "eventually stands up and walks directly toward [the reporting RFTA official], passing two nearby exits" and shouted profanities at him.
At that point, Seamans informed Kennedy that he was under arrest, which Kennedy allegedly physically resisted by not allowing his arms to be put behind his back, per the affidavit.
"Once in handcuffs, Kennedy continued yelling profanities and struggled to break free from officers," the affidavit reads.
As Seamans searched Kennedy's person per protocol, Kennedy allegedly kicked the sergeant twice in the legs.
"Upon completion of the search, Kennedy then intentionally assaulted Sergeant Seamans by thrusting his knee into Sergeant Seamans' genital area and causing him severe pain," the affidavit continues.
At that, Kennedy was "then forced into the patrol car" and transported to the Pitkin County Jail without further incident. 
It wasn't the first time Kennedy has been arrested at Rubey Park. Last September, Kennedy was charged with felony robbery after a teenager alleged that Kennedy had taken money from him on the Hyman Avenue pedestrian mall after threatening him. A search commenced, and Kennedy was eventually found and arrested at Rubey Park.
That was less than a year after Kennedy announced his intention  to run for mayor of Aspen in what he described as a protest of "greedheads" and a return to "true Hunter S. Thompson form," alluding to the gonzo journalist's 1970 unsuccessful campaign for Pitkin County sheriff.
Kennedy appeared in Pitkin County District Court Thursday afternoon, by which time he was no longer in custody. He is next scheduled to appear during Monday's docket.