The man who shot to death his estranged wife in her home outside Glenwood Springs in 2016 was sentenced to 48 years in prison Wednesday — the maximum amount for second-degree murder — after wrenching statements from the victim's sister and a close friend.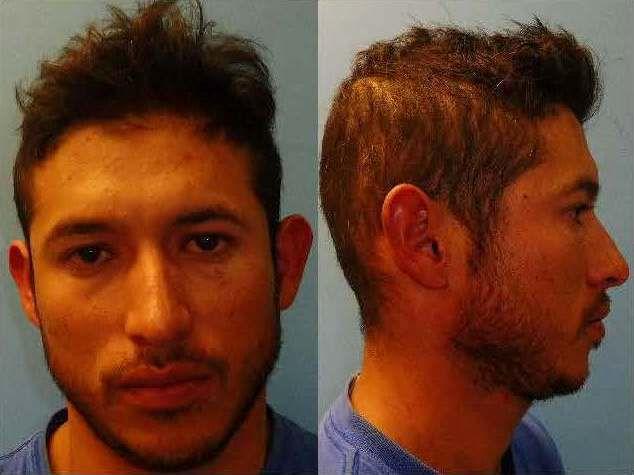 Gustavo Olivo-Tellez, 30, showed no reaction when Judge John Neiley of Garfield County District Court handed down the sentence following a four-hour hearing. Several sighs of relief could be heard by friends and relatives of the victim, Blanca Salas.
Olivo-Tellez shot Salas, an Aspen High School graduate who was 29, four times, including twice in the face on Oct. 7, 2016, in her Piñon Pines apartment. She had repeatedly told him she wanted to end their marriage because he was abusing methamphetamine and alcohol and acting increasingly erratic.
Olivo-Tellez removed their son, then 3 years old, and placed him in a hallway outside the home before walking back in and shooting the victim. She collapsed and died next to her child's bed.
Neiley said he was particularly troubled by the child being present when his mother was killed. He called Salas' murder a "completely selfish crime" and an "utterly evil act" for which the defendant deserved no less than the maximum sentence. The judge also said Olivo-Tellez showed no empathy or compassion.
After an 11-day trial, a jury deliberated for about 10 hours before convicting Olivo-Tellez of second-degree murder on March 1. The verdict upset Salas' family, friends and prosecutors, who had sought a first-degree murder conviction and a sentence of life in prison without the possibility of parole.
After the shooting, Olivo-Tellez threw the handgun he used and a box of bullets into the Roaring Fork River, along with his cell phone. He and his then-girlfriend, Michelle Castillo, drove to his employer and picked up a paycheck before driving to the Grand Junction area and dropping off the child with relatives. They were arrested the next morning at a Grand Junction hotel, having planned to escape to California, according to authorities. Castillo was sentenced to 16 years for being an accessory and other crimes.
These were among the factors that led the DA's office to pursue a first-degree homicide conviction.
In urging the judge to give Olivo-Tellez the maximum sentence, prosecutor Don Nottingham on Wednesday noted that with good behavior, the defendant could be released after serving less than half of the 48-year term.
He said he was glad to see so many people in the courtroom to support Salas, and that he intended to speak about her life and "the gaping hole that's left behind now that she's gone." The deputy district attorney called Olivo-Tellez a "manipulative, narcissistic" man who took no responsibility for his actions.
"What Gustavo Olivo-Tellez does is point the finger at anything else he can find as an excuse for what he did," Nottingham said. "Blanca Salas' death was a tragedy, and it is one that Gustavo Olivo-Tellez — not alcohol or drugs, not low self-esteem, not his upbringing — bears the responsibility for."
Salas' sister, Karla, was one of three people to speak about her and how her death had impacted them.
Whether it was jealousy, drugs or anger, "we may never know the true intentions of why he thought it was the right thing to do to take away my sister's life," she said. "None of that will bring back the life he stole."
Her sister had a laugh that could fill a room with joy, and "this monster took a beautiful life," Salas said. "She should be remembered as a light, not this nightmare he created."
Blanca Salas' son continues to hope his mom will walk through the door and love him again, she said. When he looks at a photo of Blanca, he cries and asks for her to come home.
"Her life is to be missed, not his," Karla Salas said.
Corina Minniti, a close friend of Blanca Salas, said murder is an "insidious, hateful, disgusting thing. The idea that one person could feel so much hate that they feel they can take another precious life off this earth is insidious. Murder is hate."
Since her friend's death, Minniti said she has grappled with both the sadness of losing her friend and "hate for the person that took that life. …I have struggled with my lifelong idea that every person has good in them, the idea that every person deserves another chance, because I do not see any good in the man who hatefully took my friend's life. I do not feel that man deserves a second chance."
Minniti said she believes the only solution to move on from hatred is to love "every silly memory I have of her," feel love when she looks at Salas' son, and strive to forget Olivo-Tellez "and his hateful actions."
Nottingham noted that Salas' nickname was "Chula," Spanish for beauty, because "it came from inside of her, and that beauty, that light" was snuffed out. The child "was her entire world." He cited a daycare worker who told him that "she loved her son and it showed."
Growing emotional, the prosecutor said he is confident Salas' friends and family will "keep her memory alive and that little boy happy and safe."
Olivo-Tellez, until then showing little reaction to what was being said about him, grabbed a tissue, took off his glasses and wiped his eyes and nose as Nottingham spoke about her life and their son.
Defendant has turned to religion, lawyer says
Defense attorneys Garth McCarty and Ryan Dawson convinced jurors that their client could not have formed the culpable mental state required for a first-degree murder conviction. This was because he was abusing methamphetamine and alcohol, they said, portraying Olivo-Tellez as paranoid and delusional.
After Nottingham brought up Olivo-Tellez allegedly murdering a man in Mexico in 2010 and fleeing to the United States, McCarty spent the bulk of Wednesday's hearing questioning an investigator, Anna Stout, he used during the case. They traveled together to Mexico in January to question Olivo-Tellez's relatives about what happened. The relatives apparently disputed the narrative in a homicide warrant issued in that country.
While Nottingham and Judge Neiley questioned the relevance of that trip to the defendant's sentencing, McCarty said he didn't want the judge to consider the DA's "naked assertion" without context or for Olivo-Tellez to be portrayed as a "two-time killer."
After hearing from both sides, the judge said he would not consider anything from the Mexico-related allegations.
McCarty asked for a sentence of 20 to 24 years. He said that because Olivo-Tellez may appeal his conviction, he instructed his client to say nothing about feelings of guilt or remorse to the probation department as it drafted a pre-sentence investigation into the defendant's background and made its sentencing recommendation. District Attorney Jeff Cheney said the probation office recommended that Olivo-Tellez be sentenced toward the maximum end of the prison-term parameters (the defendant faced 16 to 48 years).
Expressions of guilt or the like, or him discussing the case, could be used against Olivo-Tellez should he successfully appeal and be tried again, McCarty said, adding he advised him against making such statements to preserve his client's 5th and 6th Amendment rights.
"It is not a selfish choice on his part but directly because of my advice," he said, begging Neiley to not penalize Olivo-Tellez for appearing to be unable to reflect on his crime.
During his time in jail — Olivo-Tellez was given credit for 963 days of time served — he has addressed his substance-abuse issues, attended AA meetings and drug programs, had no disciplinary write-ups (save for two minor infractions involving food) and has been respectful to all involved in the case, McCarty said.
Olivo-Tellez also has turned significantly to religion and is reaching for something that gives him understanding about how he ended up behind bars.
"In his words, he has told me, without hesitation, he would give his own life to bring Blanca's back," he said, adding Olivo-Tellez "does have remorse for this senseless loss of life."
Neiley said the facts of the case were "obviously very troubling and very disturbing." The defendant shot Salas with full knowledge that it would cause her death, which was an "extremely violent and ruthless crime," the judge said.
But it was his removal of the child from the apartment that, more than anything else, demonstrates "the callousness with which this crime was carried out," he said. "Blanca Salas never had a chance, and the defendant never gave her one."
The prison sentence is "woefully inadequate" compared to what Salas' family will have to live with, the judge said.
Olivo-Tellez did not speak during the hearing. He shook his head at his mother and sister-in-law before he was led out of the courtroom.