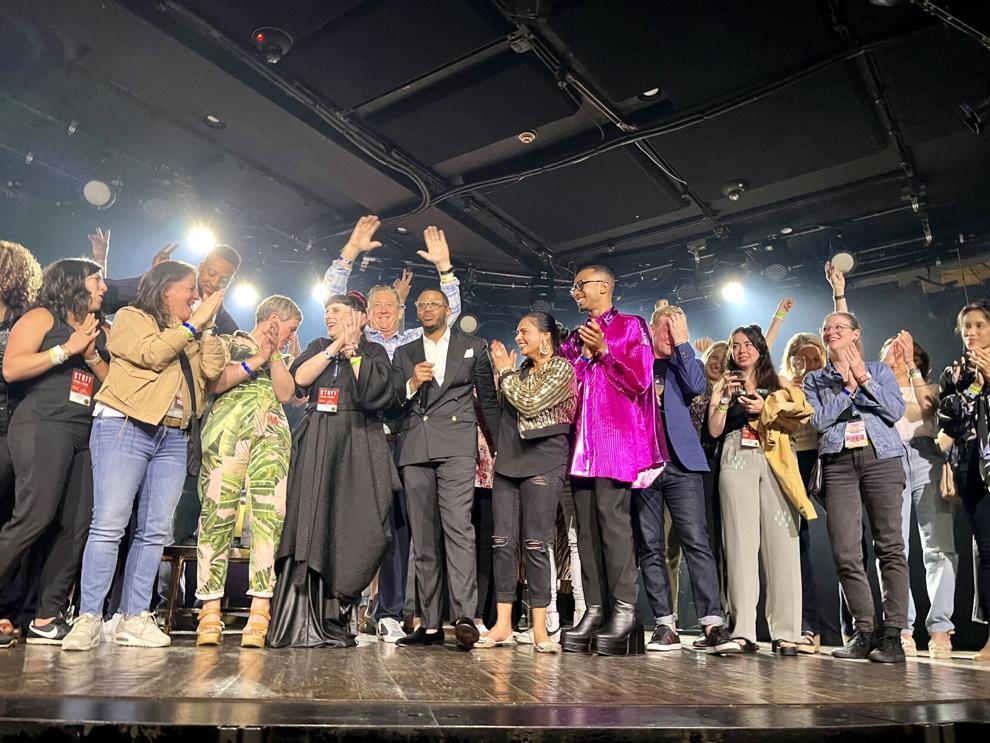 Well into the night on Friday, people gathered down at Hotel Jerome's Bad Harriet bar for a post-dinner celebration in light of the Food & Wine Classic in Aspen. The intimate atmosphere buzzed with conversations, cocktails and tracks by rap legend Kendrick Lamar. Looking around the dim-lit room, the majority of people sharing the spirited moment were Black. 
Sitting next to Gary Obligacion — a Black man who has been in the hospitality industry for 38 years and was in town for his 11th Food & Wine Classic — his pride for the surrounding scene was palpable. 
"I'm sitting in a room right now that is filled with Black hospitality pros or people involved in some element," Obligacion said. "So it feels like something you want to celebrate."
Like many events that commenced this past weekend, the representation of people of color was remarkably notable — especially among the Black community. From celebrity chefs and winemakers to hospitality leaders, speakers and entertainers, this year's event showcased more Black talent in the industry than ever before. 
"We're not done, but we've made significant progress — that's important and we need to acknowledge it," Obligacion said on Friday at Bad Harriet. "Everybody in this room — regardless of whether they're Black or not, doesn't matter — everybody's acknowledging that this is a really cool moment." 
The Bad Harriet event served as an after-party celebration for the Hotel Jerome's Black on Black Chef's Dinner. Led by Afro-Latinx celebrity Chef JJ Johnson, the dinner brought Black stars from across the world of wine to the table in commemoration of Black talent in the food and beverage space. 
Obligacion, who currently serves as the director of development for the Alinea restaurant group in Chicago, worked with Hotel Jerome General Manager Patrick Davila and Chef JJ to help cultivate this first-ever Black on Black dinner and post-cocktail party. 
Following the meal, attendees headed over to the speakeasy-eque bar located beneath the historic Aspen Times building. Once everyone had settled into the intimate room, Obligacion gave a short speech, inviting the diverse group of people, of different racial and ethnic identities, to meet one another and share stories. 
"Because community starts here, in moments and settings like this," he said. "And it never ever stops."
Having attended the F&W Classic for over a decade, Obligacion said that the amount of people of color as a part of the experience this past weekend "jumps off the page" from what it's looked like in the past. 
"It sounds very strange and I don't think it was intentional, but Aspen has not had a huge BIPOC representation in the classic itself; they were present but not the consumers, not the trade, not necessarily the vendors. They were in the restaurants in the back of the house — it was a very white event," Obligacion said. "This year, there's a lot of brown skin and it's beautiful. It's a change and it's a significant change." 
Obligacion said he thinks there's been an intent by Food & Wine Magazine to reach out to Black chefs, vendors, celebrities and other talent and bring them into the event's programming. 
Master Sommelier DLynn Proctor was one of the many Black industry leaders present this past weekend. Like Obligacion, Proctor was also partaking in his 11th F&W Classic in Aspen. He led two seminars, "Legendary Reds: Barolo vs Burgundy" and "Vintners Noir: Wines from Top African American Winemakers," alongside Alicia Towns Franken — who is also a Black leader in the wine industry. 
Though Proctor was not a new face to the classic, he noted that this year, he's seen a significant number of new faces. 
"There was a photo taken in 2010 with myself, Gary Obligacion to my right and two other Black Americans — people of color. There were four of us in 2010," Proctor said. "There were 20 of us at one dinner tonight — not even not even counting Indian, other people of color, other brown shades of excellence. It's been amazing." 
After being celebrated at the Black on Black dinner, Proctor joined the party at Bad Harriet. Amid the loud chatter and music that filled the room, he spoke in a slow, steady tone when discussing what this year's event looked like. 
"This is the Blackest I've ever seen Aspen, and I love it," Proctor said. 
After a brief pause, he repeated his words. 
"This is the Blackest I've ever seen Aspen, and I love it," Proctor said. 
In addition to more Black voices leading seminars and holding vendor slots in the Grand Tasting Pavilion this year, the official F&W events throughout the weekend brought Black talent and stories centerstage — from Saturday night's live talk show event at Belly Up titled "Food & Wine Presents: The Onwuachi Hour" hosted by F&W Executive Producer Kwame Onwuachi, to the Juneteenth celebration at Aspen Meadows to close out the weekend. 
Obligacion said that intent also came from places like Hotel Jerome in bringing the Black community together and celebrating that expertise and impact at the Classic.
While the Black on Black dinner was indeed a celebratory moment and milestone during the premier culinary event, Obligacion hopes that intentional dinners as such won't be necessary in the future of F&W Classic events. 
"I'd love to get to a point where we don't have to have a dinner to celebrate Black people, where we're coming here and just celebrating people," Obligacion said. "So, what do I see in the future? We come here and there's a whole lot of people that will go a whole lot of different ways, we have a great time and it doesn't matter anymore."