Aspen's Tipsy Taxi service is ready for prime time.
The A&E television network reached out to retired Pitkin County Sheriff's Office deputy and Tipsy Taxi founder Ellen Anderson late last year about shooting a brief clip to air during the network's "Live PD" show.
"You've heard of 15 minutes of fame? Well, this is 15 seconds of fame," Anderson chuckled.
Still, she hopes that the national attention may serve as inspiration for other jurisdictions to start a similar program. Through Tipsy Taxi, those who are too drunk (or otherwise impaired) to drive get a free cab ride to their home or other destination.
"There's nothing copyrighted, there's nothing proprietary. Take whatever you want! It's there for anybody to use," she said. "I'll help you set up one, and I won't charge you a penny for it. I'll give you all my experience. How can I not? It saves lives."
Anderson has worked with other jurisdictions in the past — long before the program made national TV — from Jackson Hole, Wyoming, to the University of Texas at Austin.
"Quite frankly, they don't seem to last very long," she said of those attempts to recreate Tipsy Taxi. "I don't know why."
There could be many reasons. One, there's a larger public awareness about the dangers of impaired driving. Two, as privatized transportation options continue to be more accessible through Lyft and Uber, there's less of a need for Tipsy Taxi.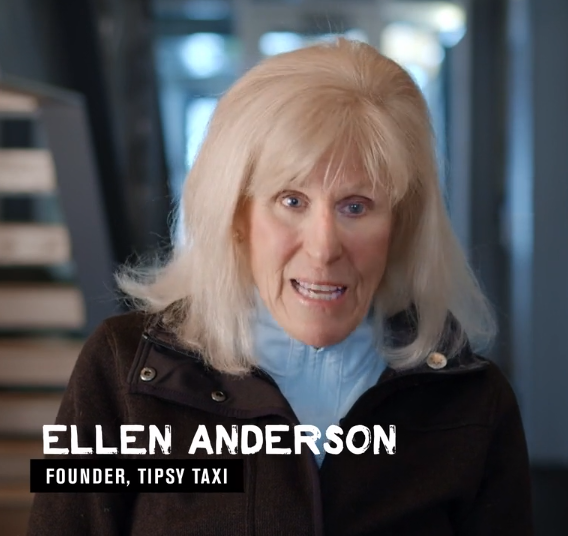 Then there's the funding question. Tipsy Taxi is not a registered 501(c)3 nonprofit, Anderson explained. For years, the annual Bartender's Ball acted as the program's primary fundraiser. Additionally, many DUI convictions stipulated mandatory donations to Tipsy Taxi.
But that practice had to stop, Pitkin County Judge Erin Fernandez-Ely said.
"The judge before me used to, every DUI, [require] a contribution to Tipsy Taxi of $50 or $100. And I continued on that when I came on 20 years ago," she said. "There was a judicial opinion in the Supreme Court that said we cannot dictate, the judges, cannot dictate contributions directly. You can't say, 'Give Tipsy Taxi money.'"
That didn't mean there wasn't a way to continue supporting the program, however.
"It has to be part of a plea bargain," Fernandez-Ely said. That way, both parties in a case explicitly agree to the donation.
Anderson credits District Attorney Jeff Cheney for securing funding and creating that culture.
"We got rescued!" she said. "I don't have to beg for money anymore; we don't have to have benefits anymore. Now, we have a system in place that I think … seems to make sense. The people that are potentially the problem are paying for the solution."
As a prevention program administered by the Pitkin County Sheriff's Office, the county handles the accounting. Anderson believes that kind of structure is repeatable.
"No tax dollars have ever been used for the rides," she said. "It's just so simple. If I have a legal question, I ask the county attorney and county finance keeps the records. The county treasurer takes in the money. It's just not that hard."
In 1982, Anderson approached then-Sheriff Dick Kienast about her idea for a new prevention program — what would become Tipsy Taxi — after responding to a fatal car crash where the Aspen roundabout exists today.
"And he said, 'I don't think it will work, but I won't stop you.' Well, the rest is history. December 16, 1983, was our first day of service," she said. "It has been uninterrupted service 24 hours a day, 365 days a week."
The purpose of Tipsy Taxi is prevention, she continued. 
"Of course I arrested a lot of DUIs. It just doesn't have to happen," she said.
Since establishing Tipsy Taxi, Anderson has been pleased with increased public awareness about the dangers of impaired driving — and about the definition of impaired, for that matter.
"There's a whole new realization that it's not just alcohol," she said. "It can be hard medication; it can be fatigue; it can be all kinds of things. There's a national PSA program ... the tagline is, 'If you feel different, you drive different.' We've come a long way in the last 30 years, but Tipsy Taxi is still there, day and night."
In order to give would-be drivers an easy alternative, Tipsy Taxi has to be completely free — both in the moment and from the potential financial repercussions of leaving a car downtown overnight, Anderson emphasized.
"If they go to the city hall the next day with the voucher, [any parking citations or towing fees are reversed]. Your car might be towed, but you can get it out of jail for free," she said.