The five members of Aspen's City Council took time to get to know one another during their official retreat last week and collaborated to prioritize long-term city initiatives. 
The council began its day-and-a-half long facilitated retreat by exploring the best ways to communicate with one another. Members listed candor and respect as ground rules for the retreat, along with listening with full attention and having a sense of humor — with the caveat that it be appropriate.
Their expectations of each other included no personal attacks.
"Be hard on the issues, not hard on the person," they wrote, on a master poster board during the brainstorming session. 
Expectations all centered around coming to meetings and work sessions fully prepared and having given the other council members a heads up on the issues and questions that one might bring up.
"Don't play 'gotcha,'" they wrote.
In order to arrive at meetings more prepared, the members floated the idea of swapping the nights of regular meetings — which allow for public comment and the creation of legislation  — and work sessions, which are used for passing information to council from staff, council discussion and informal direction for staff from council.
The posted agendas for these sessions come out on Fridays and in the few meetings and work sessions that the new council has conducted since its was sworn in in June, those packets have ranged from 10 pages to over 1,000 pages. Council members felt an extra day to get through the packet might be beneficial for both them and the public.
"We would all have an extra full day to review packets, check in with staff, etcetera, without bothering them on the weekends," said Councilmember Skippy Mesirow, who was elected in March.
In order to move the day of the meetings, the council would need to pass a resolution. Interim City Manager Sara Ott and Community Development Director Jessica Garrow said they have to look into what other meetings occur on Tuesday nights and the availability of Grassroots TV to broadcast the meetings.
Due to land use reviews already in the pipeline and public noticing requirements, the soonest the swap could take place would be September.
Council concluded its retreat by going step by step through broad focus areas and prioritizing projects under each category. The discussion stemmed from the city's organization work plan created at the request of the previous council in January. The focus categories from that plan are: "smart, customer-focused government," "economic vitality," "fiscal health," "safe & livable community of choice" and "community engagement."
While initiatives dealing with environmental sustainability were listed in multiple columns, the council felt that conservation should be pulled out into its own category, which it called "protecting our environment."
"The environment is our economic vitality, it's what makes the community livable," said councilmember Rachel Richards, who was also elected in March.  
Councilmember Ann Mullins, one of two holdovers from the previous council, said that environmental initiatives are her top priority.
"If it goes away, we lose economy and people, so it's even more important than housing," Mullins said.
Council members also all agreed that housing is a vital area of concentration as well. They began by modifying the category name that encompasses housing initiatives ("safe & livable community of choice"). 
Mesirow asked that it be changed from "livable" to "lived-in" and Richards took issue with
the phasing "community of choice," since desirability of the community isn't at issue.
 "For a lot of people, they don't have that choice," she said, referring to the barriers of entry to the Aspen housing market. "We are making Aspen a great community that they don't get in to."
Mike Kosdroksy, the executive director of the Aspen/Pitkin County Housing Authority, urged the council to look at the program as an economic stimulator.
"Workforce housing begets community, community housing doesn't necessarily beget a workforce," said Kosdrosky.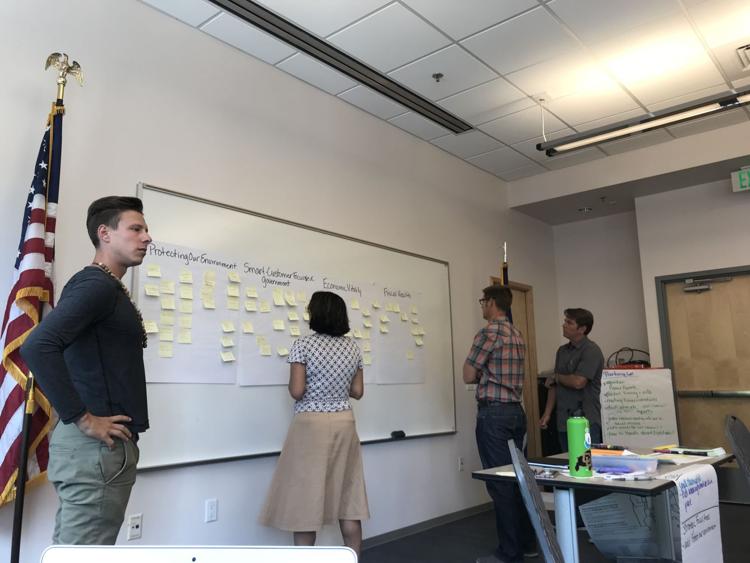 Torre, Aspen's newly elected mayor, pushed for an upcoming work session in which the council is able to have a high-level philosophical discussion about the workforce housing program. He asked the council to think about big questions such as their appetite for building housing outside of Aspen's designated urban growth boundary, opening up opportunities for residents to "right-size" as their household members change and he specifically name checked the Centennial housing complex, which does not have enough capital reserves to pay for vital structural updates.
"What is this council's appetite for reengaging this conversation and looking for solutions with Centennial, knowing it has a bigger impact and is precedent setting?" he asked.
Mullins and Mesirow both talked about creating a target for housing that is agreed upon based on community conversations and the philosophical goal of the program. Mullins said that while Aspen led the way in the creation of an extensive workforce housing program, other communities, such as Vail and its buy-down program, are pushing ahead.
"We should be in front of this, we should be the first ones — but we are not," Mullins said.
A new policy-making APCHA board will be in place by the end of the summer. Ott recommended an affordable housing framework that presented a three-pronged approach to financing and prioritizing housing in the community. She advised the council to be open to "back-filling" the discussion with other experts within the city staff and community and pointed out that the new APCHA board will be required to make a work plan of their own once they are inducted.
"Overall, this approach creates a more clearly defined roadmap for your decision making and provides the council an alternative to reach consensus on how to approach housing priorities for the community," Ott said.
In terms of economic development, council members all indicated they would be willing to reopen discussions about chain-store regulations within Aspen, or some sort of city-subsidized rental program.
Mullins said she had floated some ideas to support small and local businesses in the past but there was not much support from the previous council to discuss subsidies. 
Speaking this week, Mullins made it clear that the city is legally not able to get directly involved with free market commercial leases. 
"We can't tell someone how much they can rent their place for, but you can kind of sneak around it," Mullins said.
She said there are ways the city could enact policies or put aside funding that would encourage landlords to keep rents low. Mullins suggested the creation of a small business program modeled after the city's successful small lodge program, which helps smaller hotels with grants and permit processing if they promise to remain a lodge, as opposed to converting into a free-market real estate development. She also said the city could come up with a set of incentives for businesses to get certain breaks if they take on other city initiatives, like the mayor's suggestion for mandatory composting for all restaurants. She has also researched other cities that have created legacy programs that help promote established businesses through a city guide or plaques.
Defining what a local business is will be the bigger challenge, said Mullins. She brought up employee numbers, square footage, locally serving and locally owned as potential categories that could earn a business support from the city, while pointing out that high-end shopping is also a tourist draw that helps Aspen's economy.
"You do need to mix from the mom and pop and upper end. What you want to have though is something that is somewhat authentic to Aspen," said Mullins.
At the retreat, Mullins also advocated for the city to focus more on the entertainment sector when planning for ways to strengthen the economy. 
"I think we have underestimated the contribution arts and culture bring to Aspen in terms of economic vitality," Mullins said. 
A study from the Wheeler Opera House will be presented in September, and the city has partnered with arts organizations and the Aspen Chamber Resort Association for a year-long economic study on arts and culture.
The council also agreed to prioritize immediate childcare solutions, even if it is a temporary fix as the city looks for more space to house early education programs.
Shirley Ritter, the director if the city's Kids First program, pointed out that finding space for daycare is only one component of the conversation.
"Right now we are just focused on capacity. We are not even bothering with quality or affordability yet,"" Ritter pointed out, regarding the council's conversation.
While most of the council campaigned on increasing communication channels between the public and the city, community engagement was put off to last during the retreat, when there was not much time to discuss new initiatives. Since the election, the city has hired Tracy Trulove as the first ever communications director; she stepped into the role on July 1 and was present during the retreat.
Council members said they are looking forward to working with Trulove as she gets her feet under her and creates both internal and external communication strategies. 
Torre said the city should have a goal of creating community. 
"I've lived in Aspen 25 years and I feel like we as a community are more fractionalized now than ever," Torre said.
Richards suggested the city revamp a speaker series that has occurred in the past. Mullins praised the citizens academy program that gives residents an inside look into various city departments, but Ott pointed out that there is so little interest in the program that the next scheduled upcoming course might not run.
Unlike past retreats, the council did not establish a bullet-point list of top priorities from their conversation. In all, the council added several initiatives to the city's workplan under each category, without removing anything from the priorities already established. A summary of the retreat is being compiled and will be sent to council and city staff are preparing follow up presentations for upcoming work sessions. 
"I'm glad we didn't come out of here with top nine goals that are just aspirational," said Torre. "I appreciate having a framework for what are we going to do next."