The head of the area's largest taxi service is upset over a recent city of Aspen administrative decision that takes away dedicated cab stands and opens them up to most other ride providers, including limousine drivers, hotel shuttles and internet-based services such as Uber, Lyft and the Downtowner.
Todd Gardner, owner of High Mountain Taxi, called it another example of city officials making decisions that affect the livelihood of local companies and employees without first consulting them. New signage was installed last week at the city's traditional cab stands that says, "Commercial Ride Share — Pick Up and Drop Off Only."
Gardner said he was informed about the change a few weeks ago following a meeting on a related topic — a discussion surrounding the city's mobility lab and a proposed contract with Lyft that was scuttled. He said he immediately told Mitch Osur, the city's parking director, that opening up the taxi stands to others was a bad idea and unfair to his business.
"They told us they were doing this and then showed us the signs," Gardner said. "That's how the city does things — zero communication, make decisions, no input, show us signs."
Ride sharing generally refers to services provided by companies like Uber and Lyft that arrange private transportation via smartphone applications, picking up the rider wherever they are and dropping them off at a designated spot. The Downtowner, a free service subsidized by the city but with limited geographical boundaries and hours of operation, works much the same way.
To Gardner, the ride-share companies shouldn't be allowed to use the stands where for decades, taxi drivers have parked and waited for people to hail them. Prominent spots in the city's commercial core include two spaces at South Mill Street and East Hyman Avenue, near the Popcorn Wagon, and two spaces next to the Ralph Lauren store at East Cooper Avenue and South Galena Street. They are now open for use by ride-sharing companies.
Osur said the change was necessitated by a police department safety concern. While taxis have been using the cab stands —located on each end of the commercial-core pedestrian mall in high-traffic areas — ride-sharing vehicles were sometimes clogging up the middle of the street, near those same stands, to pick up their pre-arranged passengers.
"In my opinion, the days of the taxi stands have come and gone," Osur said. "I'm worried about safety on the street. Between Uber, Lyft and the Downtowner, the police complained to me a couple of months ago that a lot these vehicles were just parking in the middle of the street."
Because of the recent influx of ride-share services, other cities and towns have been doing away with taxi stands and making them ride-share pick-up and drop-off zones, he said. After consulting with police and the city manager's office, Osur said he decided to experiment with the same concept in Aspen.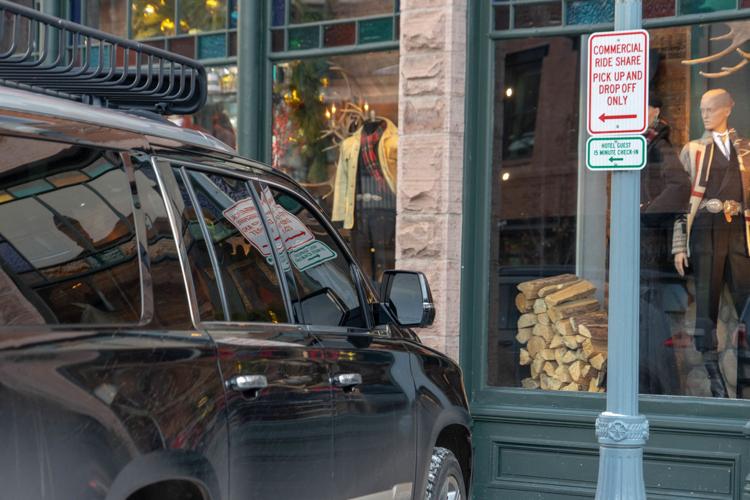 To accommodate all of providers, the city recently added seven more spaces where taxis, shuttles and ride-share companies can pick up and drop off passengers. Between 6 p.m. and until 3 a.m., the commercial loading zone near the Marmot store on South Galena Street, consisting of four spaces, is fair game. The shuttle drop-off area in front of The Little Nell near Gondola Plaza, two spaces, is in play all day and night. And a single space that used to be part of a police-only parking area on South Galena, a short distance from the Ralph Lauren spaces, also is available day and night.
The change came just a few days before one of the busiest tourism periods of the year, the post-Christmas week and New Year's week, throwing a lot of cabbies off guard.
High Mountain Taxi driver Dan Bokenko said it bothers him that Uber or Lyft drivers are allowed to take up spaces where cabs traditionally have picked up passengers on a first-come, first-served basis — especially considering that the ride-share companies pre-arrange their trips.
"We noticed it last weekend," he said. "I talked with a police officer and she said the city was trying to deal with the congestion downtown, so they're giving them a place to park. It's going to lead to conflict."
Bokenko alleged that Uber drivers are using the traditional taxi spots to "hustle walk-ups," despite the fact that the Uber application doesn't allow for walk-up business and state law doesn't allow would-be passengers to hail rides from them.
He claims that Uber drivers are only working in Aspen during the busiest times of year and aren't available in the off-seasons like the longtime taxi and limo services.
"They should be staged outside the commercial core, and be allowed to come in and pick up someone who summoned them through the app," he said of ride-sharing companies.
Osur said the city's philosophy is that it needs to address the needs of all the companies shuttling people in and around Aspen, not just the taxis.
"We're going to continue to experiment and have other ideas," he said. "At this stage, this is where we want all those vehicles to hang out when they're waiting to pick up a ride, or where they know they need to pick up someone in five or 10 minutes, instead of taking up a parking space or parking in the middle of the street or an alleyway."
Drivers of taxis, shuttles and ride-sharing vehicles cannot leave the cars unattended after parking in the new commercial ride-share zones, Osur added.