Christianity is filled with stories of rapid-fire callings to service, such as the blinding-light conversion of Saul as he was on his way to Damascus with a mandate to arrest followers of Jesus.
Father Darrick Leier, the new priest at St. Mary Catholic Church in Aspen, had more of a gradual calling in terms of leaving secular life for the priesthood. Leier replaced the Rev. John Hilton as pastor of St. Mary in early November.
His "conversion," he said, occurred in the months following his mother's death from cancer, which occurred exactly eight years ago last Thursday.
Leier was in North Dakota, attending to his ailing mother, in November 2011 when he began questioning the existence of a higher power. Raised a Catholic on his family's farm and ranch in North Dakota, he said he had become a "fallen-away Catholic" during his adult years. 
"I knew those were my last times with her," Leier recalled last week. "That caused me to start reflecting on my life and thinking about my faith, and God, and Heaven, and what happens after this life. I was asking God, 'Are you real? Is Heaven real?' And then he really answered me. Of course Heaven is real — because I knew my mother was going there."
Leier returned to his home in Denver after his mother passed away, but kept a vow that he made in her last days. It was a promise to begin attending Mass again. 
From there, the seed for the technology engineer's future was planted after he joined a church in Northglenn. He got involved with different ministries in the parish, in any way he could. He wanted to do the Lord's work.
But even then, it didn't feel as though he was giving enough.
"This transformation that was happening in my life," Leier said. "I absolutely knew it was not coming from me. It was extraordinary. It wasn't natural — it was supernatural.
"I had no doubt it was the work of Lord, changing my life," he added. "The Lord was doing that to save me. I knew he had plans for me and I knew they were big. I spent as much time in prayer as I could. I surrendered and said, 'Jesus, whatever your plan is me, give me the grace to say yes to it.'"
From there, and with the guidance of other spiritual leaders, Leier entered the seminary in 2013 at the age of 38. He did his "spirituality year" — a period that allows men to discern more clearly the call to the priesthood — in Denver. That was followed by four years of theological studies and formation at a seminary outside of Boston, Pope St. John XXIII National Seminary. The institution was established for men answering the call to the Catholic priesthood later in life — typically between 30 and 60 years old.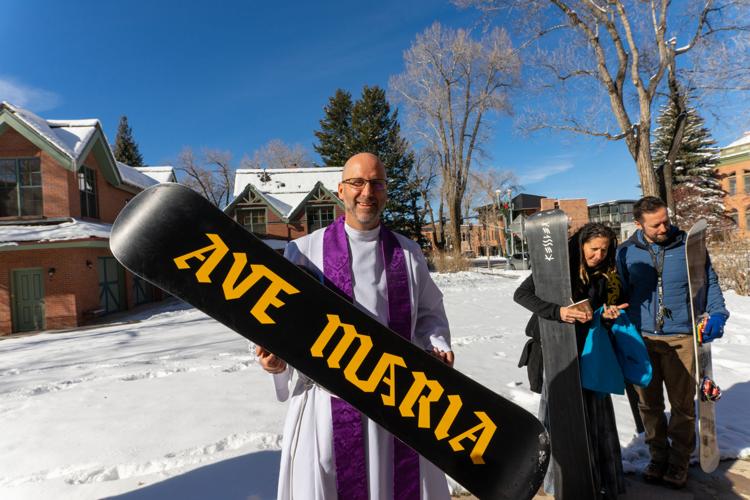 "A lot of young people nowadays fall away from their faith. We see that a lot in society, and I was one of those kids. I just became indifferent and stopped going to church. I didn't have anything against the church, I just got involved in the secular world," he said.
"My faith was dormant for awhile. The fire was lit again later in life. That's why it's so important for families to raise their kids in the faith. It stays with them in their heart and their soul, and of course it will, that's the Holy Spirit that lives in each and every one of us," Leier added.
He was ordained in May 2018 by the Most Rev. Samuel J. Aquila, Archbishop of Denver, at the Cathedral Basilica of the Immaculate Conception in Denver. Soon after, he received his first assignment as an associate priest for the Catholic Parishes of the Valley, a parish collaborative consisting of St. Clare of Assisi (Edwards), St. Mary (Eagle) and St. Patrick (Minturn), along with the Vail and Beaver Creek interfaith chapels.
Expecting to serve three years with the collaborative in his first assignment for as a priest, he was surprised when, in mid-October, the church leaders asked him to replace Father Hilton as pastor in Aspen. Hilton would be taking over as pastor for St. Vincent de Paul Parish in Denver, but before accepting that new role, first had to receive medical attention for a heart condition.
"It came unexpectedly. Usually new priest assignments happen every year, and usually in June. I thought there may be a chance the archbishop felt I was ready to be a pastor, but maybe I would go my full three years in Edwards. I was down in Denver for meetings in October when the vicar of clergy pulled me aside and said Father Hilton would be taking over as pastor for St. Vincent de Paul Parish in Denver, and they would like for me to fill his shoes here. I was really surprised but incredibly excited and honored."
As for Hilton, the procedure was a success. "He's recovering well and all of our prayers are being answered," Leier said.
A former college football player and longtime snowboarder, Leier said he's enjoying getting to know the community and learn the ropes of church administration. He hopes to join a local softball team next year.
At St. Mary, he presides over a congregation that officially numbers 300 families. He's managing the last of the church's massive renovations that were largely finished early this year. Three new bells from the Netherlands were recently installed, and they will ring every day at noon.
It's mainly punch-list stuff, he said. His other near-term goal is to work with church staff to improve and expand the parish's social-media presence.
"I'm still getting to know the parish, its ministries and its people. That's my favorite part of this, getting to know the parishioners and the community. Give me about a year to get settled in and we'll see how we can expand on some things," Leier said.