A new solution to a longstanding problem in Basalt has come together quickly this spring and early summer, and it evolved as an outgrowth of the town's response to COVID-19.
Early in the pandemic, Town Councilman Bill Infante floated the idea of a public-private project to provide employment for individuals and families as one potential remedy to the initial economic body slam wrought by the coronavirus.
The installation of a new council in April saw Mayor Bill Kane identify the dearth of parking in the downtown core as an immediate concern. Already limited parking along Midland Avenue would be further constrained as restaurants expanded their outdoor dining footprint to comply with pandemic restrictions.
The remedy — to knit an improved trail into Basalt's downtown fabric — has come together in short order through collective energies and fast-acting community partnerships.
"It came about in a refreshingly rapid turnaround," Infante said of the dust that started flying last week on the trail.
On a hot summer Wednesday, barely two months removed from the coronavirus' early, awful days, trucks were priming the path connecting the underutilized Basalt Elementary School parking lot with a downtown that was already teeming by mid-morning.
The new "urban trail connection," which spans 420 linear feet takes about two minutes to travel on foot.
Small project, big impact
Overseeing the shoring up of the Swinging Bridge Trail is Rick Stevens, noted Basaltine. A former mayor, Stevens' current public service revolves around Basalt Area Gives, the nonprofit whose mission is encapsulated in its name.
This week, Stevens was coordinating the preparatory work to make the trail more walkable, which includes removing the existing surface and preparing the road bed to reduce erosion.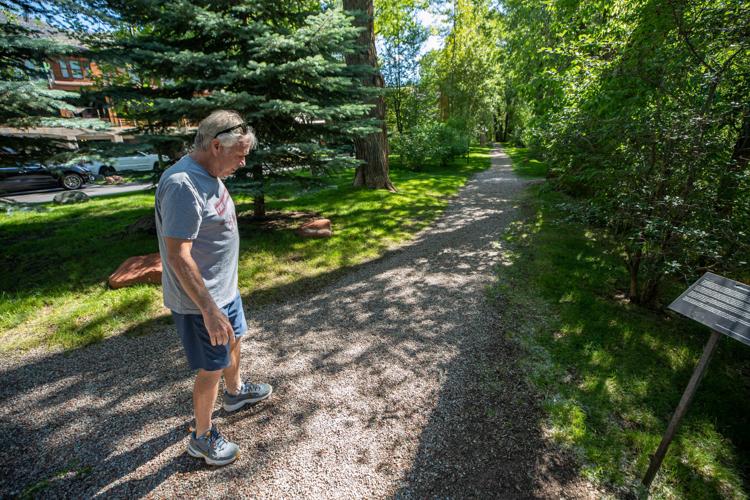 "This is a small project that could have a big impact," Stevens wrote in a May 23 letter to Mayor Kane, Councilman Infante and Basalt Area Gives co-founders Gino Rossetti and Jim Light (Jon Fox-Rubin and Bennett Bramson were also part of the group who founded BAG last year as a vehicle where Basalt taxpayers could donate their TABOR refund in the wake of the town's admission it ­overcharged citizens for years due to different interpretations of the Taxpayer Bill of Rights).
For this trail project, BAG is kicking in $2,500 cash and arranged for about $15,000 in pro bono work from entities such as Roaring Fork Engineering, Site Improvement Services and Western Slope Materials, Stevens said.
In the letter, he referred to the town's strategic plan that was adopted by a previous council and which highlights four areas of focus. It referred to community development that "strengthens public/private relationships in a collaborative manner and brings ideas to the table" as a goal.
"Built environment was to be connected and pedestrian friendly. Way finding was a phrase used that suggests that movement through and around the community is a priority," Stevens noted.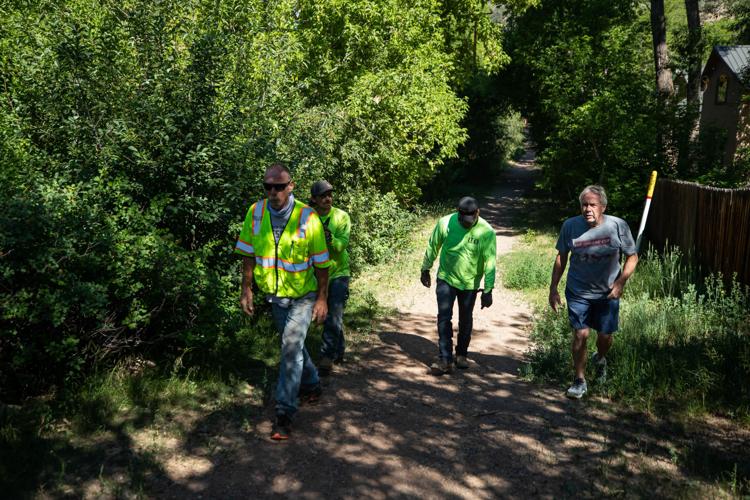 Enlisting another community organization, Roaring Fork Outdoor Volunteers, has helped get this project moving quickly. Volunteer trail work days are scheduled for July 7 and 8, according to RFOV's Jacob Baker.
"Our region has fantastic wilderness trails, which RFOV has built, maintained and restored for 25 years now. Often overlooked among the scenic highlights are 'connector trails,' such as the Swinging Bridge Trail in downtown Basalt," Baker said.
"Although these connectors are less glamorous than the [Maroon] Bells, they're no less important. In fact, this project demonstrates that the trails literally in our own backyard serve a unique purpose: the Swinging Bridge Trail provides a direct connection between a school, a neighborhood, a river and a downtown business core," said Baker, RFOV's communications and outreach coordinator.
The trail will be constructed with durable surface material like crushed rock and built to last, which seems apropos, as durability is embedded into Basalt Area Gives' ethos.
"The mission of Basalt Area Gives is based on community building through partnerships with our residents, our businesses and nonprofits, and elected leadership that represent the citizens of the town of Basalt. During the past year we have seen the benefit and potential that our founders believed could be realized," Stevens said in his letter.
Walking the trail this week, he expounded on some facets of the project. Pointing to the near-empty Basalt Elementary School parking lot, Stevens said, "The idea is to get some of the employees (in town) to park here."
Crossing Cottonwood Drive, he explained how luminarias will cast a glow on the improved trail — in totality it's just 420 linear feet — and that in turn will offer a safer route to park and walk.
Traipsing down the metal stairs that lead to Swinging Bridge Lane, Stevens described how clean rock will be used to replace the trail's current road base. Later that morning, a crew would start work on its subgrade surface.
According to information from the Basalt Regional Heritage Society, the original bridge over the Fryingpan River was constructed in 1880, prior to the town's incorporation (the bridge has since been upgraded for stability). That background is included in a historical marker that's part of the Basalt walking tour.
Stevens recalled that he once was part of a project to rebuild some of the carriage roads in Acadia National Park in Maine and suggested the new Swinging Bridge Trail will have similar standards.
Just before the start of the swinging bridge on its eastern end is a short connector to the River Cove subdivision. It too will be improved as part of this project.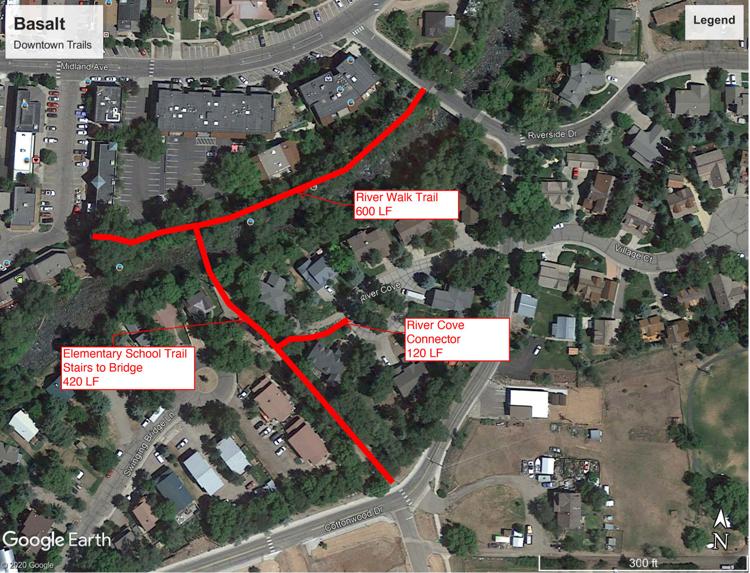 On the other side of the river, the River Walk Trail that sidles along the Fryingpan has been eyed for future upgrades as it's not considered wheelchair-friendly. Another portion of the town's strategic plan that Stevens referenced was Basalt's "natural environment focused on the confluence of the two rivers."
The ability for community organizations to pivot to some different priorities has been, at times, breathtaking in its speed.
While more remote trails in the Basalt area, including Light Hill and Arbaney Kittle, will see improvements this summer, RFOV's Baker said there's a new focus on trails that will see more sustained heavy use on a daily basis.
"It all happened in two months," he said admiringly. "The Swinging Bridge Trail project is an excellent example of our community making dirt work for everyone."