Archival work tends to be slow, but the payoff is a newly excavated layer that enhances the telling of a community's story.
The Aspen Historical Society archives have for decades been in possession of most of the photo negatives generated by the Aspen Illustrated News, a weekly paper published from 1965 to 1970. But the staff only recently ­began digitizing and cataloging images from the collection.
"A lot of them are David Hiser photos, they're really — some of them are just really good," said Lisa Hancock, Aspen Historical Society curator, referencing the man, now 82 and living in Old Snowmass, who would go on to become a successful freelancer, shooting for National Geographic and other international publications.
Among the first set of digitized images from the collection are of Ralph Jackson, an original local character of the 1950s through 1970s known as the "Clown Prince of Skiing."
According to a Jan. 20, 1977, Aspen Times profile of Jackson, who had recently been crowned Winterskol king, befitting that year's slogan of "Still Crazy After All These Years," the then 69-year-old "evolved a skiing ­costume" consisting of a top hat, long fur coat, bow tie and Bermuda shorts — always with a cigarette holder containing an unlit cigarette hanging from his mouth.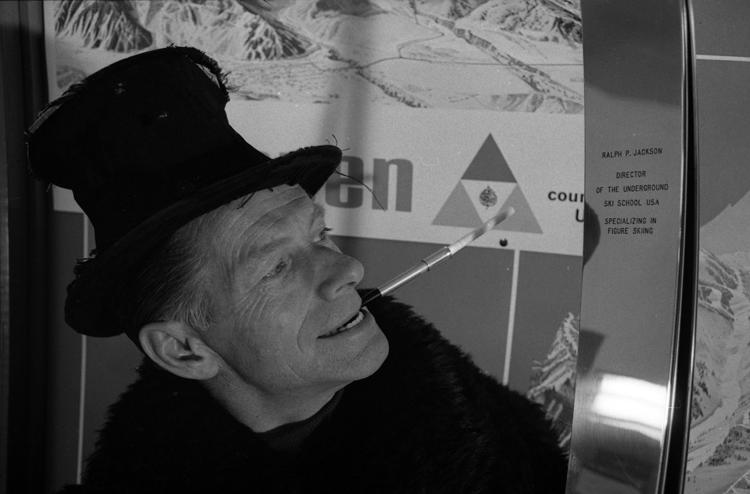 Partly in response to a terrible ski accident when he was a younger man, Jackson developed a freestyle repertoire influenced by his figure skating background — twisting, turning and skiing backward on one leg. He was the head of his own underground ski school that eventually became tolerated by Aspen Skiing Co. brass. The outfit and antics made him one of the most recognizable characters in town.
"Since his skiing costume includes an unlighted cigarette in a cigarette holder, people are always coming up to him and asking, 'Do you want a light?' His response is, 'No, I'm already lit,'" reads the Times account, headlined, "Ralph arrived the very first winter," written by Adele Dusenbury. The clipping provided by the historical society notes that Jackson came to Aspen in 1946-47, when Lift One and Lift Two opened, turning Aspen into a world-famous ski resort.
Aspen-area rancher and political figure Harold "Shorty" Pabst started the Aspen Illustrated News as "a counterpoint to The Aspen Times, which some people felt was too liberal at the time," Hancock said, "and they wanted a more conservative view with everything going on in town between the hippies and the establishment."
For Hiser, it was his first journalism job. He was attracted to it because he needed a darkroom, which the paper's office in the basement of the Hotel Jerome could provide. He was green like most of the staff, but found it to be a great place to learn the trade, covering everything from ski racing and backcountry adventures to fashion shows, celebrities and dimly lit nightclubs.
The paper's photo-heavy format and Hiser's responsibility for the cover image each week was unremitting pressure but tremendous fun, he said.
He couldn't recall, off the top of his head, when contacted Saturday, why he was taking Jackson's picture in May 1965, but the image is striking. Jackson, cigarette holder in mouth, is looking up contentedly at a pair of skis that had been specially made for him, carrying the engraving "Ralph P. Jackson, director of the Underground Ski School USA, specializing in figure skiing." In the background are Aspen and Snowmass promotional posters. The skis were Heads, part of the early wave of metal skis, provided to him by an executive of the company who was a fan of Jackson's skiing. The model type was known to be chattery at high speed on ice but did the trick for his style.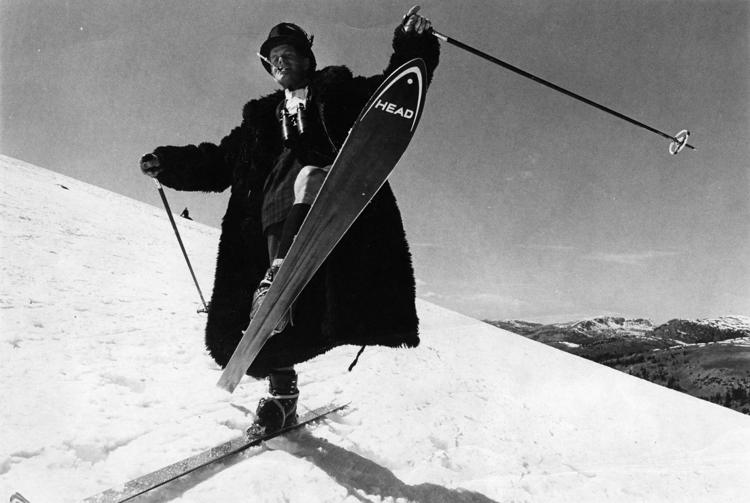 Another Hiser image captures Jackson skiing on Independence Pass in 1965, demonstrating his one-ski-in-the-air technique.
Hancock said she was reviewing the images, digitized this summer in a painstaking process by archive technician Megan Cerise, to see if they matched up with anything else in Aspen Historical Society's possession. She keyed in on the pictures of Jackson, since the society's archives already contain the skis pictured in the 1965 Aspen Illustrated News images, as well as hats and coats belonging to Jackson, who passed away in 1981 at age 73.
She and Cerise come across the photos and it dawns on them that "We have those skis," Hancock said. It's a great moment in the archives.
"As a museum, what we really have to offer as far as the collections is an object that has been there," she said. "You could have another pair of Head skis that doesn't have any history or provenance, that just gets dropped off at the front door. But this pair of skis, you can see them in this photo from 1965, being held by the guy that owned them. The object has more power when you can do that."
Hiser is currently working on a project to reprint a book about Aspen between 1960 and 1980 that he described as "the best explanation of why Aspen is such a special place," that will be newly illustrated with curated photos sourced in part from the historical society's archives. When asked what he remembers most about Jackson, he replied that the man was "always on."
"I never saw him out of character, really," Hiser said. "It was kind of remarkable."
Work was not a major consumer of the man's time, Hiser said, "and he spent most of the time in that costume. … It was fantastic."