The theme of this year's Mardi Gras celebration in Snowmass Village is "Bourbon Street at 8,600 Feet."
Good thing the committee that chose the theme wasn't being literal because Snowmass Village police would have a helluva mess on their hands Tuesday.
Yes, a stroll down the most famous street in the New Orleans French Quarter can be an exercise in drunken, good-natured, music- and food-oriented fun. But Bourbon Street in New Orleans, during Mardi Gras and many other times of year, can be a tad on the seedy side.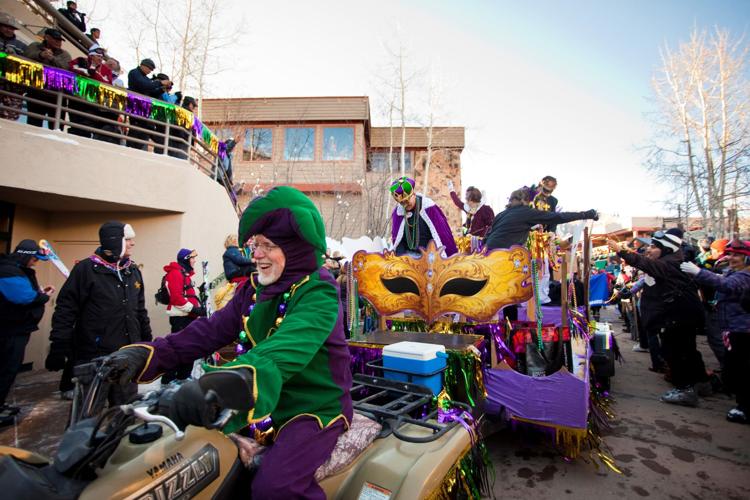 Amid crowds numbering in the tens of thousands, revelers can get trampled, pick-pocketed — even shot or knifed without cause. (This reporter has one vivid Mardi Gras memory from 2002 that can't be erased: Picture a busy street at the end of a parade route with two overturned, burning sports cars. The drivers had fled, no emergency vehicles were on the scene and no parade-goers paused to wonder why two cars were aflame in the middle of the road.)
On Bourbon Street, at Carnival time, the smell from restaurant dumpsters with the remnants of yesterday's oyster and catfish specials fills the air. Shady characters of all kinds ply their trades in the side alleys. People willingly degrade themselves for long strands of cheap plastic beads sporting the royal colors of purple, green and gold. Cops on horseback gallop toward soused motorists who stray into blocked-off, pedestrian-only sections of the popular thoroughfare. Public urination is common.
Call it sinful, call it insanity, whatever — it's a serious party with a lot of soul.
Roaring Fork Valley visitors and residents need not worry: Despite the official theme, Bourbon Street won't be realized on Tuesday in Snowmass Village, which for 37 years has touted its Fat Tuesday party as a mostly sanitized, family-friendly version of the real thing.
In fact, Mardi Gras got started in Snowmass Village in the early 1980s by New Orleans-area residents who were escaping the chaos of the annual event in the Crescent City, according to Julie Hardman, special events manager for Snowmass Tourism.
"They were up here to get away from the madness but it ended up catching on as a regular celebration," Hardman said. "And we've been celebrating for almost 40 years."
Many traditional aspects of the centuries-old New Orleans celebration are duplicated in Snowmass, she explained.
"We do a bead toss; we bring in music and performers. There's a king and queen. We had a parade. There was always an overflowing crowd," Hardman said.
It helps that the the architecture of the Snowmass Mall, with its many upper-level balconies, provides a similar atmosphere to Mardi Gras in New Orleans, she said. In other words — not hers — the privileged people on the balconies can toss strands of beads to the hungry commoners below, and it feels like "Carnival Time," as the famed R&B singer Al Johnson sang more than a half-century ago.
Whether the historic New Orleans expression "Throw me somethin' mister!" ever made its way to the Pitkin County ski resort some 1,500 miles away from the Vieux Carre is anyone's guess.
Some locals recall the wilder, early days of the Snowmass event. They mention the old Timber Mill bar as being "Mardi Gras central," with rock bands blasting, people dancing on tables and alcohol flowing through the venue as fast as anyone could lap it up.
The parade in the mall was raucous, there were occasional breast flashes and fist fights, and the spicy magic of a Louisiana Mardi Gras, to a degree, was present.
But times change, and so has the Snowmass Village celebration of Fat Tuesday.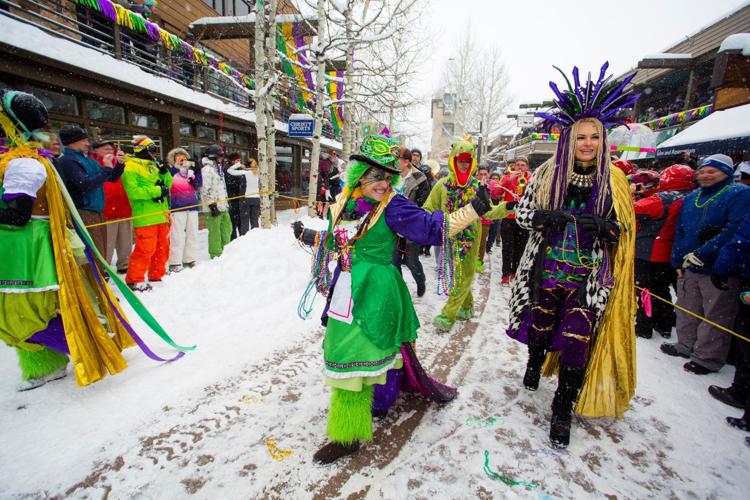 No time to build a float
For starters, the annual parade through the mall, a ragtag collection of golf-cart sized vehicles pulling makeshift floats, and costumed participants walking along the route and waving to onlookers, is no more.
"We do still hang on to the tradition of Fat Tuesday, but it's time to work with the current day and age," Hardman said. "In this time and with the generation of kids today, we're trying to morph the event into what's popular."
The parade is gone, but event organizers have added a Bud Light Hi-Fi concert at Base Village. Described as funky and horn-centric with elements of rock, the Brooklyn-based band Turkuaz takes the stage around 3 p.m. Tuesday following a bead toss at the same location.
"I think that's really what kids and families are interested in: being able to be together with music in one location. We're excited about bringing in the Hi-Fi concert into the day of what we already have going on. Snowmass does music so well and that's what we're kind of known for, so it just seemed to make sense to add it to the celebration," Hardman said.
She said the energy from businesses and others needed to support the parade just isn't there.
"Everyone's so busy, there's just no time to make a float, but they still want to be part of the action," Hardman said. "I think morphing our schedule into what we have today makes a lot more sense for the kids and our guests."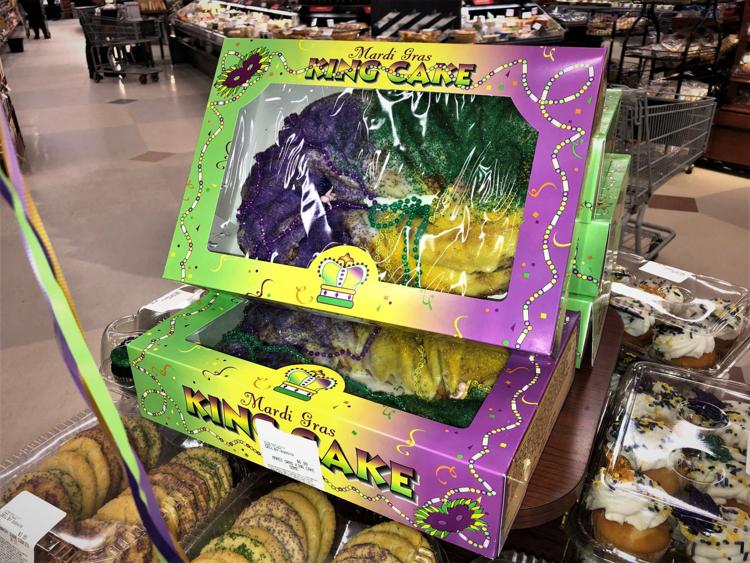 She said the parade hasn't been part of the lineup for the last couple of years.
"People just weren't able to participate on that same level anymore," Hardman said. "We still have après-ski parties, and several restaurants hosting specials. There will be Cajun-style dishes and Hurricane cocktails, the whole nine yards."
Two bead tosses are planned this year; in the past there was only one. The toss in the mall is planned for 2 p.m. and the other one, on the Base Village stage preceding the Turkuaz concert, is set for 3 p.m.
There's a strong effort this year to connect Base Village with the traditional Snowmass Mall celebration. A "Kids Zone" area with stilt walkers, face painting and other activities will be set up in the streets near the base of Fanny Hill.
Instead of providing free s'mores from the cart outside Base Camp Bar and Grill, the traditional Mardi Gras dessert of King Cake will be handed out from 3:30 p.m. until there is none left. Twelve slices will have a small plastic baby inside, per the tradition, and those who receive the slices containing the baby will get some type of prize.
S'mores will still be offered at the Snowmass Mall, along with what Hardman calls "a special version of a bourbon marshmallow."
Explaining how "Bourbon Street" is being integrated into the so-called family-friendly Fat Tuesday, Hardman laughed and said the theme came from a list of ideas proposed by the planners of this year's event.
Will there be the type of debauchery that's associated with Bourbon Street in New Orleans?
"Let's just say it's a PG-13 version of Bourbon Street. No nudity or arrests. We don't want any of that," she said.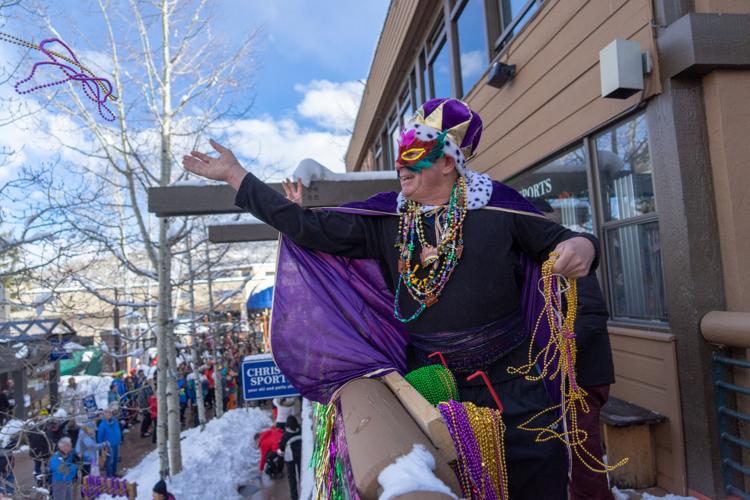 Fist fights and fast flashes
Snowmass Village Police Chief Brian Olson said he's noticed smaller crowds at the event over the last several years. Olson has been part of the town's police force for 31 years, serving at the helm since 2013.
The event doesn't require extra help from outside law enforcement agencies. But it's all hands on deck for Snowmass police personnel who will have a presence in both Base Village and the mall, and those on the day shift likely will continue to work into the evening hours.
From a public safety standpoint, Fat Tuesday is not a major ordeal, Olson said. In the past, sometimes there have been snowball fights that escalated into fist fights. Arrests for DUI occur during some years.
"We want everyone to have fun, but if things get out of hand, we'll kind of push back," he said. "It's about managing the crowd as activity picks up in the afternoon when people are coming off the [ski] hill. Then things spread out into the liquor-serving establishments in the evening, and it just becomes a series of bar checks."
Olson said around 30 years ago there seemed to be greater production behind the local Mardi Gras event.
"The crowd was really all about the parade," he said. "They would gather all around the mall and on the upper decks. We're not going to have a parade this year. I think the parade participation dwindled and so did the onlookers. Without the parade, it just won't have the same level of activity from a spectator's view. There was a time when the mall was filled, tip to tail, for the parade."
Olson said the event will continue to be fun, with bead tossing, bagpipers and other attractions.
Lewd behavior isn't much of an issue, he said. Women have bared their chests in the past, and some of that activity still occurs, albeit on a smaller scale.
"It is what it is. People recognize it and it happens. We don't address it or intervene. It's usually a fast flash; it gets a lot of giggles. Kids and families usually don't notice it. It's good-natured, fleeting, and it doesn't get out of hand. Most of the time we miss that stuff and that's fine with us," he said.
A main concern is keeping revelers from drinking in public, outside of licensed areas. Officers typically make people pour their beers out.
Olson recalled the days of the Timber Mill bar and the wilder version of the Carnival celebration.
"Thirty years ago it seemed to be a much bigger deal, and the party lasted all night," he said. "We're still giving honor to the event. I'm glad we still do it."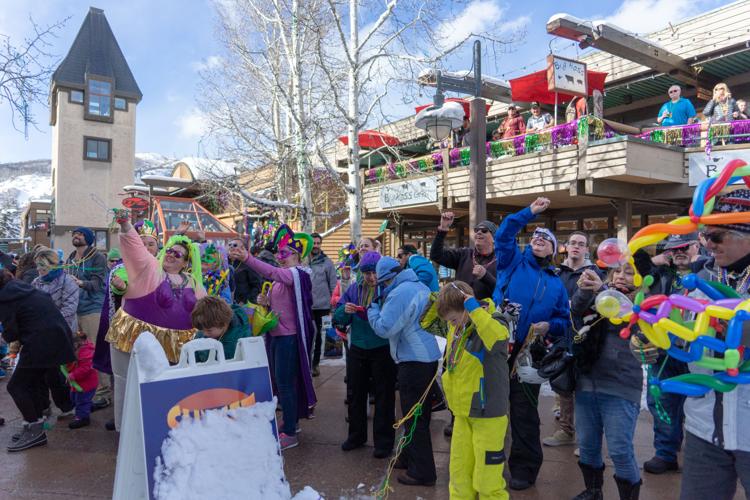 Though arrests are few and far between, Olson stressed that there will be a DUI patrol and officers will be watching the crowds.
There's no law against public intoxication. Individuals who are overly inebriated will be handled from a community policing standpoint.
"What we do is try to get them help," he said.
Olson urged revelers to use public transportation getting to and from Snowmass Village instead of driving. He also asked that drinkers pace themselves.
"Above all, they need to have fun, and we'll try not to get in their way," he said.
Chris Blachly, owner of il Poggio restaurant in the Snowmass Mall for the past 30 years, said he remembers a time when Mardi Gras was the busiest day of the winter season, but not necessarily in terms of food sales.
"It was a pretty wild, fun scene," he said. "It seems to be a little quieter now. In the old days, when my children were young, my wife would bring them up here to see the show."
Blachly said he wasn't sure why the crowds have waned in recent years.
"Maybe there's less involvement all the way around for Mardi Gras," he said. "There used to be a parade and plenty of floats, but we never made one."
He added that winter business in Snowmass Village is stronger than it's ever been.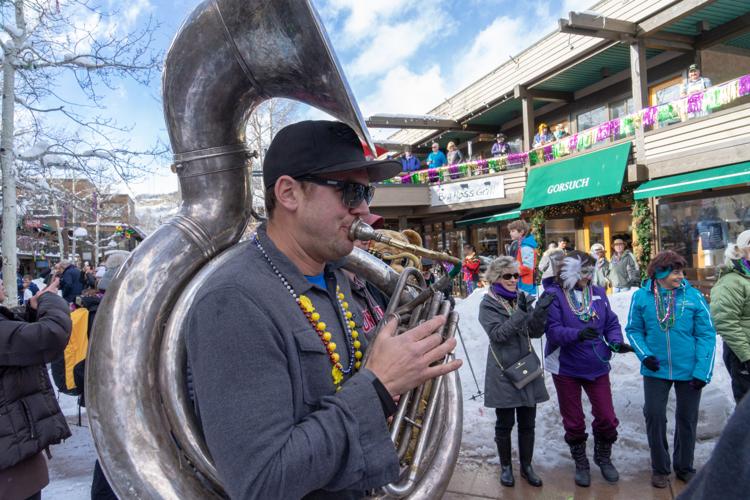 "We seem to be booked up every night in the winter," he said. "As for Mardi Gras, there seems to be a bigger bar scene up here than usual. We used to have the bagpipers come into the restaurant and play. That hasn't happened in a while. We don't have as much room as we used to."
Bring your own mambos
In the spirit of further contrasting the New Orleans event with the one in Snowmass, the Aspen Daily News played a word association game with Hardman, who is coordinating the local Fat Tuesday activities. In the following text capsules, traditions commonly associated with the Crescent City party are followed by a Snowmass Village response.
• Crawfish: The tasty mudbugs, common throughout Louisiana, are boiled in a mix of cayenne pepper, salt, lemon and garlic. Potatoes, corn and other vegetables are often added to the pot. Crawfish is commonly served at Mardi Gras house parties as well as restaurants throughout the late winter and spring.
Hardman said a few restaurants in Snowmass Village will have special seafood dishes on Tuesday, including crawfish.
• Mambos and other songs: It wouldn't be a New Orleans-style Mardi Gras without classic R&B tunes usually featuring a mambo beat. Compositions like "Mardi Gras Mambo," "Go to the Mardi Gras," "Big Chief" and "Bourbon Street Parade" belt constantly from speakers affixed to parade floats and jukeboxes throughout the city, and are often played live at house parties and music venues.
Hardman said there is no concerted effort to bring mambos to the village, but reiterated that the free concert featuring Turkuaz starts just after the bead toss at 3 p.m. at Base Village.
• Royalty: In New Orleans and other parts of Louisiana, the parades are staged by a "krewe," or social club, that usually chooses a king and queen to represent it on parade floats and at social events such as formal balls. Usually the king and queen have "courts" made up their peers in the organization, children and young adults.
Hardman said there is no Snowmass Village krewe, nor a ball or a court, but a king and queen have been chosen: Shaun and Lindsay Cagley, who are both considered staples of the local hospitality industry. Shaun is director of sales and marketing at Crestwood Condominiums and has lived in Snowmass for 13 years. Lindsay is general manager of the newly opened Limelight Snowmass Hotel and has lived in the village for seven years.
"We love everything about Snowmass, but the mountains and outdoor activities surrounding the village are what keeps us happy," Shaun Cagley said in a prepared statement. "We are so thrilled to be honored as Mardi Gras royalty, we can't wait to celebrate and show off the village to our guests."
• Flambeaux: These are flaming torches, and their bearers carry them in the procession that advances each night parade. It's an impressive sight, and the job of the flambeau bearer is difficult given the heat and the use of gases or liquids used to keep the flame alive.
Hardman said the Snowmass Village celebration will not include flambeaux, but a fireworks show will be staged from Fanny Hill starting at 7 p.m.
For a complete list of Carnival-related activities in Snowmass Village on Tuesday, visit gosnowmass.com.
Coming Monday, check the Aspen Daily News for a story on the Mother of All Ascensions uphill race to kick off Mardi Gras festivities.